/ Source: Associated Press
LAS VEGAS — Conor McGregor sat and seethed with his back on the cage, a temporary cast around his left shin and foot. The biggest star in mixed martial arts was convinced he had just been robbed of revenge on Dustin Poirier by a broken leg.
"I was boxing the bleedin' head off him, kicking the bleedin' leg off him," McGregor shouted. "This is not over! If we have to take this outside for him, we'll take it outside."
McGregor's animosity toward Poirier hasn't cooled, but this three-fight rivalry ended — for now, at least — with another victory for his more mild-mannered enemy.
Poirier beat McGregor for the second time in six months when McGregor was unable to continue after the first round at UFC 264 on Saturday night.
McGregor (22-6) fell to the canvas and never got up after a punch by Poirier (28-6), who will get the UFC's next lightweight title shot. McGregor's leg and ankle buckled when he stepped back from the blow, and Poirier finished the round raining blows down on the former two-division UFC champion.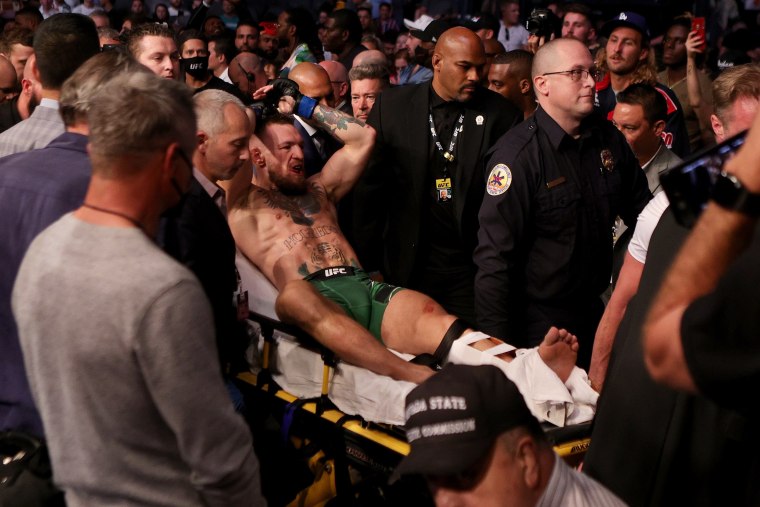 "Just the thing had separated, and I bleedin' landed on the wonky leg like Anderson Silva that one time, something similar to that," McGregor said, referring to longtime middleweight champ Silva's infamously gruesome broken leg against Chris Weidman. "It's a mad business."
UFC President Dana White said he was told McGregor broke his shin near the ankle. McGregor will have surgery on Sunday morning.
Poirier said he thought McGregor's leg broke when he checked one of McGregor's kicks earlier in the fight. McGregor disagreed, saying there was "not one check."
"You never want to get a win that way, but what happened was the result of checking a kick," Poirier said. "I'm more than sure of it. He got what he had coming to him. Karma is a mirror."
McGregor dropped to 1-3 in the cage since 2016, when he abdicated his UFC title reigns and accepted a wildly lucrative boxing match with Floyd Mayweather. McGregor has been unable to recapture his fearsome MMA form over the past half-decade — and despite his protestations, there was little in the first round at UFC 264 to suggest McGregor was back in elite form.
Download the NBC News app for breaking news and politics
Poirier was largely in control of the opening round, parrying McGregor's kicks and landing several strikes before getting control over McGregor on the ground. After McGregor got up from a long stretch of punches and elbows, Poirier knocked him down one last time — and McGregor's ankle bent gruesomely as he fell.
White confirmed Poirier will get the next shot at new lightweight champ Charles Oliveira. White also said he expects a fourth fight between McGregor and Poirier at some point after McGregor's leg heals.
T-Mobile Arena was packed with a sellout UFC crowd for the first time since the coronavirus pandemic began, and President Dana White said the gate revenue was around $16.5 million, ranking among the highest in UFC history. The celebrity crowd included Dave Chappelle, Mel Gibson, Miles Teller, Jared Leto, Steve Aoki, Jackass' Steve-O, Baker Mayfield and NFL owners Robert Kraft and Mark Davis.
Donald Trump also arrived for the final three fights and got a brief, loud burst of cheers and boos from the packed arena.