MARSEILLE, France — English and Russian soccer fans hurling bottles and chairs clashed with each other and French riot police in Marseille on Saturday ahead of their teams' opening Euro 2016 match.
There were also scuffles between visiting fans and locals in the narrow streets leading off Marseille's Vieux Port (Old Port), with some wielding cafe tables as weapons.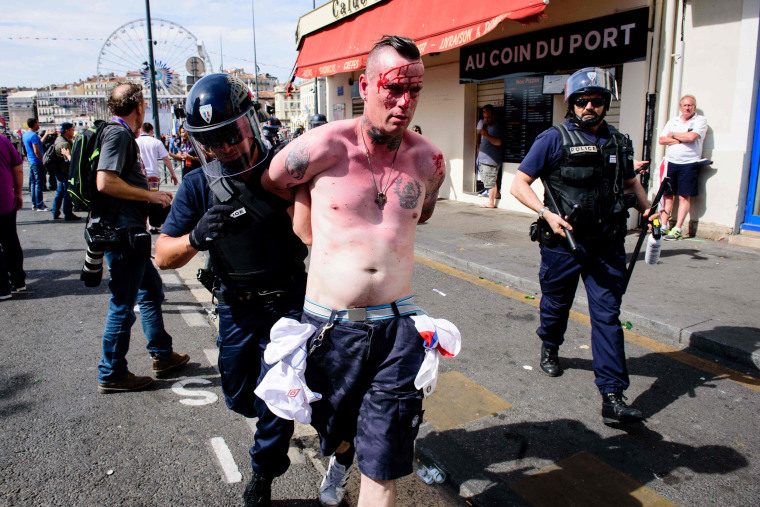 Marseille's emergency services said one person suffered a heart attack during the fracas and had been taken to hospital while one middle-aged England fan was knocked unconscious.
Water canon trucks moved in and dozens of police armed with batons cordoned off streets, firing tear gas to break up the skirmishes.
"I hope they never reach the stadium," Sabine Bernasconi, a local mayor from Marseille, said.
Tens of thousands of fans descended on Marseille ahead of the evening's match. Broken glass and debris littered some roads and walkways near the Queen Victoria pub, focal point of clashes between English, Russian and French fans on Thursday and Friday.
The clouds of tear gas produced images of unrest all to similar, though on a much smaller scale, to those in the city 18 years ago when violence flared for two days and nights around England's World Cup game against Tunisia.
On Friday there were nine arrests and a handful of minor injuries as riot police, out in huge numbers, seemed content to corral the various factions to areas where they could control them and rarely intervened even when large groups were chasing each other around the town in the early hours.
Pictures posted online showed Russian fans proudly displaying England flags captured during violent exchanges on Friday while groups of locals also weighed in, particularly with the throwing of bottles.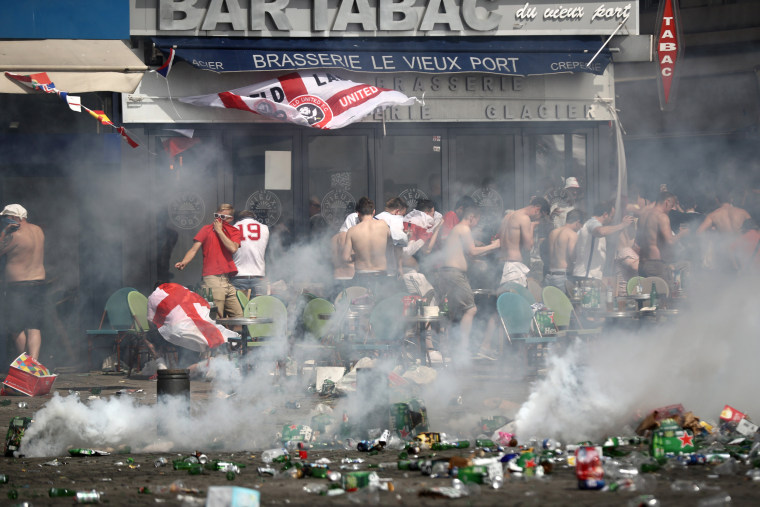 The Queen Victoria and next-door Irish bar were forced to close their doors to England fans late last night, and several other bars in the Old Port area have said they will not be showing the England v Russia match on TV.
With up to 90,000 fans expected to fill the city, authorities were endeavoring to keep some sort of control and the atmosphere around the stadium and on the route to the fan zones was convivial.
There are designated separate routes to approach the Stade Velodrome for the match while the massive beach-side fan zone has been split into two sections, each holding 40,000, in an attempt at rough segregation.
The game's 9 p.m. local time kickoff left time for a formidable amount of beer to be drunk and the authorities are braced for more disorder.