Sports fans reacted with a fury Wednesday to news that ESPN was laying off about 100 employees — including pro football analyst Trent Dilfer, NFL beat reporter Ed Werder and Major League Baseball scribe Jayson Stark — in a move designed to cut costs and realign the all-sports network in an era of online, personality-driven media.
While ESPN did not put out an official list of those being let go, names quickly emerged via Twitter and other social media outlets. Among others being let go: "Sports Center" anchor Jay Crawford, radio host Danny Kanell, college basketball analyst Len Elmore, college basketball reporter Dana O'Neill, hockey writer Joe McDonald, Tennessee Titans reporter Paul Kuharsky and college basketball reporter C.L. Brown.
ESPN made its move after the recent loss of 10 million subscribers, many of them "cord cutters" fleeing cable for streaming alternatives online.
Also thinning the network's bottom line are the enormous contracts it signed to carry sports like the NFL ($15.2 billion over 10 years) and the NBA ($12 billion over nine years.)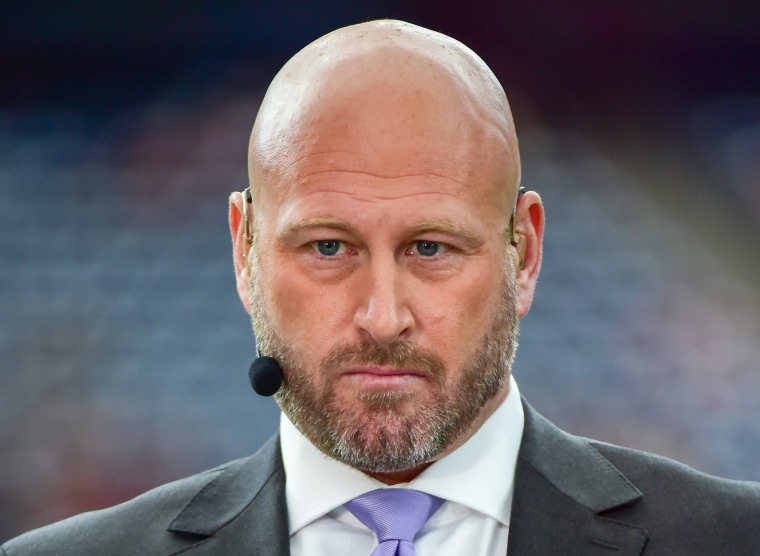 ESPN President John Skipper explained the job cuts in a memo to employees, saying the network was "melding distinct, personality-driven SportsCenter TV editions and digital-only efforts," changes he pledged to take "further, faster & and as always, must be efficient and nimble."
In a statement, ESPN cited programs like its late-night "SportsCenter with Scott Van Pelt" and "SC6" with Michael Smith and Jemele Hill as among the host-driven shows it hopes will power the franchise in the future.
Many fans were not buying the changes:
"I think I'm gonna lay off @espn," wrote one viewer on Twitter. "How stupid can they be, getting rid of some of the reporters we've loved seeing all these years?"
Said another, going by the handle Disgruntled Jets Fan: "@espn getting rid of a lot of good people today. it's a shame."
Said a third critic, using "Happy Gilmore" as a name on the micro-blogging service: "Hey @espn, great job firing everyone that covers hockey on your network... oh wait... you haven't cared about hockey since 1980."
Those left suddenly out of work expressed sadness, but mostly gratitude for the time they had on the sports giant. Dilfer wrote on Twitter: "Although sad cause I loved my job, mostly filled w/gratitude & appreciation for the 9 years #GreatFriendsAndTeammates."
The exiting employees got a vote of sympathy from co-workers who remained behind. Said college basketball personality Dick Vitale: "Today is a #HEARTBREAKING DAY for so many talented ppl that I have had the honor to know & work with over the yrs @espn Wish u the BEST!"
The cutbacks come after 300 mostly-behind-the-scenes workers at ESPN were dropped in October, 2015. The sports network is a unit of the Walt Disney Company and one of its biggest profit centers. But CEO Robert Iger and other executives have spent many recent earnings calls trying to explain why the network's profitability has declined.