A noose that was found hanging in Black stock car racer Bubba Wallace's garage stall in Alabama was a pull rope that had been placed there in October, long before the stall was assigned to Wallace, the FBI announced Tuesday.
Review of security video following the discovery of the noose at Talladega Superspeedway showed that the noose had been put up nearly eight months ago, according to a joint statement from the U.S. attorney's office and the FBI. Wallace was assigned the garage space last week, which "nobody could have known" in 2019, the statement said.
"On Monday, fifteen FBI special agents conducted numerous interviews regarding the situation at Talladega Superspeedway," the statement said. "After a thorough review of the facts and evidence surrounding this event, we have concluded that no federal crime was committed."
Download the NBC News app for breaking news and alerts
Photographic evidence showed that a garage door pull rope was fashioned like a noose and had been positioned there since as early as last fall, NASCAR confirmed in a statement Tuesday.
"This was obviously well before the 43 team's arrival and garage assignment," NASCAR said, referring to Wallace's car number. "We appreciate the FBI's quick and thorough investigation and are thankful to learn that this was not an intentional, racist act against Bubba."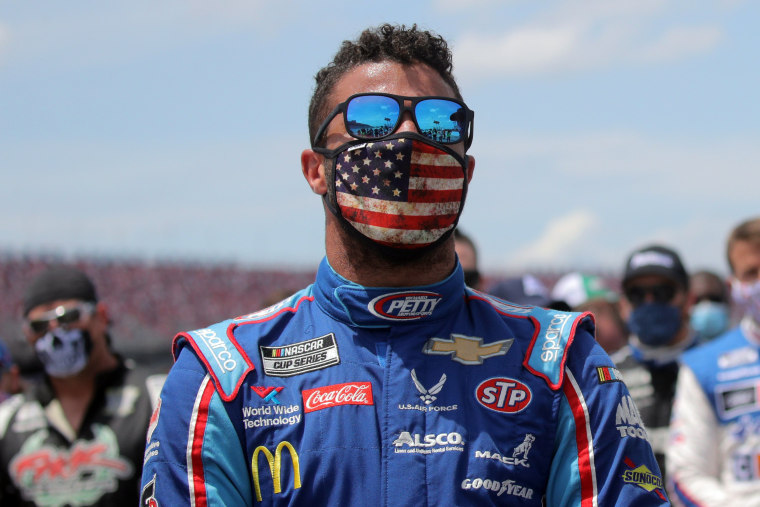 Speaking on "CNN Tonight with Don Lemon" on Tuesday night, Wallace said the noose was first reported to him by NASCAR President Steve Phelps and that he had no doubt about what he subsequently saw. "I could care less" about attention, he said.
"I'm mad because people are trying to test my character and the person that I am and my integrity," Wallace said, referring to reaction on social media.
The driver seemed to have a different conclusion than the FBI.
"From the evidence that we have, that I have, it's a straight-up noose," he said. "The FBI has stated it was a noose over and over again. NASCAR leadership has stated it was a noose. I can confirm that I actually got evidence of what was hanging in my garage over my car around my pit crew guys, to confirm that it was a noose."
Even if the item was in the garage before he used it, Wallace said, he believes it was as initially described. "So, it wasn't directed at me but somebody tied a noose, that's what I'm saying," he said.
Richard Petty Motorsports, Wallace's racing team, said in a statement Tuesday that the company was glad the findings revealed no direct threat to Wallace.
"We would like to extend our sincere gratitude and appreciation for your unwavering support of Wallace and Richard Petty Motorsports," the statement said.
Phelps said in a virtual teleconference that rope went unnoticed as there had not been a race at the speedway since October. He also wanted to be clear that the noose had nothing to do with Wallace, who drives a No. 43 car.
"I want to be clear about the 43 team. The 43 team had nothing to do with this," Phelps said. "The evidence is very clear that the noose that was in that garage had been in the garage previously."
NASCAR will continue an internal investigation as to why a rope was fashioned into a noose at all, Phelps said.
The league had vowed that it would find whoever was responsible after the noose was found Sunday, less than two weeks after the league banned Confederate flags on its properties and at its events.
"We are angry and outraged, and cannot state strongly enough how seriously we take this heinous act," NASCAR said in a statement Sunday. "We have launched an immediate investigation and will do everything we can to identify the person(s) responsible and eliminate them from the sport."
Wallace, who pushed for the league to ban the Confederate flag, said in a statement after the noose was discovered that it would not deter him and that he will not back down from voicing his beliefs.
"Today's despicable act of racism and hatred leaves me incredibly saddened and serves as a painful reminder of how much further we have to go as a society and how persistent we must be in the fight against racism," he said.
NASCAR drivers stood behind Wallace on Monday as he drove onto the track at Talladega, presenting a united front against racism and in support of Wallace. Phelps called the show of solidarity "one of the most important days" for the sport.
"It's one of the most kind of indelible print on my mind until the day I die, seeing the support that Bubba had from not just the drivers but all the crews, all the officials who were down in pit road, anyone who was part of that footprint," Phelps said. "Everyone wanted to show their support for a family member of NASCAR."