An alleged bribery scheme uncovered by a federal investigation into men's college basketball continued to widen Wednesday — exposing what college sports experts say is a recruiting system plagued by problems and crying out for reform.
But overhauling a wildly popular sports institution, one that has proven to be a consistent moneymaker for top-tier colleges and coaches, advertisers and bookmakers — bringing in millions upon millions a year — will require sweeping changes that such experts say must start with the NCAA.
One fix that some say could help solve the problem? Pay the players.
"There's this underground network already going on of secret deals and corruption," said Marc Edelman, a law professor focusing on sports and gambling at Baruch College in New York City.
"The most reasonable way to resolve this matter would be to overturn the NCAA principle of amateurism, which would force the compensation of college athletes into an open and above-board market," he added, "one that would be observable and transparent."
B. David Ridpath, an associate professor of sport administration at Ohio University, agreed that it's time for colleges and universities to take a look at compensating student-athletes as a way to protect them from being exploited.
"They're kids who are essentially being pimped out by adults so that others can make money," said Ridpath, author of the forthcoming book, "Alternative Models of Sports Development," which examines the intersection of athletics and academics.
Related: Louisville Coach Blames a 'Few Bad Apples' in Scandal
Prosecutors say as much as $150,000 was pledged to at least three top high school recruits to attend two universities sponsored by Adidas. The money was allegedly supplied by the shoe company. None of the athletes were identified in court documents.
An Adidas executive and four assistant basketball coaches — representing Auburn University, Oklahoma State University, the University of Arizona and the University of Southern California — were among the 10 people charged on Tuesday.
The colleges have said they were "shocked" and "appalled" by the allegations. And Adidas said Tuesday that it was "unaware of any misconduct and will fully cooperate with authorities to understand more."
On Wednesday afternoon the fallout deepend: The University of Louisville, which outed itself, said it was putting head coach Rick Pitino on an unpaid suspension and Athletic Director Tom Jurich on paid leave in response to the scandal, although neither was named in the criminal complaint.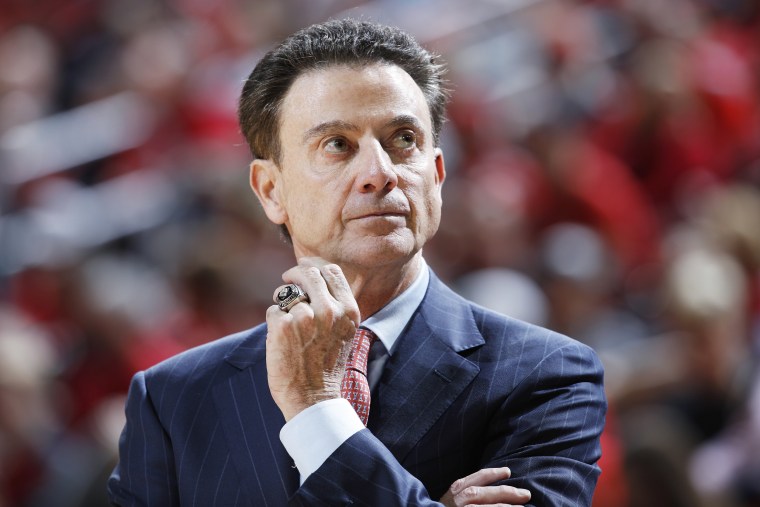 And Louisville said that one student who had enrolled after his family was allegedly paid bribes was removed from team activities.
"It's an absolute cesspool," Ridpath said of the situation. "All of this has been an open secret. You know this stuff is going on, but it's been very easy to hide, to look the other way."
Until now. Pitino — Louisville's leader since 2001 who helped the Cardinals win a national title and is reportedly the country's highest paid college basketball coach, making more than $7.7 million a year — said Tuesday that he was in "complete shock" over the bribery allegations and blamed "a few bad actors."
Mark Conrad, an associate professor of law and ethics at Fordham University, said sports fans shouldn't be surprised by the scandal given how much money flows in and out of the NCAA, in large part because of the Division I men's basketball and football programs.
College sports take in more than $9 billion in annual revenues, according to USA Today. Meanwhile, the NCAA March Madness basketball tournament is worth about $10.4 billion in bets, although most of them illegal, the American Gaming Association said this year.
"The NCAA system works for 90 percent of student-athletes," Conrad said. "Most are at school for an education and the athletic experience, and it works. But when you're talking about the kind of money and type of pressure and the power of the Adidases and the Nikes, that's a different story."
Amateurism is a bedrock principle of college sports, the NCAA says, and that means student-athletes can't have contracts with professional teams, salaries, endorsements, prize money more than their actual expenses and agent agreements, among other prohibitions.
In exchange, the athletes benefit through scholarships, unlimited meals and modest stipends, the schools say.
In a statement, NCAA President Mark Emmert said the organization continues to have "no tolerance" for bribery and if the latest allegations are true, that suggests an "extraordinary and despicable breach of that trust."
Ultimately, whether student-athletes are paid or not, the FBI's case shows that the NCAA and schools can no longer police themselves, some observers say, and need to outsource their recruitment process in order to regain that trust.
"Fans ultimately don't care what's decided," Ridpath said. "There just has to be integrity between the institution and the student's education."