LANHAM, Md. — Football practice had ended early at Capital Christian Academy, a small all-black private school in suburban Washington, and the team's leaders decided it was time to talk to their new coach. It was late August, and the first game of the season was just three days away.
The players had something to say: They wanted to take a knee.
Coach Cornell Wade pulled up a chair from behind the teacher's desk in a classroom. He didn't flinch. "I hope you all know why," he told his players. He wasn't opposed, but he asked them to think hard: Are you doing this because you idolize the pro football players on TV? Or because the message behind the protest actually means something to you?
The boys were quiet. Then, one of the seniors spoke up.
"We're taking a knee because of inequality as a whole," said Josiah Gill, 17. "We're aware of what's going on in this country as young black males."
"A lot of people love football," Gill added. "You have them coming from places to see you do something, and why not take a knee, why not do this to show we see what's going on in the world?"
Like many high school football players across the country, Gill and his teammates had closely followed the debate over NFL players who protest during the national anthem, a movement that began with former San Francisco 49ers quarterback Colin Kaepernick kneeling in 2016 to highlight racial injustice and police bias. As the league and team owners hash out how to penalize those players who are still protesting, a handful of high schools around the country have confronted the issue as well.
In some places where student-athletes knelt last year, the act turned contentious: Outside of Houston, two black football players at a private Christian school who protested during the national anthem were kicked off the team by their white coach. When members of a mostly black high school football team in Louisiana knelt before a game against a mostly white school, they were met with jeers and racial slurs. And in New Jersey, two referees at a high school football game walked off the field after players knelt, later saying they didn't like "anyone disrespecting our country, our flag, the armed forces."
Anecdotally, there appears to be a decline in high school players taking a knee this season, said N. Jeremi Duru, a professor of sports law at American University who writes about race and the NFL. Some schools have banned the protest, and young athletes may have been discouraged by reports of crackdowns. Or, Duru said, "perhaps they've begun to pursue progress in other ways in their communities." He cited the mobilizations against gun violence after recent school shootings as a different form of activism.
But at Capital Christian Academy, established in 2013 as an African-American-operated prep school in Prince George's County, Maryland, the question of whether to kneel still felt urgent to the players and their coach.
After Wade took the reins in August of the fledgling football team, named the Red Storm, he felt an immediate bond with the players. He was raised nearby, and being 26 and black, he is as much an older brother figure to the team as its coach.
"If you're going to be with the fight, be with the fight."
In their talk before the season began, Wade urged his young players to think about what would happen if they decided to protest during the national anthem.
"If you take a knee, it's fine," he said. "But do you understand the real ramifications? You might not just be offending the players on the other team. You might be offending the ref."
Gill looked around, his dark eyes peering behind glasses. "You got to be able to handle the adversity," he told his teammates.
They nodded and planned to talk with the rest of the team before making a final decision.
Before they were dismissed, Wade set two conditions: Every player must want to participate, and the team would have to kneel at every game.
"If you're going to be with the fight," he said, "be with the fight."
How it started
In the summer of 2017, Gill and a former Red Storm teammate hopped in his car and turned up the music. It was a familiar escape as they cruised past the strip malls, subdivisions and leafy lawns that make up Prince George's County. The pair didn't realize they had caught the attention of a police cruiser.
An officer pulled them over, then asked them to step out of the vehicle.
"We don't have anything on us," Gill said he informed the officer, who wanted to search them.
Gill said the officer, who was white, told them they were being stopped for playing their music too loud, which is a traffic violation under Maryland law.
Gill stood there confused, thinking, "I can't believe this is actually happening." He listened to every command and was careful not to make any sudden movements.
On Twitter, the stories of young black men's run-ins with police routinely flash across his timeline. Sometimes a viral video shows an arrest; other times, it's much worse.
When he's feeling particularly anxious, Gill prays.
"We ask God to keep everybody safe out here because you never know what could happen," he said. "You could go out and just have fun and end up in a different place. You could end up in jail, you could end up dead."
Gill doesn't recall whether he was stopped by a local town or county officer. But in Prince George's County, one of the most affluent majority-black counties in the nation, there has been a history of racial disparities and police violence, according to a study in the Journal of Urban Health in 2016.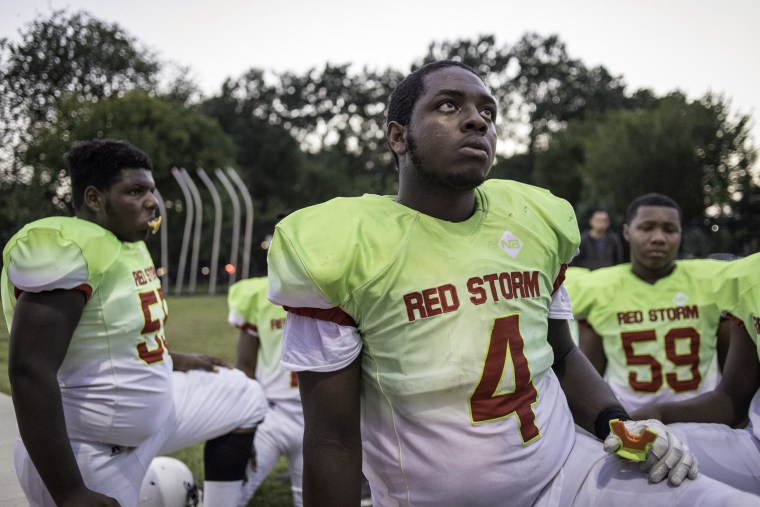 The county had a higher rate of fatal shootings per officer than any other major city or county police force in the country, The Washington Post reported in 2001. A Maryland ACLU report, cited in the Journal of Urban Health, found that from 2010 to 2014, black residents of the county were killed by police at a rate five times that of whites.
Since taking over the county's police department two years ago with an eye toward reform, Chief Hank Stawinski started an implicit bias training program with the University of Maryland and sought to make the department more accountable, he said, by striving to "apply the laws fairly and impartially."
Gill's brush with law enforcement last summer ended with him and his friend driving off. But the encounter didn't fade.
Kaepernick's 2016 protest also stayed with Gill, and he began thinking about his football team following suit. But as he and the other team leaders surveyed their teammates, some worried about another person with ties to the Red Storm whom they respect. What if Coach Fair didn't like it?
Game-time decision
Addison Fair Jr. served 22 years in the Marine Corps, where discipline and a sense of duty to country was drilled into him.
After retiring, he began coaching football as a volunteer for the Red Storm, the team on which his son, Aydon, now plays.
He heard rumblings that some of the players wanted to kneel, but no one approached him about it before the season began. Their first home game was coming up.
Then, as the opening notes of "The Star-Spangled Banner" rang out during that game in early September, everyone remained standing.
Fair, who is black, later learned that some of the boys assumed he would have a problem with them kneeling because of his military background, so they decided not to do it.
They were wrong. He's sympathetic to the protest, because years ago, he says, he was targeted by police in his suburban community outside of Washington.
"I was in the Marine Corps, pulled over, stopped, was never told what I was stopped for, put on the ground on my face with my Marine Corps ID beside my head," Fair said. "And the charge, the reason why they stopped me: suspicion, because I was a young black male with a nice car in Palmer Park, Maryland."
To set the record straight, Fair explained at a team practice after the first game that he had no problem with them kneeling. But, he said, he would continue to stand during the national anthem because that's what's expected of a Marine.
At the same time, a buzz was going around Capital Christian Academy: Did you see Nike's new commercial?
An ad featuring Kaepernick aired during the first telecast of the NFL's regular season, as President Donald Trump continued to berate players who knelt and some social media users called for a boycott of Nike.
"Believe in something even if it means sacrificing everything," said the tagline. It struck a chord with the Red Storm.
At the next game, on Sept. 13, the players huddled before getting on the bus and decided that if everyone agreed, this was the time to kneel.
The team's yellow school bus pulled up to Hancock High School in Washington County, in western Maryland, between the borders of Pennsylvania and West Virginia. For Capital Christian Academy's team, the racial divide was glaring: While Prince George's County is 63 percent black, they were in territory that was 82 percent white.
Undeterred — and unbeknownst to Wade — they were going to kneel. When the national anthem played, each player sunk one knee into the grass.
"Nobody was nervous," Aydon Fair later said. The crowd "knew exactly what was going on. They knew exactly what we were doing."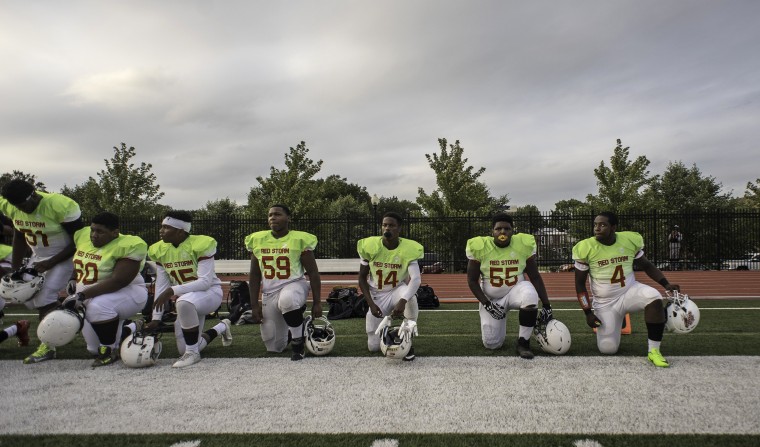 He doesn't recall any negative reaction, and the Red Storm went on to win, 48-8.
But in the days that followed, a couple of angry emails from the local community were sent to the school. The students were called "disrespectful." Wade was upset. The display wasn't about trying to put down the flag or the military, he wanted to respond, but to show that these teens have an understanding of the country's thorny legacy of racism.
"As a grown man I learned that lesson," Wade said, "but at 14, that's a difficult situation to navigate."
Kneeling, and loss
The team's next game was Sept. 21, and in the days leading up to it, the players kept talking about kneeling — in light of the negative emails, should they protest again?
Aydon Fair was adamant that they must.
"It doesn't mean just because it was a white team that we were just going to kneel in front of them," he said. "No, it resonates with anybody that we play."
Unlike the previous week, this game, at Dunbar High School — a historically black public school in Washington that has produced NFL players such as Washington Redskins tight end Vernon Davis and his brother, Vontae Davis — would draw mostly black spectators.
But talk about kneeling was overshadowed on game day. Practice that week had been disrupted after a player having issues at school was temporarily suspended. Wade felt like the players' commitment to one another, to him, was waning. The Red Storm made the half-hour bus ride from Maryland in silence.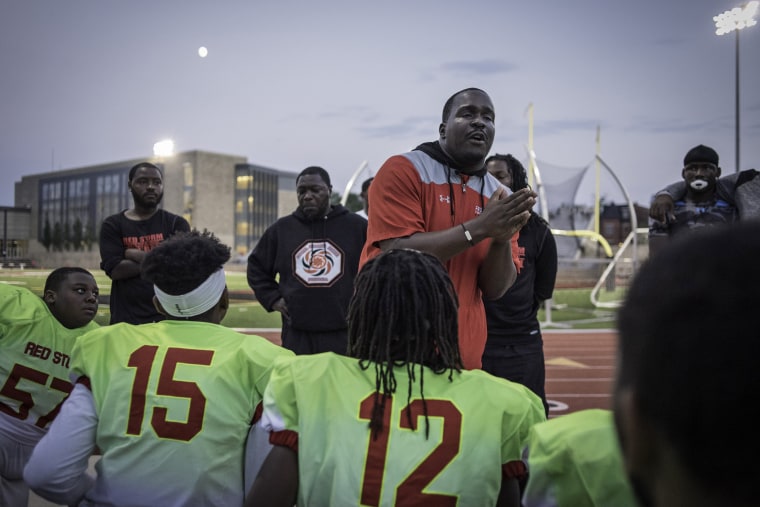 The team arrived at Dunbar and ran through drills, a blur of red and green jerseys crisscrossing the gridiron as spectators scarfed down concession stand treats under blushed pink skies. The players gathered on the sidelines when an American flag was marched near an end zone. "Ladies and gentleman, will you please stand for our presentation of colors and our national anthem," a voice rippled across the pristine field.
With so much else running through their minds about the game, would the Red Storm players choose to kneel?
A canned version of "The Star-Spangled Banner" piped through the speakers. Gill hollered: "Right knee on three, right knee on three. One! Two! Three!"
Then, without hesitation, every member of the Red Storm descended to one knee. Even their coaches joined in; only Coach Fair remained standing.
In the bleachers, there was little visible reaction among the home fans.
But Ronnie and Latisha Haskins, whose 16-year-old son Demond is a Red Storm lineman, beamed.
"When you're bowing down to God, it's a sign of respect," Ronnie Haskins said after kickoff. "How's that different from kneeling during the anthem?"
For the Red Storm, the game itself was brutal. Their lack of preparation had caught up with them, and Dunbar's touchdowns came quickly and often. By game's end, the scoreboard flashed a painful 50-0.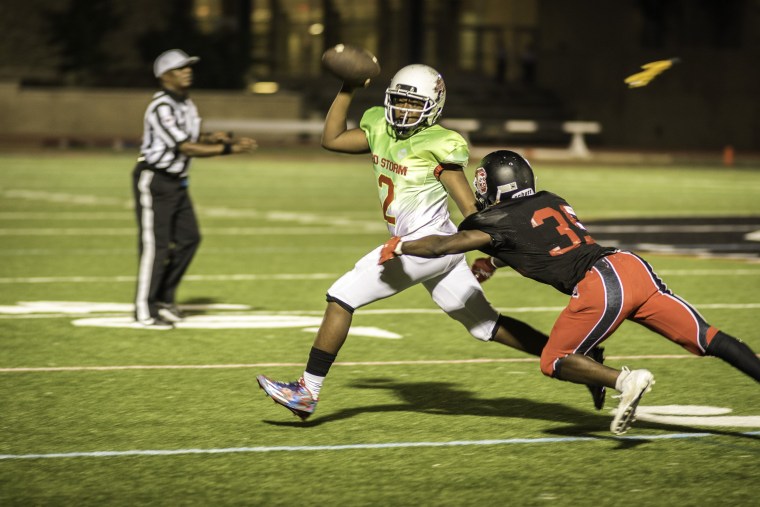 Coach Fair consoled the players, wrapping them in his burly frame. As is customary, the two teams shook hands down the middle of the field. Gill said that some members on Dunbar told the Capital Christian Academy players that they respected them for taking a knee.
"I feel like I'm a part of something bigger than me for once in my life," Aydon Fair said, heartened despite the loss. "Makes me feel important."
The mood then lightened significantly. As the spectators poured out, sweeping up Dunbar's team in triumph, Wade stood before his players. His gruff exterior softened into a smile.
"The people in this circle are all you have," Wade said. "So love them. Do right by them."
The team was quiet as he spoke. Instinctively, they had crouched down to take a knee.