Former star NFL wide receiver Antonio Brown has turned himself in to police in Florida on a warrant on burglary and criminal mischief charges.
Brown, 31, and his trainer are facing charges stemming from an incident with a moving truck company.
Brown turned himself in at the Broward County Jail at 10 p.m., his attorney, Eric Schwartzreich, told NBC News late Thursday. He will be held on no bond and is set to appear in court Friday, when Schwartzreich expects bail to be set at $20,000, the same as for Brown's trainer.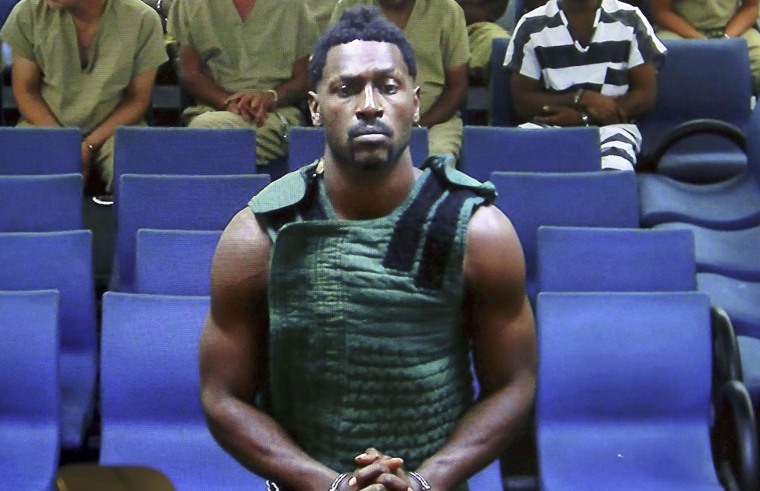 TMZ Sports first reported that Brown was turning himself in.
"I think it's much ado about nothing. We anticipate that charges will be dropped or he will be acquitted of all charges," Schwartzreich said.
Schwartzreich said that the charges Brown faces carry a potential life sentence but that the facts don't justify them.
"Mr. Brown's not guilty of a misdemeanor, let alone a life felony," Schwartzreich said.
Police in Hollywood said Wednesday that they got an arrest warrant for Brown, who played almost all of his NFL career with the Pittsburgh Steelers.
Police said Brown's trainer, Glen Holt, 35, was arrested after Brown and Holt were alleged to have battered a person who NBC Miami reported is a truck driver. The incident is said to have happened at Brown's home about 2 p.m. Tuesday.
Holt's attorney, Eric Rudenberg, has called the allegations overblown. The case against Holt is "something about tussling over keys to a truck," Rudenberg said.
Holt's bail was set at $20,000 on Wednesday, and he has been released, NBC Miami reported.
At the time Holt was arrested, police said they had been unable to make contact with Brown. A warrant was obtained Tuesday night, Hollywood police said.
The warrant for Brown was for one count of burglary with battery, one count of burglary of an unoccupied conveyance and one count of criminal mischief less than $1,000, Hollywood police have said.
The former All-Pro wide receiver has also been accused of sexually assaulting a former trainer, according to a lawsuit she filed in September. His attorneys have denied all allegations stemming from the lawsuit and have countersued the woman. He has not been charged in connection with the accusations.
Download the NBC News app for breaking news
Brown is best known for his time with the Steelers, but last year he was signed by the New England Patriots.
He signed with New England after he was cut by the Oakland Raiders over disagreements about the helmet he'd wear, as well as reports of a confrontation with the team's general manager.
The Patriots released Brown in September after just one game amid sexual misconduct allegations, and he was considered an unrestricted free agent.
Following his release by the Patriots, Brown said on Twitter that he would no longer play in the NFL, as "owners can cancel deals do whatever they want at anytime."