From rival sportsmen to world leaders, the world paused Saturday to remember Muhammad Ali — hailing him not only as a "giant" of the boxing ring but also "a true champion for all."
The 74-year-old boxer and civil rights champion died Friday from respiratory complications after a three-decade battle with Parkinson's disease.
Ali's "Rumble in the Jungle" opponent, George Foreman, described the former heavyweight champion as "one of the greatest human beings I have ever met."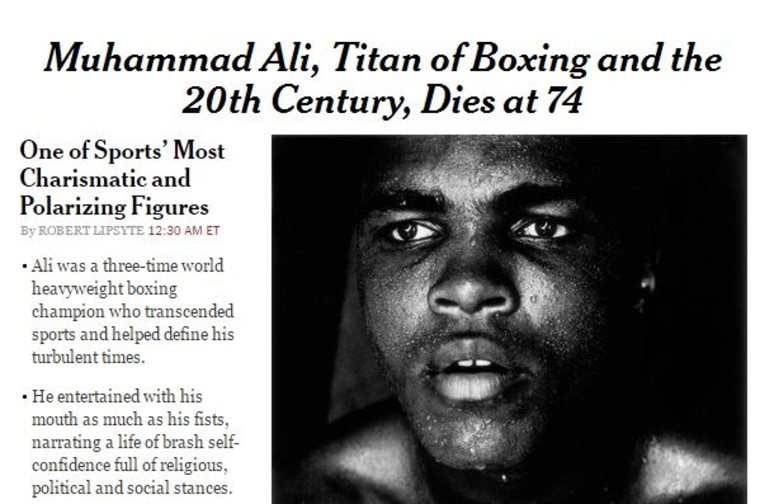 He said: "No doubt he was one of the best people to have lived in this day and age. To put him as a boxer is an injustice."
The New York Times described Ali as a "Titan of Boxing and the 20th Century."
President Barack Obama held the champion prizefighter up as a man of integrity and said in his private study he keeps a pair of Ali's gloves on display just under an iconic photograph of when he beat Sonny Liston in 1965.
"Muhammad Ali was The Greatest. Period," Obama said in a statement Saturday. "If you just asked him, he'd tell you. He'd tell you he was the double greatest; that he'd 'handcuffed lightning, thrown thunder into jail.'"
"But what made The Champ the greatest — what truly separated him from everyone else — is that everyone else would tell you pretty much the same thing," the president added.
Other champion boxers who credited Ali for being a standard-bearer for the sport were quick to praise him.
Former world champion Oscar de la Hoya said Ali was "a legend who transcended sport and was a true champion for all."
Manny Pacquiao said in Twitter: "We lost a giant today. You will always be GOAT (Greatest of All Time). Our hearts and prayers go out to the Ali family. May God bless them."
And Mike Tyson tweeted: "God came for his champion. So long, great one."
Evander Holyfield told MSNBC that his was in awe of Ali's accomplishment in becoming three times champion after being forced to give everything up following his conversion to Islam.
"He stood for something that he really believed in," the five times champion heavyweight said. "To take it upon yourself to say 'I am the greatest' you put yourself in position as a target. People said 'who could do that three times?' – that is what Ali did. It was a great accomplishment."
British boxer Amir Khan, praised his fellow Muslim sportsman as "incredible human being, fighter and role model." He added: "Thank you Muhammad, for inspiring us all."
Don King, the fight promoter, said: "It's a sad day for life, man."
The Rev. Al Sharpton said on MSNBC on Saturday he was "deeply saddened" at Ali's passing, adding: "He showed the world how you can risk everything. He gave up the title of heavyweight champion of the world, paying the ultimate price because he believed in something more than just wealth and success. He redefined what success is.
GALLERY: Float Like a Butterfly: Muhammad Ali's Life in Photos
"Then he came back three times and won that title. We should think not only of his boxing skills but what he stood for. He floated in the ring but he stood outside the ring and was a champion.
"People ought to never underestimate that, when he stood up against the wrongs he was one of the most despised people in the country. He took from being one of the most despised to one of the most honored and loved individuals in the world. We will never see anything like that again."
Politicians also fondly remembered Ali and his legacy.
Donald Trump said the boxer was a "wonderful guy" who would be "missed by all," while Hillary Clinton and President Bill Clinton issued a joint statement that said: "From the day he claimed the Olympic gold medal in 1960, boxing fans across the world knew they were seeing a blend of beauty and grace, speed and strength that may never be matched again."
Bernie Sanders said: "Muhammad Ali was the greatest, not only an extraordinary athlete but a man of great courage and humanity."