A women's rights group flew banners over two NFL games Sunday calling for the NFL's $44 million man — Commissioner Roger Goodell — to resign in the wake of a domestic violence scandal involving Ray Rice. The advocacy group UltraViolet flew banners reading "#GoodellMustGo" over fans at the Saints vs. Browns game in Cleveland and the Cardinals vs. Giants game in New Jersey on Sunday afternoon. UltraViolet is planning to do the same at a game Indianapolis on Monday, the group said in a statement. Each of the planes cost the group between $2,000 and $3,000 to rent, depending on the city, Brett Abrams, a spokesman for UltraViolet told NBC News.
"It is time for Roger Goodell to resign, and for the NFL to get serious about its commitment to ending violence against women within the league," said Nita Chaudhary, co-founder of UltraViolet. Goodell was criticized for suspending Rice for two games after a video surfaced of him dragging his then-fiancée out of a casino elevator. He was suspended indefinitely earlier this week after a video from inside the elevator showed him hitting her. UltraViolet said 15,000 people have signed a petition calling for Goodell to resign "in light of new evidence that the Commissioner had graphic video evidence and a verbal confession concerning the Ray Rice assault, but failed to act appropriately." The NFL said Rice's account was "starkly different" than the violent assault depicted in the second video.
Goodell has been NFL commissioner since 2006. His compensation package was $44 million in 2012, the most recent year that is publicly available. Between 2008 and 2011, his compensation totaled $61 million.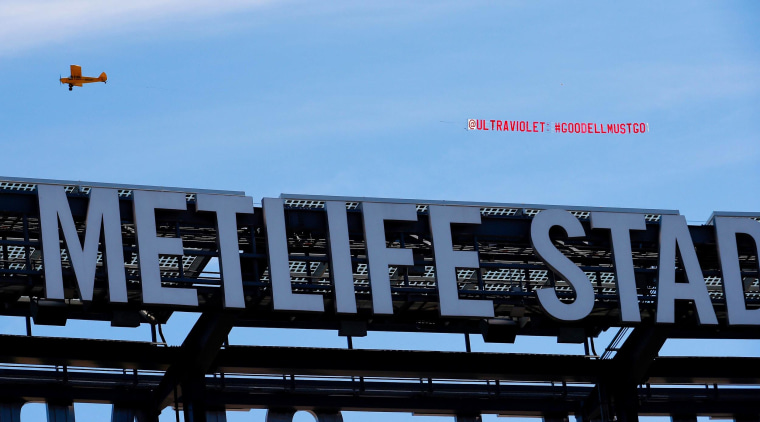 IN-DEPTH
SOCIAL
— Elisha Fieldstadt