The head of a major professional tennis tournament came under fire Sunday for disparaging comments about women in the sport, which he later admitted were "in extremely poor taste" and "erroneous."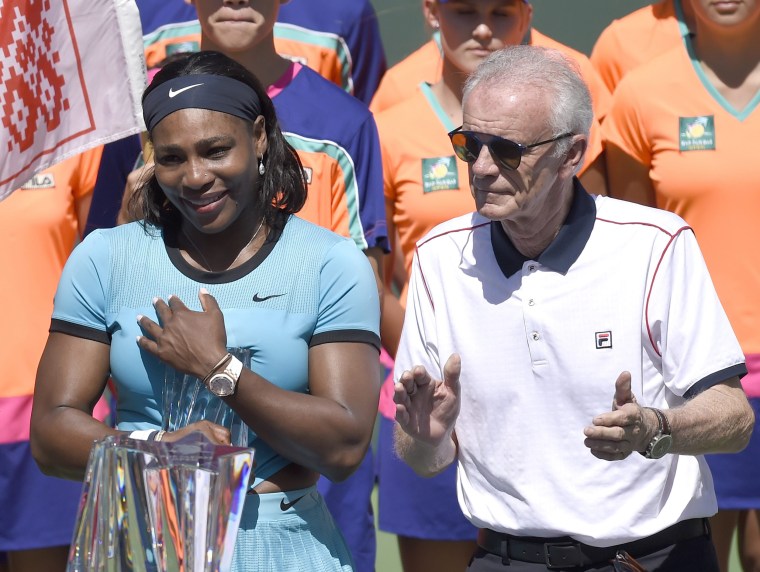 BNP Paribas Open tournament director Raymond Moore said during a morning news conference with reporters Sunday that players in the Women's Tennis Association were "lucky" and that they "ride the coattails of the men." The comments were made during a discussion about the distribution of money between the men's and women's tennis.
"If I was a lady player, I would go down every night on my knees and thank God that Roger Federer and Rafa Nadal were born, because they've carried this sport," Moore said.
The comments came on the final day of the tournament in Indian Wells, California — one of the premier tennis events outside of the four grand slam tournaments — in which top-ranked Serena Williams fell to Victoria Azarenka. Last year was Williams' return to the tournament for the first time since 2001, when she and sister Venus Williams were jeered by the crowd.
Following the women's final match Sunday, Williams and Moore, unaware of the new controversy brewing, shared a celebratory moment on the court. But just an hour later, Williams was addressing Moore's comments.
"There's only one way to interpret that. 'Get on your knees,' which is offensive enough, and thank a man," Williams said. "That is such a disservice to ... every female, not only a female athlete, but every woman on this planet that has ever tried to stand up in what they believe in."
The comments drew immediate backlash from across the sport, including from women's tennis legend Billie Jean King, who tweeted her disappointment.
Women's Tennis Association CEO Steve Simon was also quick to condemn the comments as "extremely disappointing and alarming."
"The WTA stands on its own and was founded on the principles of equality and empowerment," Simon said. "Tennis as a whole is enriched by the contributions and accomplishments of every player, both female and male."
Moore later apologized for his comments. "At my morning breakfast with the media, I made comments about the WTA that were in extremely poor taste and erroneous," he said in a statement. "I am truly sorry for those remarks, and apologize to all the players and WTA as a whole. We had a women's final today that reflects the strength of the players, especially Serena and Victoria, and the entire WTA. Again, I am truly sorry for my remarks."