The Houston Astros fired an executive Thursday for yelling about a pitcher suspended for domestic violence at a group of female reporters during a clubhouse celebration after the team clinched a berth in the World Series.
The team said that, after conducting interviews, it had substantiated the claims made against Brandon Taubman, the team's assistant general manager, in an article in Sports Illustrated, written by Stephanie Apstein.
The Astros had initially believed the claims were not directed toward any reporter and defended Taubman. That changed on Thursday.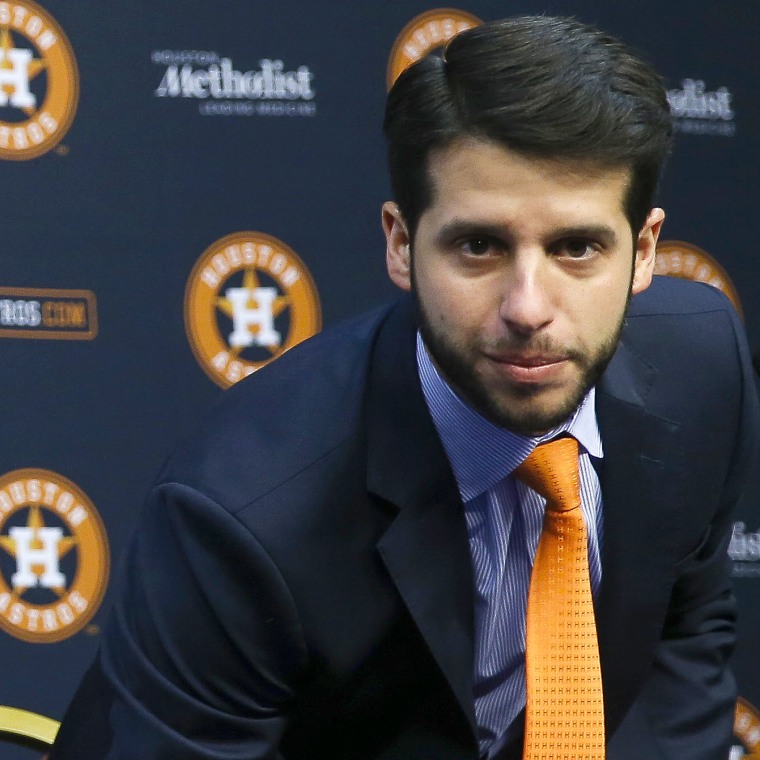 "We were wrong," the organization said in a statement. "We sincerely apologize to Stephanie Apstein, Sports Illustrated and to all individuals who witnessed this incident or were offended by the inappropriate conduct.
"The Astros in no way intended to minimize the issues related to domestic violence."
Apstein reported that Taubman had shouted "Thank God we got Osuna!," along with some expletives, after the team clinched the American League championship against the New York Yankees. Roberto Osuna was suspended for 75 games last year for violating MLB's domestic violence policy before being traded to the Astros. Criminal charges against him were dropped when the woman involved declined to press charges.
Sports Illustrated reported that one of the reporters was wearing a domestic violence awareness bracelet during Taubman's outburts.
Taubman issued an apology Tuesday — hours before the Astros played Game 1 of the World Series — for using "inappropriate language" in front of the reporters.
"In retrospect, I realize that my comments were unprofessional and inappropriate," Taubman said. "My overexuberance in support of a player has been misinterpreted as a demonstration of a regressive attitude about an important social issue."
Major League Baseball, which did not immediately comment on Taubman's firing, previously announced it was investigating the incident.
"Domestic violence is extraordinarily serious and everyone in baseball must use care to not engage in any behavior — whether intentional or not — that could be construed as minimizing the egregiousness of an act of domestic violence," the MLB said in a statement Tuesday.
The Astros trail the Washington Nationals two games to none in the World Series heading into Game 3 on Friday.
CORRECTION (Oct. 23, 2019, 6:15 p.m. ET): A previous version of this article misspelled the last name of the Sports Illustrated reporter who wrote about the clubhouse celebration. She is Stephanie Apstein, not Apstesin.