MANILA, Philippines — Sadness and disappointment gripped Filipinos after Manny Pacquiao's defeat in his much-anticipated fight against American Floyd Mayweather Jr. but they still considered the boxing icon a national hero.
Gymnasiums and other public venues where the 12-round fight was shown for free on Sunday lunchtime local time were quickly vacated after it was announced Pacquiao lost by unanimous decision.
Herminio Coloma, a spokesman for President Benigno Aquino III, said "the country still holds its head high in the admirable fight of our National Fist."
He said Aquino thanked Pacquiao, who is also a congressman, for being "an inspiration to every Filipino who is struggling with life's challenges to achieve a bright future."
Some fans said Pacquiao should retire from boxing while others demanded a rematch. For thousands at a plaza in Marikina city, part of metropolitan Manila, the party mood was dampened not just by his loss but also a sudden downpour.
Roland Purificacion, a 45-year-old pedicab driver who watched the fight on a huge television screen outside the Quiapo Church in central Manila, was disappointed but spoke for many of his compatriots when he said Pacquiao "is still the people's champ. He is still our hero."
Security guard Melchor Yaba, 48, said he lost 5,000 pesos ($113), a half month's salary, betting on Pacquiao.
"I can't accept that he lost. I now regret it," he said, referring to his bet. "He cannot retire yet. Let's have a rematch."
In Pacquiao's hometown of Kiamba, a fishing and farming town in southern Sarangani province, which he represents in Congress, passenger mini-buses brought villagers who have no television to watch the fight in the town's 2,500-seat gymnasium.
Vice Mayor Bogi Martinez said the municipal government roasted a calf and pig to be served to the crowd.
Winning or losing, Pacquiao's fights with the world's top boxers often lifts the spirit of Filipinos amid troubles brought by corruption scandals, a decades-long separatist insurgency in the south, and natural disasters such as the November 2013 super Typhoon Haiyan that killed more than 7,000 people a month after a killer earthquake struck the same region.
Jose Luis Nepomuceno, a 62-year-old retired congressional liaison officer, brought along his wife to watch the fight at the San Andres Sports Complex, one of nine public venues the city government set up for the public to watch the bout, partially funded by a popular department store.
"We may not be in Las Vegas, but our hearts are there for him," Nepomuceno said.
Louis Tinsley, a 25-year-old tourist from Manchester, England, and his fiancée, Jade Broadhurst, were among the early birds at San Andres eager to support Pacquiao.
"In the eyes of Filipinos he is a role model ... a very humble man, which is not usual for a boxer. That's his most endearing quality," Tinsley said.
At the Manila branch of the country's biggest mall operator, SM, the Pacquiao-Mayweather fight was shown in six of its 12 theaters.
Cinema manager Rico Ramos said ticket sales were three times bigger this time than Pacquiao's previous big U.S. fight against Juan Manuel Marquez in December 2012.
Hundreds of soldiers and civilian employees and their families watched the fight at the grandstand inside the armed forces headquarters. The fight also was shown in camps throughout the country as a morale-booster.
Chief of Staff Gen. Gregorio Pio Catapang, congratulated Pacquiao, a lieutenant colonel in the army reserve force, despite his defeat because the boxer "gave his best, and (that is) what is important to us."
"He gave us a good fight. Unfortunately his opponent kept on running around," he said.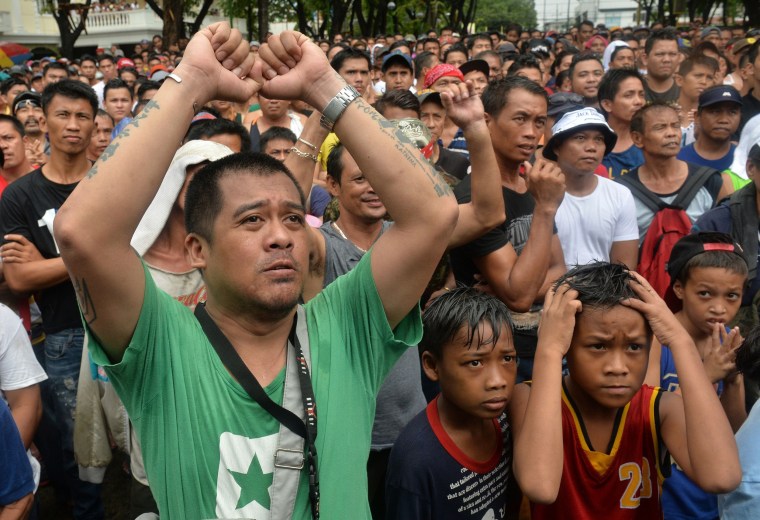 — The Associated Press