Jim Brown, widely regarded as pro football's greatest running back who ended his career early to pursue acting and civil rights activism, has died, his family announced.
He was 87.
A spokeswoman for Brown's family said he died peacefully in his Los Angeles home Thursday night with his wife, Monique, by his side.
"To the world, he was an activist, actor, and football star," Monique Brown said in a statement. "To our family, he was a loving husband, father, and grandfather. Our hearts are broken."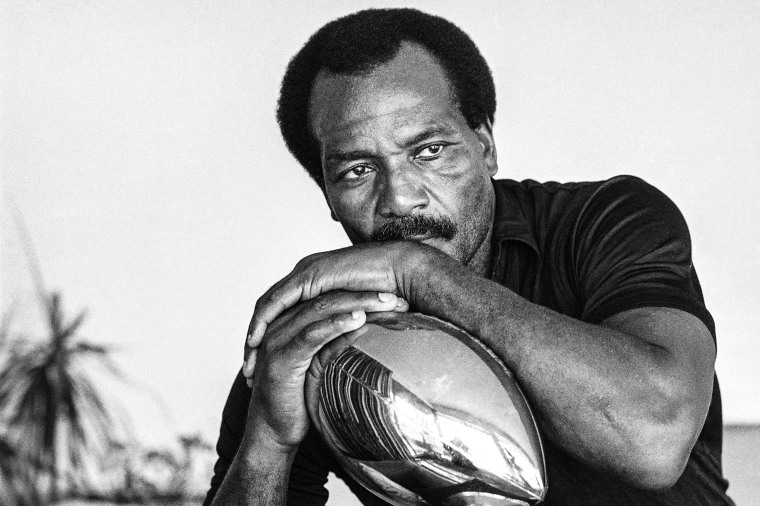 Brown played nine seasons for the Cleveland Browns and rushed for 12,312 yards and 106 touchdowns, the 11th and sixth most in NFL history, respectively.
The Browns called him a legend, a leader, an activist and a visionary.
"It's impossible to describe the profound love and gratitude we feel for having the opportunity to be a small piece of Jim's incredible life and legacy," the team said in a statement Friday.
Brown was a nine-time Pro Bowl selection, three-time MVP and was named one of pro football's 100 greatest players.
"We are heartbroken by the passing of the legendary Jim Brown. One of the greatest players in NFL history, a true pioneer and activist," the NFL said in a statement. "Jim Brown's legacy will live on forever."
His alma mater, Syracuse University, extended its condolences to loved ones of the all-time great football and lacrosse player.
"There will be only one Jim Brown. We're saddened to have lost the greatest of all time today," the school said.
Even Brown's impressive lifetime numbers on the gridiron don't fully reflect his NFL career, which he cut short to pursue a second career in Hollywood.
He rushed for 5.2 yards per carry, by far the most of any player for more than 10,000 career rushing yards.
He led the Browns to the 1964 NFL title, and the next year, Cleveland lost the title game. Those were the final NFL title games, before the advent of the Super Bowl, pitting champions of the NFL and old AFL.
The first Super Bowl was played Jan. 15, 1967, but Cleveland has never played in that championship game.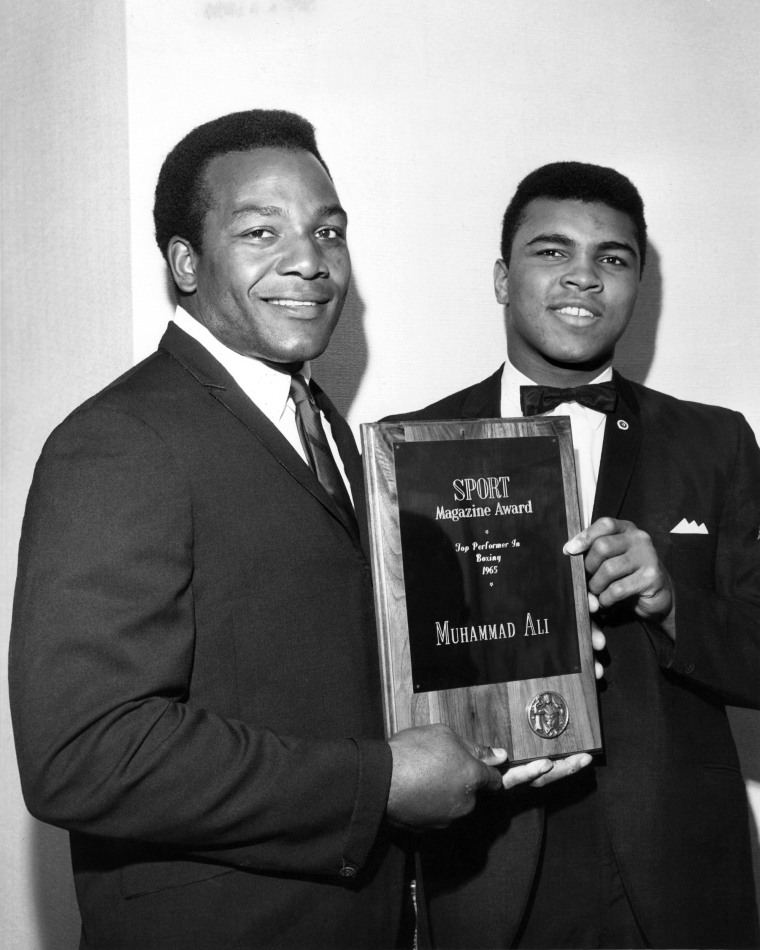 Brown was on the London set of "The Dirty Dozen" and going to report late to training camp in summer 1966 when team owner Art Modell publicly ordered his star running back to return to America and be on time for preseason drills.
If Modell was bluffing, Brown wasn't playing: He announced his retirement from London.
"This decision is final," Brown said. "I'm no longer preparing mentally for football. I'm committing myself to other things. I'm not going to play again."
Brown has acting credits in more than 30 movies, including "Any Given Sunday," "The Dirty Dozen," "El Condor" and "Three the Hard Way."
He also boxed aliens in "Mars Attacks!," played the role of Fireball in the Arnold Schwarzenegger film "The Running Man" and was Slammer in the parody "I'm Gonna Git You Sucka."
Brown was among the most outspoken Black athletes of his era, advocating for them to use their platforms and elevate important causes of the day.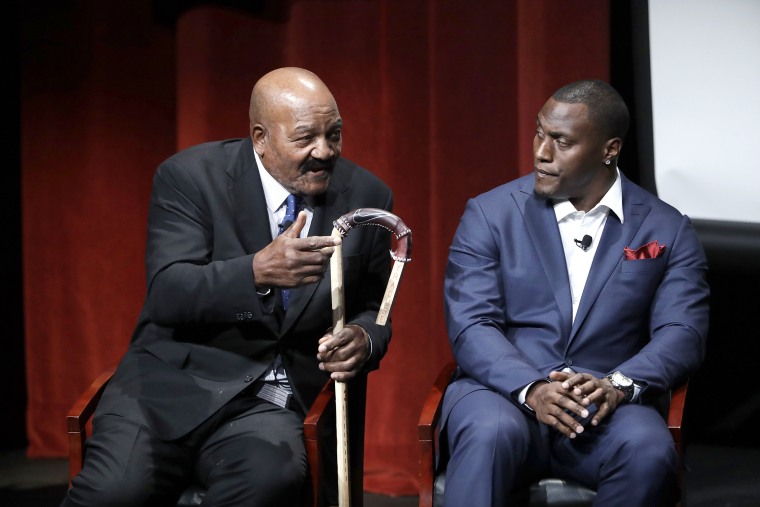 He famously convened what's come to be known as the "Cleveland Summit." That's when athletes including Bill Russell and Lew Alcindor —who would later change his name to Kareem Abdul-Jabbar — and activists such as Carl Stokes gathered to hear from Muhammed Ali and eventually rally to his cause.
While Ali was stripped of his championship belts and convicted of draft evasion, the U.S. Supreme Court in 1971 threw out the conviction, ruling that the government had failed to properly consider Ali's application as a conscientious objector.
Despite Brown's on-the-field brilliance and zealous commitment of civil rights, he leaves behind a complicated legacy.
He was a contentious figure, having been arrested a half-dozen times, mostly on charges of hitting women.
In June 1999, Brown's wife called 911, saying Brown had smashed her car with a shovel and threatened to kill her. During the trial, Monique Brown recanted.
Jim Brown was acquitted of a charge of domestic threats but convicted of misdemeanor vandalism. The Los Angeles judge sentenced Brown to six months in jail when he refused to attend domestic violence counseling.
Actor Yvette Nicole Brown wasn't shy about telling her half-million-plus Twitter followers that she wasn't sad about Brown's passing.
"Trust and know that a monster has died," Brown wrote, citing the football great's treatment of women. "If he didn't want folks to speak ill of him when he died, he should've been a good man when he was here."
Still, NFL Commissioner Roger Goodell said Brown was "one of the most dominant players to ever step on any athletic field" and called him a force for change.
Brown was inducted into the Pro Football Hall of Fame in 1971.
"During his nine-year NFL career, which coincided with the civil rights movement here at home, he became a forerunner and role model for athletes being involved in social initiatives outside their sport," Goodell said in a statement. "He inspired fellow athletes to make a difference, especially in the communities in which they lived."
Former President Barack Obama also was among those expressing their condolences.
"I was too young to remember Jim Brown's playing days, but I knew his legacy. One of the greatest football players ever, he was also an actor and activist — speaking out on civil rights, and pushing other Black athletes to do the same," Obama wrote in a tweeted statement. "Our thoughts are with Jim's wife Monique, his children, and everyone who knew and admired him."
In Los Angeles, Brown in 1988 founded the Amer-I-Can Foundation for Social Change, which is a group that according to its website focuses on at-risk and high-risk youth, including those in juvenile detention facilities. It also helps adults reenter society after incarceration.
Brown, in his induction speech at the Pro Football Hall of Fame, thanked those that in his own life kept him in school and on the right track in Manhasset, on New York's Long Island.
"They are here today and most of all, I want to publicly give them my thanks because they came into my life at a time where I could have gone many, many directions," Brown said in his enshrinement speech.