João Havelange, who transformed FIFA from a tiny administrative office into the most powerful sports organization on the planet amid great controversy and ceaseless accusations of corruption, died Tuesday at age 100, FIFA confirmed.
Havelange was a regal, imposing man who represented Brazil at the Olympics in two different sports, swimming and water polo, and he served on the International Olympic Committee for 38 years in addition to having run the Fédération Internationale de Football Association from 1974 to 1998.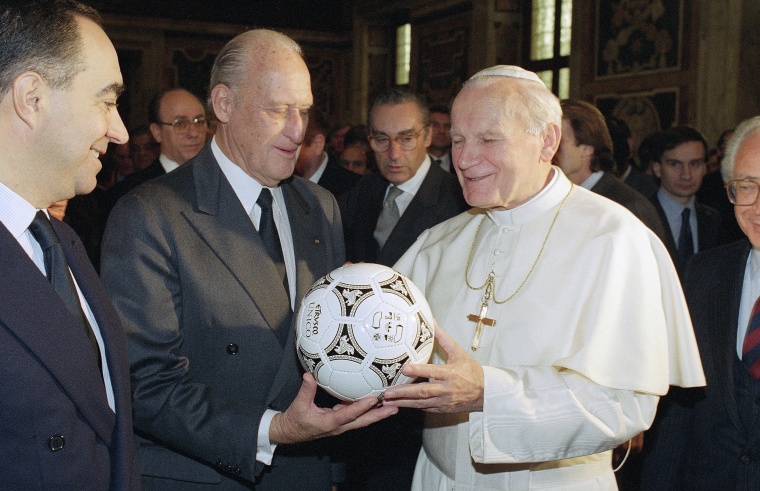 He died in Rio de Janeiro as his hometown was hosting an Olympiad for which he had personally led his country's bid process. The Olympic flag was lowered to half-staff in his memory as the games' track and field events were taking place in João Havelange Olympic Stadium.
Havelange (pronounced HAH-vuh-lanzh) started in soccer administration as head of Brazil's federation from 1958 to 1974 — a period during which Brazil won a still-unprecedented three out of four World Cups (in 1958, 1962 and 1970).
In 1974, he challenged England's Sir Stanley Rous for leadership of FIFA, which at the time was a colonial-era relic employing a handful of people who mainly administered soccer's rules and organized the World Cup.
Havelange attacked FIFA's European provincialism and promised to spread the organization's decision-making and income around the world, and after he was elected, he made good on that promise.
During his 24 years in power, the World Cup grew from 16 to 32 teams encompassing all six populated continents — in 1994, he even took it to the United States, until then a sleepy backwater of the sport.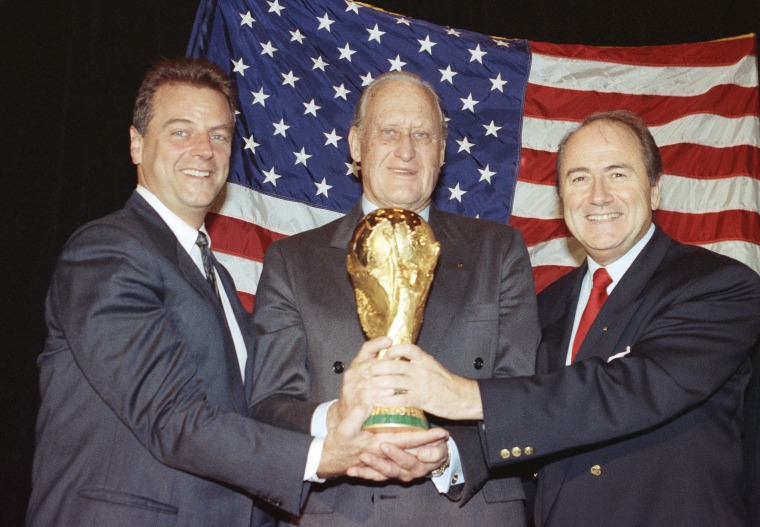 He created the Women's World Cup, innumerable smaller continental and youth competitions, and programs to embed soccer in poor countries across Asia, Africa and the Caribbean, truly turning it into the world game.
"During his 24 years as FIFA president, football became truly global, reaching new territories and bringing the game to all corners of the world, something the whole football community should be grateful for," Gianni Infantino, FIFA's current president, said in a statement.
At the same time, Havelange's iron-fisted rule turned FIFA into a worldwide bureaucratic giant, adding dozens of countries — each with an equal vote, which almost always went to Havelange and then to his successor, Sepp Blatter. He was able to command audiences with presidents, kings and popes (he met with Pope John Paul II at least three times.)
And he was incessantly accused of corruption on an equally global scale.
In 2011, Havelange resigned from the IOC two days before a scheduled hearing over evidence that he and his associates took more than $40 million in kickbacks from contracts awarded to marketing companies. He resigned as honorary president of FIFA two years later as that organization's ethics committee was closing in.
Those investigations led to the FIFA scandal of today, in which 14 FIFA officials and business partners were indicted by the U.S. Justice Department last year on bribery and other corruption charges. The investigation led to the ouster of Blatter, Havelange's hand-picked successor as head of FIFA.
Full Coverage: The FIFA Corruption Scandal
In a statement Tuesday, Blatter said soccer owes Havelange "a huge debt of gratitude."
"Thanks to Joao Havelange, football is the world's leading sport — not only from a social, cultural and economic perspective, but also in terms of its political impact."
But others, including journalists who had hunted Havelange for decades, were far less kind.
Havelange "wasn't anything but a resilient mobster who arrived at a weak FIFA in 1974 and did whatever he wanted," Andrew Jennings, the British journalist whose decades of digging into FIFA are widely credited with forcing the inquiries that led to FIFA's downfall, said in an interview Tuesday on Sky News.
And Gary Lineker, the star England striker-turned-TV soccer host, tweeted: "Football gave him so much. Yes, you read that correctly."