John Havlicek, the leading scorer in the storied history of the Boston Celtics whom the National Basketball Association named one of its 50 greatest players ever, died Thursday in Jupiter, Florida, the team said.
No cause of death was reported. Havlicek had suffered from Parkinson's disease in the latter years of his life.
"John Havlicek is one of the most accomplished players in Boston Celtics history, and the face of many of the franchise's signature moments," the Celtics said in a statement.
There was no greater moment than Havlicek's steal of an inbounds pass to close out the Celtics' 110-109 victory the Philadelphia 76ers in the 1965 Eastern Conference final.
The call by the Celtics' raspy-voiced play-by-play announcer, Johnny Most — "Havlicek steals it! Over to Sam Jones! Havlicek stole the ball! It's all over! It's all over! Johnny Havlicek is being mobbed by the fans!" — is rivaled perhaps only by Russ Hodges' call of Bobby Thomson's home run to send the New York Giants to the World Series in 1951 as the most famous call in U.S. sports history.
The victory sent the Celtics to the NBA Finals, where they won the seventh of their record eight consecutive league championships. Havlicek would go on to win five more titles before he retired after the 1977-78 season, all of them with the Celtics.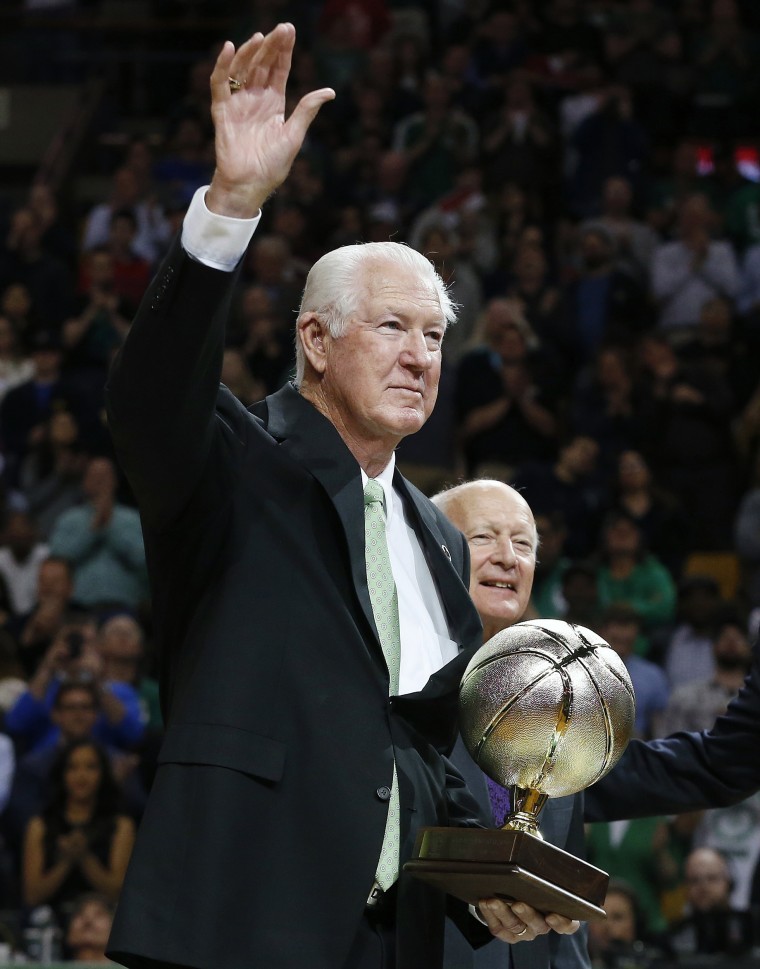 Havlicek, who swung between the guard and forward positions throughout his career, remains the leading scorer in franchise history 41 years after he retired. He put up more than 26,000 points in 16 seasons, all of them before the introduction of the 3-point shot, and his 20.8 points-per-game average remains 45th on the NBA's all-time list.
But it was his defense that Havlicek was most noted for. He was named to the NBA's All-Defensive Team five times — the most ever of any player from the Celtics, a team whose defense was the cornerstone of many of its championships.
Havlicek, whose nickname was "Hondo," "was a perpetual-motion machine, a human dynamo who was legendary for wearing out opponents with his relentless baseline-to-baseline efforts," the NBA said in a profile of Havlicek for its Legends series.
"A star at both forward and guard, Havlicek's versatility made him perhaps the finest all-around player in the history of the NBA," the league said.
Havlicek, who won a national championship with Ohio State University in 1960, was inducted into the Naismith Memorial Basketball Hall of Fame in 1984. His No. 17 jersey was retired and hangs in the rafters of TD Garden arena in Boston.
"John was the guy," former Celtics center Dave Cowens, a fellow member of the Hall of Fame, told The Boston Herald upon learning of Havlicek's death on Thursday, adding:
"Every shot that he had to make, he made it. We knew he was the guy that we were going to put the ball in his hands at the end of the game. When it got tough, that guy always responded. He was just there, and he was prepared. Always."