He may not have the best odds on the racetrack, but when the horses pull out of the gate Saturday afternoon at the Kentucky Derby, expect the crowd at Churchill Downs to go wild for a fan favorite: a one-eyed colt named Patch.
He galloped into hearts across the country when he earned a spot for the first time to run for the prestigious prize, now in its 143rd year.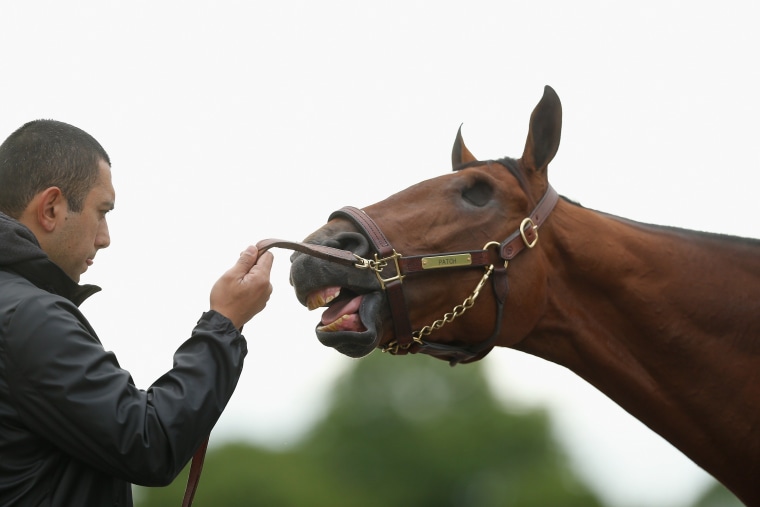 The chances of winning are slim for the 3-year-old colt, but his trainer, Todd Pletcher, told NBC Sports that the horse has never been more prepared — or supported — for a race.
"It's an intriguing story and he's a really, really cool horse to be around," Pletcher said. "He's very laid back, very professional, very straightforward to train."
Patch qualified for the Kentucky Derby after finishing second in this year's Louisiana race. Pletcher, who has two other horses racing Saturday, praised Patch for his professionalism and determination when he runs, despite his visual impairment.
Here are a few facts about the industrious equine:
Why did Patch lose his eye?
The horse was born with both eyes, but what led him to lose his left one remains a mystery, his owner said.
"We came in one morning and his eye was a little bit swollen, and he was tearing heavily," Pletcher told NBC Sports, adding that the horse may have fallen or run into an object.
After aggressive treatment failed, vets removed Patch's left eye over a year ago. But that hasn't pulled the reins on the colt.
"I mean, you can't help but root for him. I mean, he's overcome a lot," Pletcher told TODAY.
Is Patch the first visually impaired horse to run in a Derby?
No. In fact, he's not even the first partially-blind horse to race in the Kentucky Derby that Pletcher has trained. Another horse named Pollard's Vision — who was named after the jockey of the beloved racehorse Seabiscuit — finished 17th in the 2004 derby.
According to historians, at least two other partially blind horses have competed: Cassaleria in 1982 and Storm in May in 2007.
When did Patch get his name?
According to his trainers, the colt was already named Patch before he lost his eye — and it definitely suits him now.
Can he defy the odds?
Anything can happen at the Kentucky Derby — and everyone loves a come-from-behind victory. But Patch isn't favored to win; his starting odds were 30-1. Still, his chances have increased since his story began making news.
What are his fans saying?