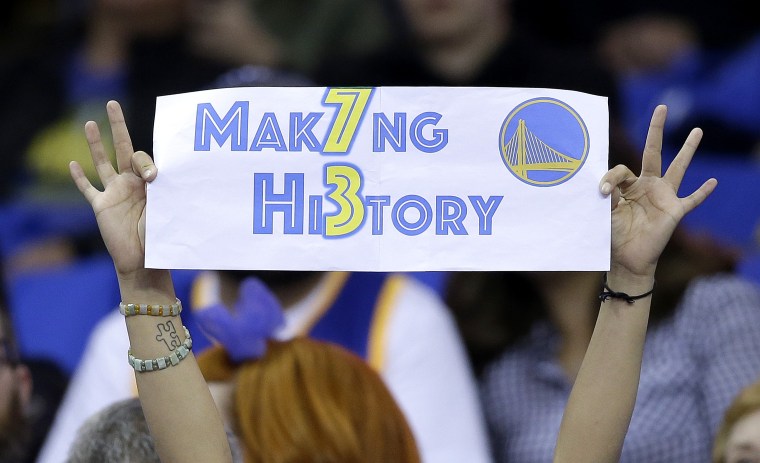 Mamba out.
In the final game of his storied career, Kobe Bryant scored 60 points and even managed to overshadow the Golden State Warriors as they became the greatest team in NBA history.
As the former MVP had a sendoff for the ages — including a 3-pointer that gave his L.A. Lakers the lead over the Utah Jazz with 59 seconds left to play — the Warriors eclipsed the 1995-96 Chicago Bulls by winning their 73rd game of the season. Stephen Curry scored 46 points in three quarters during Wednesday night's triumph over the Memphis Grizzlies.
It was the sixth 60-point game of Kobe's career.
"It's hard to believe that it happened this way," the 5-time NBA champion told reporters after the game.
However, it was Kobe's farewell performance for the last-place Lakers that triggered the sort of social-media meltdown that the seemingly unstoppable Warriors would've normally expected for themselves.
Here's a roundup of tweets from after Kobe stepped off the court for the last time — and the Warriors made history.
Scottie Pippen, who starred alongside Michael Jordan on the 1995-96 Bulls, said earlier this month that he thought that team would sweep the Warriors.
Pippen wasn't alone.
Baseball Hall of Famer Dave Winfield — a college hoops star who was drafted by the Atlanta Hawks — admitted he had been torn about which of Wednesday's games to watch.
Other pro athletes and celebrities also paid tribute to Kobe.
The Bulls were magnanimous after one of their records was removed from the history books.