More on U.S. vs. Portugal
The U.S. wrapped up group play with a tense 0-0 tie against Portugal in Auckland, New Zealand. It was broadcast on Fox and Telemundo and streamed on Peacock.
The USA has always made it out of group play, and needed a win or a draw to avoid elimination Tuesday, but struggled Tuesday despite entering as big favorites.
The U.S. finished second in Group E and will now most likely have to face powerful Sweden in the round of 16, an opponent the U.S. would have liked to avoid.
Coverage on this live blog has ended.
USWNT performance panned by former captain
The U.S. performance against Portugal was slated by USWNT legend Carli Lloyd, who is working as a studio analyst on the Women's World Cup for Fox Sports. 
"I'm just not seeing that passion,'' she said, after two halves marked by "lackluster, uninspiring'' play. It seemed like the team was "taking it for granted,'' she added.
Lloyd is a two-time World Cup champion and Olympic gold medalist who served as captain of the U.S women's national team during four of their games in the 2015 World Cup. 
Alex Morgan: 'It is tough to be 2nd' in the group
Star U.S. forward Alex Morgan spoke after the game.
"It is tough to be second, we wanted to go through first. This team gave everything. We just couldn't put the ball in the beck of the net," Morgan said, according to NBC Sports.
"In the last few minutes we just had to hold it down, get the result and move on. Now we look forward, Morgan added. "It is not the result we wanted but we move forward."
What next for the U.S.?
That was close, but the U.S. scrape through their group in second place.
That means they face a long old trek to Melbourne in Australia next up where they will play on Sunday, Aug. 6th at 5 a.m. ET.
Sweden will almost certainly await the U.S. having won their opening two games in their group.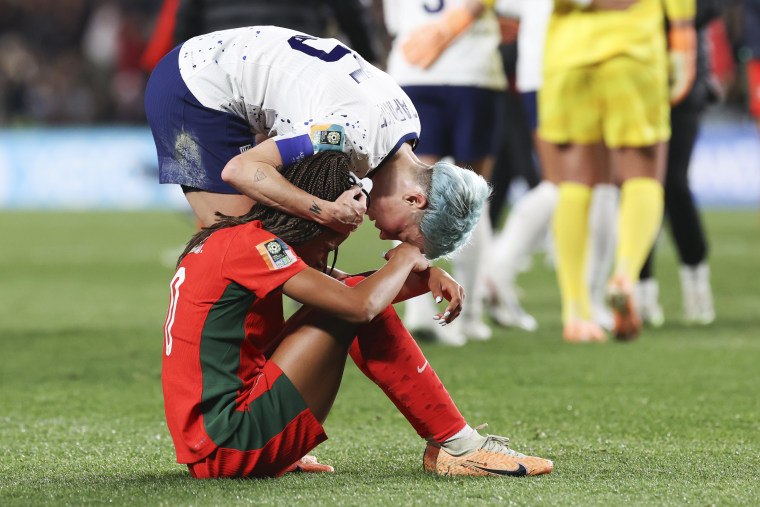 Ranked as the third best team in the world rankings and having won silver at the Olympics in 2021, it certainly will be a much-sterner test than the U.S. would have liked at this stage.
Sweden though will be familiar opposition for the U.S. with the two teams facing each other at every single one of the last five World Cup tournaments — the good news is that the U.S. has never lost to Sweden at the World Cup.
Full time: U.S. 0-0 Portugal
The United States qualifies for the knockouts, but now faces a tough road ahead after a nervy and disappointing tie.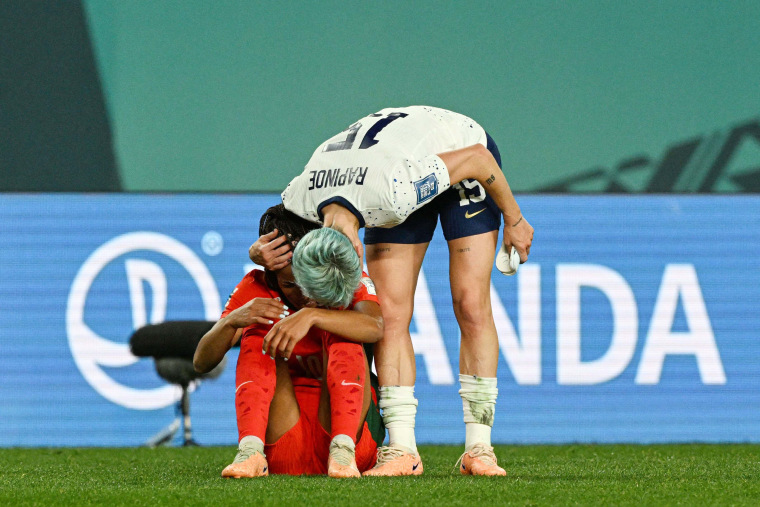 That means the Netherlands finishes top of the group with the U.S. 2nd.
Portugal hits the post!
The United States' World Cup hopes are hanging by a thread here, with Portugal hitting the post in stoppage time.
A goal would've sent the U.S. home, but there's till time for the shock.
U.S. searching for a late goal
The U.S. is trying to pile on the pressure late in the game, with just a few minutes remaining to try and get a goal that could see them win the group.
U.S. subs on Megan Rapinoe
In need of a goal, the U.S. has turned to a legend.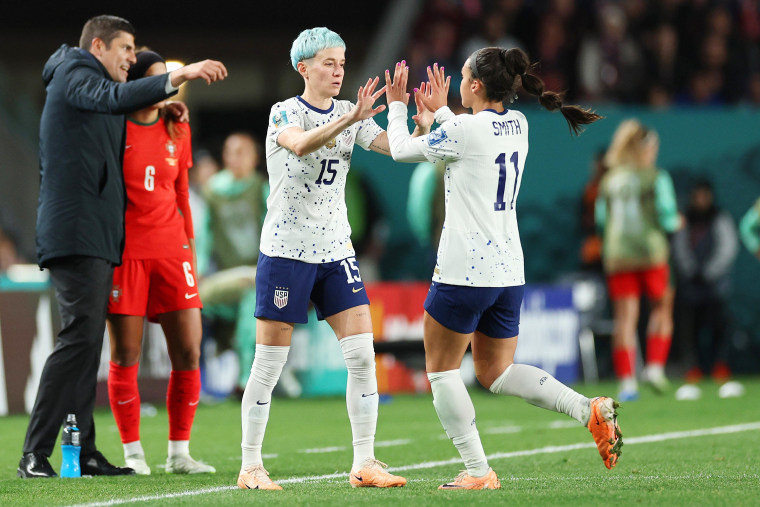 Megan Rapinoe has taken to the field, substituted on for 22-year-old Sophia Smith with just about 30 minutes remaining.
The anticipation has been high for an appearance from the veteran forward, who's playing in her last World Cup.
The U.S. comes close to scoring
A break from midfield released Alex Morgan who took it past the Portugal goalkeeper but had to stretch and saw her effort blocked by a defender in front of the net.
The resulting corner came to nothing but that was a more positive sign from the U.S.
Women's World Cup ticket sales surpassed 1.68 million, FIFA says
FIFA says ticket sales for the Women's World Cup have reached 1.678 million over the first 38 matches of the tournament in Australia and New Zealand.
It said in a statement Tuesday that total attendance across those matches had reached 982,975 and it would surpass the 1 million mark for spectators at Tuesday's final Group E match between the United States and Portugal at the 50,000-capacity Eden Park stadium at Auckland, New Zealand.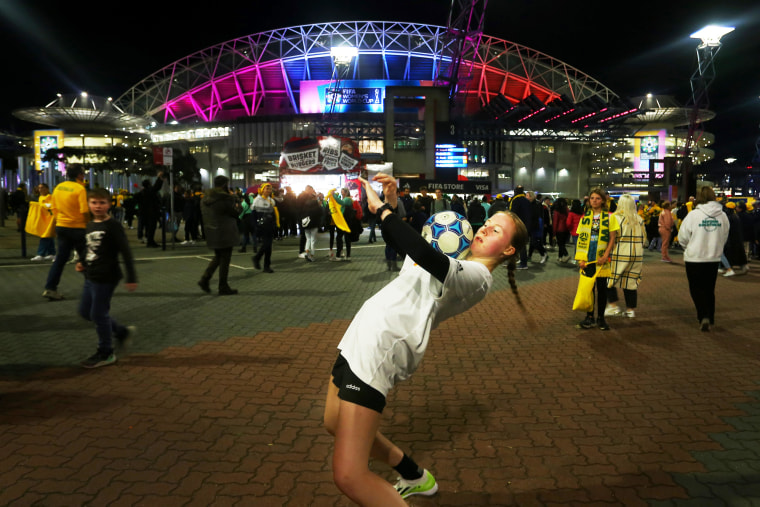 The previous record was around 1.35 million who attended a 52-game tournament in Canada in 2015. The 2023 edition has been expanded to 32 teams and will include 64 matches.
The opening games on July 20 set records for women's soccer matches in both co-host countries. The crowd at New Zealand's upset win over Norway set a new national mark of 42,137. Australia's 1-0 over Ireland later that day attracted 75,784 at Stadium Australia. A week later, more than 49,000 people attended the Matildas' upset 3-2 loss to Nigeria in Brisbane.
Second half underway
We have kicked off the second half in Auckland, with the U.S. searching for improvement and a goal against Portugal.
Netherlands running riot in other Group E match
An outstanding half for the Netherlands has seen the U.S. rival take a 5-0 lead against Vietnam at half time in the other Group E game.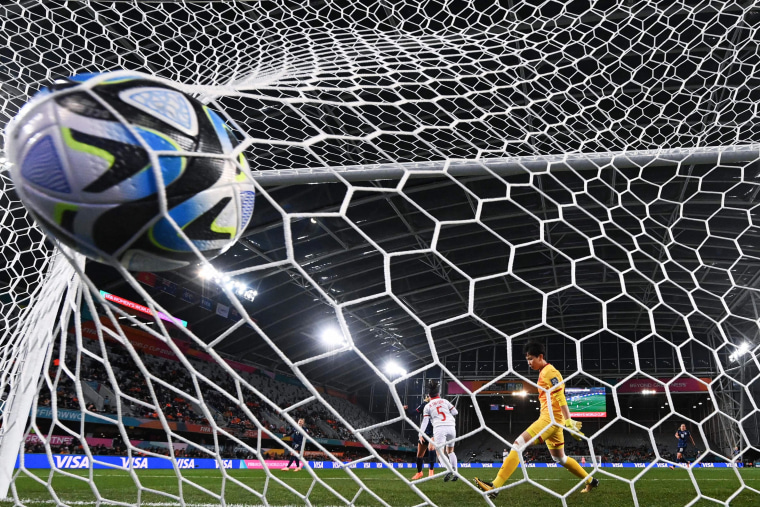 At this point, the Netherlands is on track to win the group, with the U.S. currently in position to advance in second place and face a tough opponent in the next round.
Parents of Stanford goalkeeper Katie Meyer watching with 'sadness' and 'joy'
The parents of late Stanford goalkeeper Katie Meyer are, like millions of other Americans, passionately cheering on the U.S. women's soccer team at the World Cup.
But few are doing so with the same amount of conflicting joy and sadness as Steve and Gina Meyer.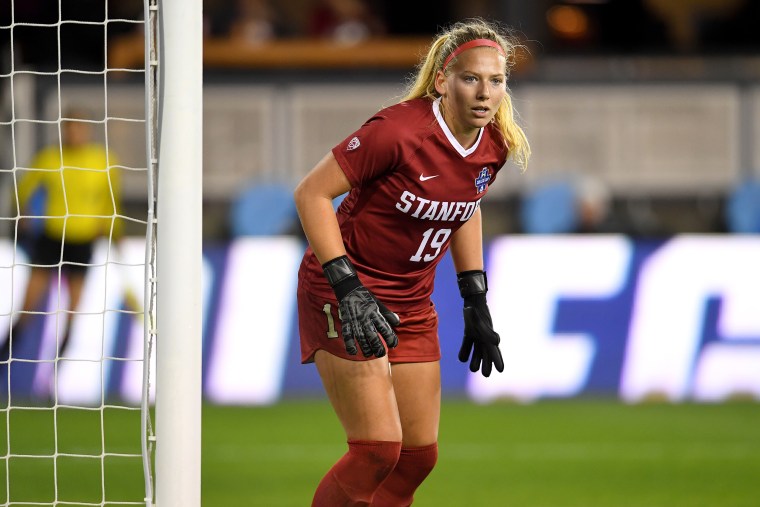 It's been a little more than 16 months since the couple's daughter died of suicide, so it's been an emotional roller coaster watching the Americans play on this world stage.
"It's a mix," father Steve Meyer told NBC News on Monday ahead of the match. "We miss her dearly and there's a real sadness that she's not with us, that she's not there with them cheering them on. She would've been there one way or another. But there's also some happiness and joy, through her former teammates there, we see her spirit living on."
Read the full story here.
U.S. fans show support — and frustration
AUCKLAND, New Zealand — U.S. fans at Eden Park showed strong support for the women's team, with many traveling to Auckland, New Zealand, to cheer them on.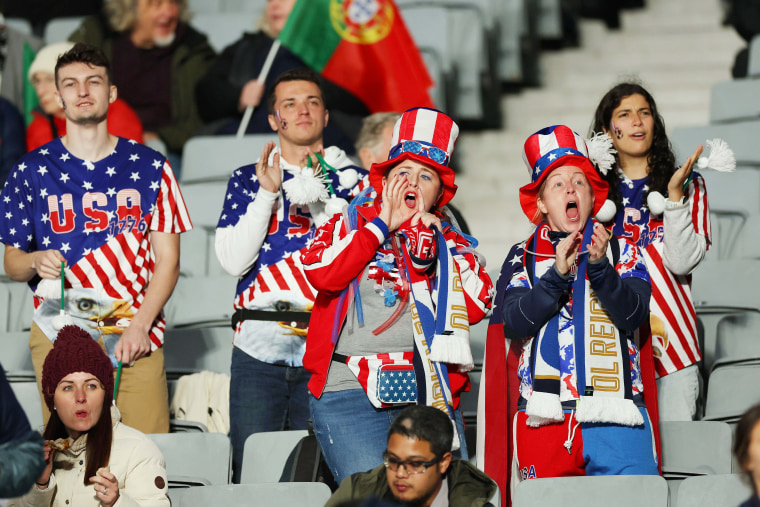 But the match has led some to also voice growing frustration, with boos heard ringing out from the stands after the referee showed Rose Lavelle her second yellow card of the tournament.
By half time, some in the crowd appeared a bit stunned by the lackluster U.S. performance so far.
Half time: U.S. 0-0 Portugal
That's half time after a frustrating first 45 minutes for the U.S. finished with a good effort from Lynn Williams inside the box.
Neither side has created very much but Portugal will surely feel better about how things have gone so far. Can the U.S. change things and improve after the break?
Rose Lavelle gets a yellow
U.S. midfielder Rose Lavelle has been shown a yellow card after taking out an opponent in midfield.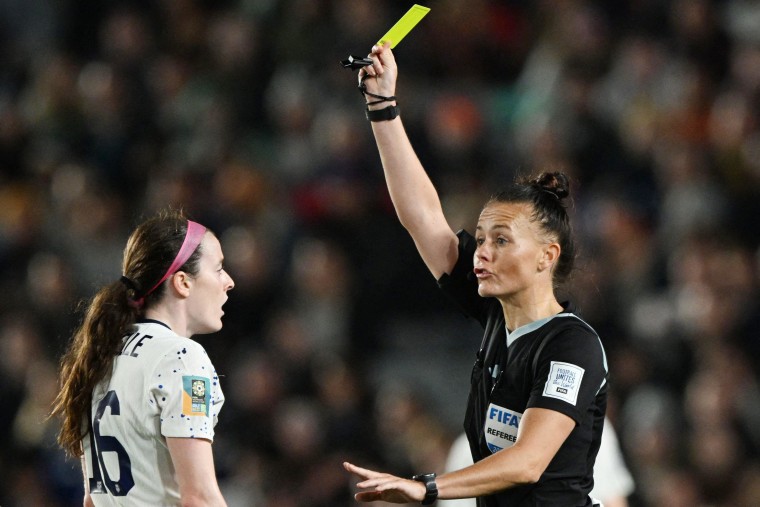 It means she'll have to walk a tightrope for the remainder of this game but also that she will now be suspended and will miss the next match assuming the U.S. advances.
That could be a big blow for the team.
Netherlands on course to finish above the U.S.
The Netherlands is already leading 3-0 against Vietnam in the other Group E game.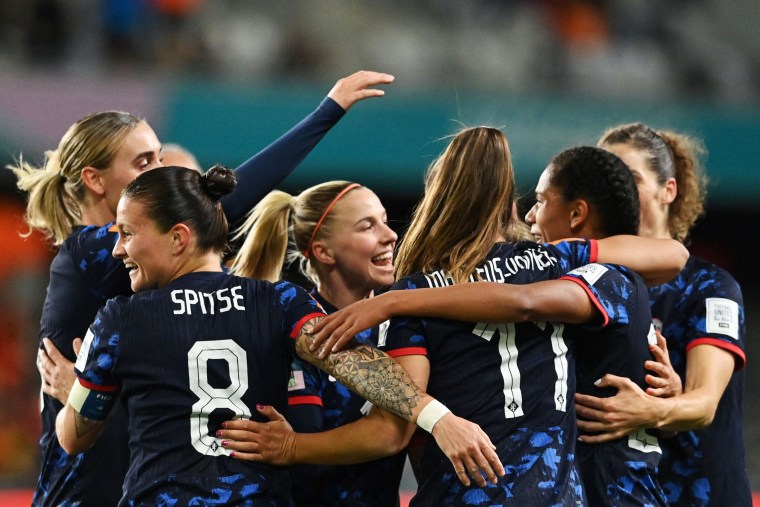 With the U.S. still tied against Portugal, that means as it stands the Netherlands would win the group with the U.S. advancing but in second place.
That would leave the U.S. facing a tougher opponent in the next round.
Portugal grows into the game
Portugal has settled into the game well after a strong start from the U.S. and just came close to scoring.
A pass in behind the U.S. defense led to a shot across Alyssa Naeher's goal. The U.S. won't be feeling so great about these opening 20 minutes.
Portugal looking for its first win over Team USA
In the 10 times they have faced off, Portugal has never bested Team USA.
In fact, Portugal has never scored against the U.S.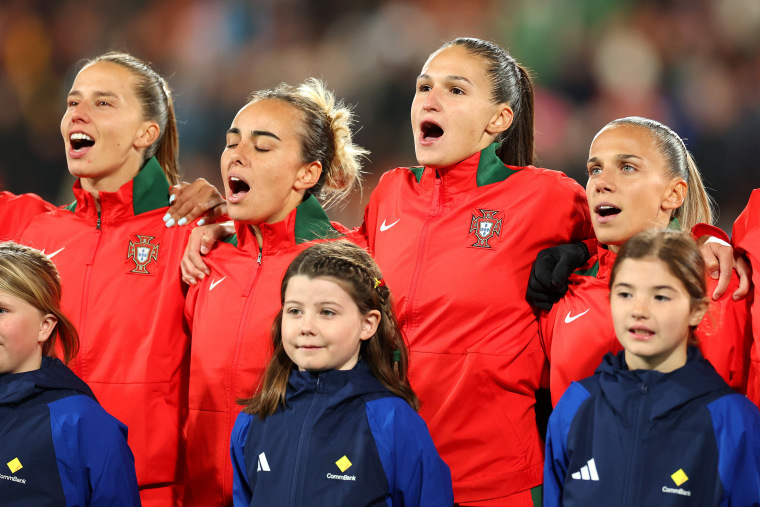 Overall, the U.S. has outscored Portugal 39-0, but two of the last four outings have been decided by only one goal.
Their last meeting was in 2021 in Houston, when the U.S. came out on top 1-0, thanks to a 76th-minute goal from Samantha Mewis.
U.S. puts Portugal under early pressure
AUCKLAND, New Zealand — The U.S. has started well, winning an early corner off a cut back to Alex Morgan and already having a couple efforts on goal.
Kick off in final U.S. group game
We are underway in Eden Park with the USWNT looking to seal a place in the knockouts.
USWNT shares starting lineup
Fans gather at Eden Park for U.S. women's soccer game
AUCKLAND, New Zealand — The excitement was growing as fans gathered at Eden Park ahead of kickoff.
"Definitely gotta bring these potstickers to U.S. women's soccer games!" said Kennedy Stomps, center, with Krista Jimenez and Wilson Griffith.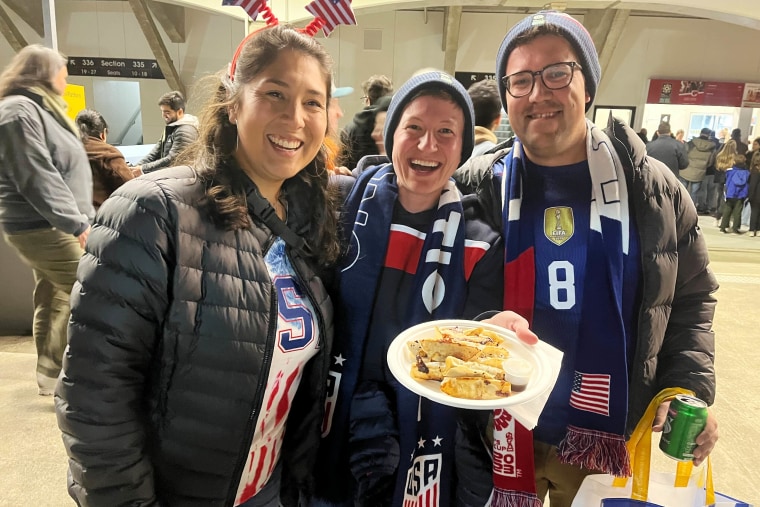 Sabrina Justen and Dan Bagnall, who live in Auckland, show their support for the women's national team. Sabrina, a Colorado native, is a former pro footballer. "This is a magical experience to see the sport come so far. I cried!"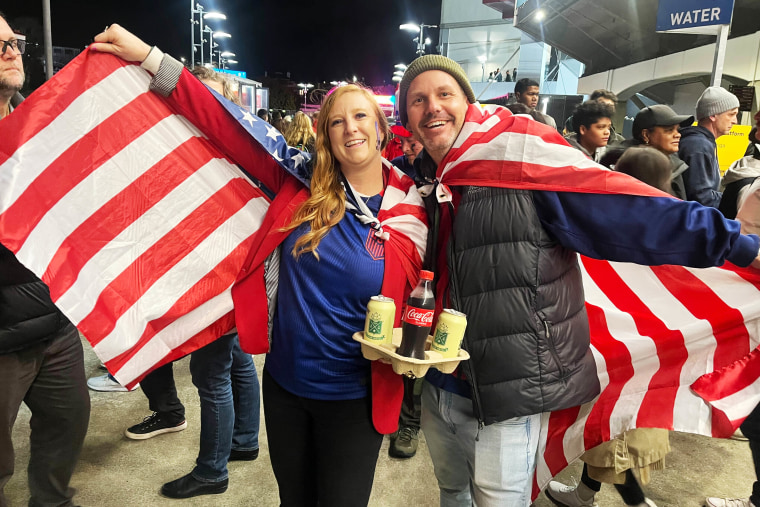 Chill is in the air at Eden Park
By U.S. summertime standards, it'll be a cold evening in Auckland when the Americans and Portuguese kick off in their Group E finale at Eden Park.
It's expected to be about 55 degrees with some wind, and gusts up to around 20 mph, that'll make the air feel closer to 51 degrees.
U.S. makes 2 changes
Rose Lavelle will start today after entering as a substitute in the first two games of the tournament, while Lynn Williams also enters the lineup in place of Trinity Rodman.
Portugal defense says it's ready to do its part
Portugal could use a swarming defense to try to prevent the United States from scoring the way Vietnam — unsuccessfully — played the Americans in the opener.
Portugal defender Ana Borges said her team will be prepared.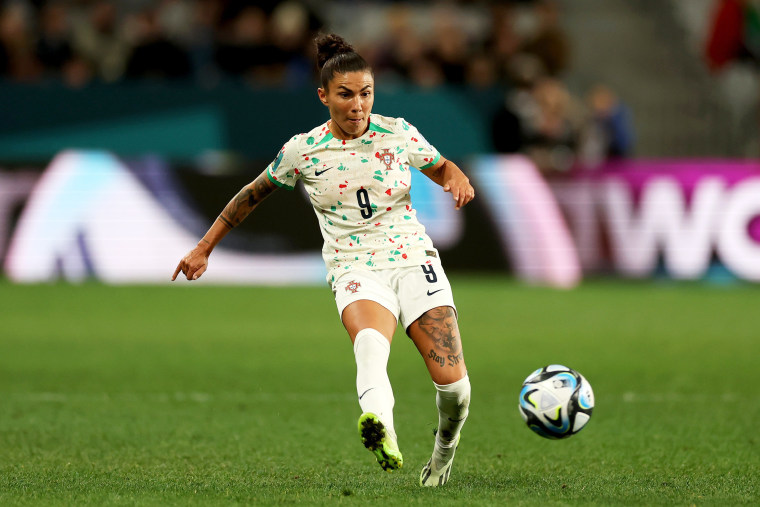 "This is the stage where we want to be. It's against these teams that we want to play because we're going to learn and grow from them," Borges said. "Not saying anything about the other team, but if we weren't prepared for this challenge, we wouldn't be playing football."
Similiar World Cup resumes
Portugal enters the match as a decided underdog against the Americans, despite posting scores similar to the U.S. so far this tournament. 
Portugal lost, 1-0, to the Netherlands and beat Vietnam, 2-0, in results nearly mirroring the Americans' 1-1 draw and 3-0 win over those same opponents.
U.S. has never not played on final weekend
The U.S. needs to at least draw against Portugal to move on to the knockout stage and perhaps keep alive a streak nearly as remarkable as its back-to-back World Cup titles.
The Americans have played into the final weekend of every World Cup since the tournament launched in 1991.
When the United States isn't winning it all (as it did in 1991, 1999, 2015 and 2019), it's been in up to the end. The United States fell to Japan in penalties in the 2011 title match and lost in the semifinals before bouncing back to win third-place matches in 1995, 2003 and 2007.
That 2007 tournament was best known for the Americans' surprising benching of goalkeeper Hope Solo for the semifinal match vs. Brazil, a move that had drastic ripple effects.