LSU and its Heisman Trophy-winning quarterback, Joe Burrow, comfortably beat defending champions Clemson, 42-25, on Monday night to win the College Football Playoff national championship and cap off one of the more remarkable transformations in the sport's recent history.
No. 1 LSU's victory — in a Battle of the Tigers played in LSU's backyard at the Mercedes-Benz Superdome in New Orleans — was no small feat. No. 3 Clemson came in having won 29 straight games — which included a 44-16 trouncing of Alabama in last year's championship game.
Burrow threw for 463 yards and five touchdowns (he also ran for 58 yards and another touchdown) to give LSU (15-0) its fourth national title and hand Clemson sophomore quarterback Trevor Lawrence his first loss as a college football player.
Lawrence struggled, throwing for only 234 yards and no touchdowns. And Clemson's defense — ranked second in the nation statistically — didn't have enough answers for LSU's sophisticated NFL-style attack.
Clemson (14-1) limited LSU to just three yards on its first two possessions, but as it has done all season, LSU adjusted once it figured out what the defense was doing, and on its next possession, Burrow threw a 52-yard touchdown pass to Ja'Marr Chase to tie the game at 7.
Clemson stormed back to go ahead 17-7, but in the second quarter, Burrow hit Chase for 56 yards, setting LSU up at the 3-yard line; Burrow ran it in himself for the touchdown. Burrow and Chase then teamed up for a 14-yard touchdown to finish off an 87-yard drive, and LSU was rolling.
LSU scored on drives of 70, 75, 87 and 95 yards in the first half. It managed the game in the second half, aided by the ejection of linebacker James Skalski, a leader of Clemson's defense, for targeting in his hard hit on LSU wide receiver James Jefferson in the third quarter.
Full coverage of the College Football Playoff championship game
Burrow graduated in three years from Ohio State University, where he played in only 10 games, and transferred to LSU in 2018 with two seasons of eligibility remaining. He spent the first of those seasons managing LSU's traditional 3-yards-and-a-cloud-of-dust offense efficiently but unspectacularly, throwing for less than 3,000 yards and just 16 touchdowns in 13 games.
But over the off-season, LSU coach Ed Orgeron vowed to bring the offense into the 21st century. He hired Joe Brady, an assistant coach for the New Orleans Saints, to develop a sophisticated passing game for offensive coordinator Steve Ensminger, turned the reins over to Burrow and presided over what was, by some measures, an offensive turnaround unprecedented in the game's history.
LSU's average points per game leaped from 32.4 in 2018 to a nation's-best 48.9 this season. It threw for 5,561 yards — 87 percent more than it had in 2018. And it took only four games for Burrow to throw his 17th touchdown.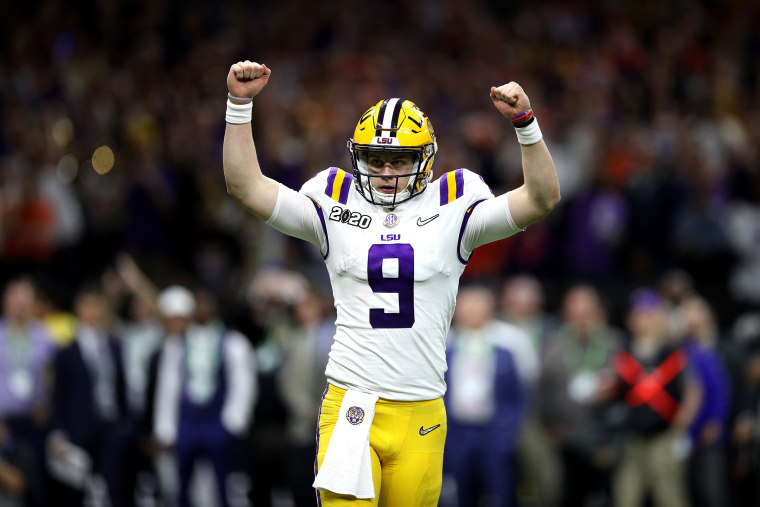 He would go on to throw 55 in 14 games before Monday night, surpass 5,200 yards through the air and sweep the end-of-season awards for quarterbacks, adding the Heisman Trophy last month. After having fled Ohio State because he wasn't thought to be good enough to play, Burrow is widely expected to be picked first in the NFL draft in April.
The historic season was also vindication for Orgeron, a Louisiana Cajun who got his dream job when he took over as LSU's coach in September 2016, when the school fired Les Miles. He was already 55 and had had only four years' experience as a head coach, three of them at Mississippi, which ended in disaster in 2007 after he'd won only 10 of his 35 games.
But Orgeron changed his hard-nosed approach when he got the LSU job, saying he'd learned a lot about leading young men as the father of three children.
The victory Monday night was his 40th in 49 games at LSU, and as he does every time he's on TV, he ended his interviews by declaring, in a deep Cajun growl that sounds like your car when you try to drive with the parking brake on, "Go, Tigahs!"