He didn't do it — and now police are saying it, too.
Dallas Cowboys wide receiver Lucky Whitehead was wrongly implicated in a shoplifting arrest in Virginia last month, Prince William County police confirmed Tuesday — an incident that apparently led the team to drop him just hours after a training camp practice Monday.
In a statement about the mix-up, police said they acted in "good faith" when they initially investigated the case involving Whitehead, whose actual first name is Rodney. But they pledged to work with the Prince William County Commonwealth's Attorneys Office to officially clear the young NFL player.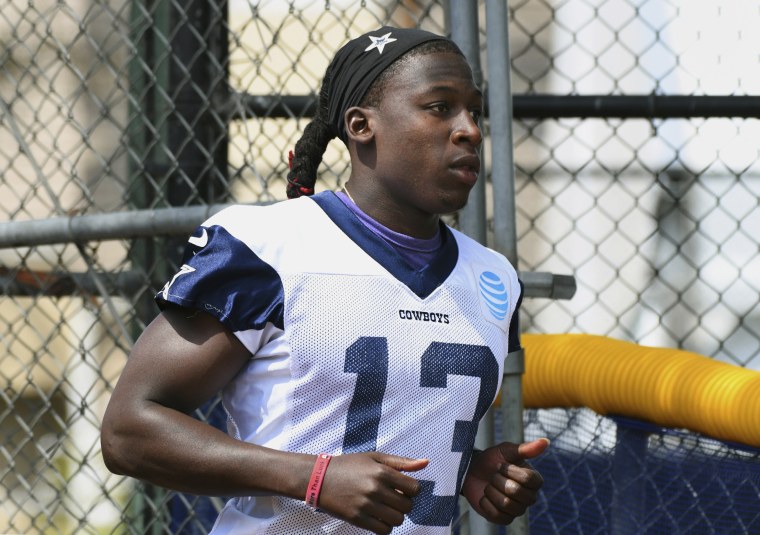 The bizarre episode kicked off when someone stole items at a Wawa convenience store on June 22, and the clerk pointed out the suspect at the scene, police said. That man did not have identification on him, but verbally provided a name, date of birth and Social Security Number that matched Whitehead's.
Officers verified the information through the state Department of Motor Vehicles database, and compared the photo of 25-year-old Whitehead in the system with the man arrested.
The suspect was let go and given a July 6 summons to appear in court on a misdemeanor petty larceny charge after the items were determined to be less than $200.
Police apparently had no reason to believe the man they questioned at the time was not Whitehead, who is from Manassas in Prince William County. Police Sgt. Jonathan Perok told NBC News that "we have no idea" how the man had obtained that data.
"At this point, the police department is also confident in confirming that Mr. Whitehead's identity was falsely provided to police during the investigation," police said in a statement. "The police department is currently seeking the identity of the man involved in the incident."
The police department added that it "regrets the impact" that the incorrect information had on Whitehead.
"It cost my player his job. He deserved better from law enforcement."
The football player's agent, David Rich, said police dropped the ball during its investigation and is "disappointed" by the error.
"It cost my player his job," Rich said in an email. "He deserved better from law enforcement. We all do."
Whitehead was eventually alerted to his involvement in the case when the man who claimed to be him was absent during a court hearing and a warrant was put out for Whitehead's arrest.
Whitehead maintained his innocence when the news broke and said he wasn't even in Virginia when the incident occurred.
"I don't know who got arrested in Virginia. But it wasn't me. I NEVER once had an altercation with the cops. And come to find out, this happened, they say, at 1:34 a.m. at a Wawa in Woodbridge, Virginia [on a day] that I was in Dallas until 11:20 a.m.," he told CowboysHQ.com.
Cowboys executive vice president Stephen Jones said in a statement Monday that Whitehead was cut after he was given "a lot of different chances along the way going back to last year. I think we just decided it was time to go in a different direction."
Whitehead, who joined the team in 2015 with a three-year, $1.58 million contract, also made headlines recently for saying on social media that his dog was stolen and taken for ransom. The dog was later recovered.
A Cowboys spokesman did not return an email seeking comment following the announcement of Whitehead's innocence.
Whitehead told the Dallas Morning News on Tuesday that he doesn't know who could have obtained his personal information and feels hurt that his team didn't give him the chance to clear his name.
"Let's not sugarcoat anything," Whitehead said. "I was pretty much being called a liar."
When asked whether Whitehead would seek his job back or why the team has kept other players who have courted controversy, including star running back Ezekiel Elliott, his agent declined to comment.
"I've got thoughts but probably best I don't share them," Rich said.