University of Missouri quarterback Maty Mauk has been suspended for the third time in four months after a video emerged purporting to show him snorting a line of white powder, school officials said Tuesday.
A video posted online by the "Total Frat Move" website late Monday showed a male purportedly using cocaine and called out Mauk by name. There was no immediate comment from the player and no confirmation from the college that the video did show the quarterback.
Mizzou teammates leapt to Mauk's defense.
"The video is very old," linebacker Michael Scherer wrote on Twitter. "Maty has been doing everything he can to be a better person... No one is perfect."
Wide receiver Keyon Dilosa echoed those sentiments, saying on Twitter that the video was "from 2 years ago" and that Mauk has "been clean."
"Maty made a mistake and everyone has made mistakes in their lives," Dilosa added.
Mauk — who has not directly commented on the allegations or video — retweeted Scherer's and Dilosa's messages along with another from an apparent supporter saying the video was "clearly old."
Mizzou's Athletic Director Mack Rhoades and new Head Coach Barry Odom said they were "gathering information" regarding the video but Mauk has been "indefinitely suspended" from the football program in the interim.
"This is an issue we take very seriously and one that will not be tolerated within our program," the coaches said in a joint statement. "We will take appropriate action once we have all the facts."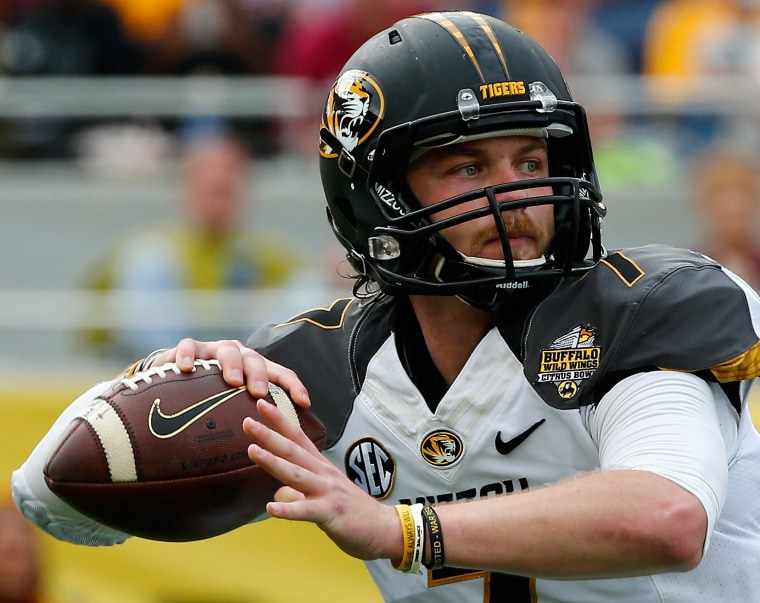 News of Mauk's suspension was first reported by the St. Louis Post-Dispatch.
Mauk, a junior Ohio native, started in all four games he played last year but his 2015 season was marred by disciplinary issues.
He was suspended in late September for undisclosed reasons.
Days after he was reinstated, Mauk was suspended again in early November for the rest of the season. Then-Coach Gary Pinkel declined to detail the reasons, saying his players were like his kids, or family, and "we protect our family."