All eyes were on U.S. soccer legend Megan Rapinoe as she entered San Diego's Snapdragon Stadium on Saturday night for her final professional match after a lengthy career that featured numerous big wins on and off the field.
In the third minute of the game, though, Rapinoe went down. She did not appear to trip and was not tackled. As she limped off the pitch, a career that included two World Cup trophies came to an end.
Rapinoe hit the ground while defending Gotham FC midfielder Maitane Lopez, who had just taken a pass from her own goalkeeper and was making her way up the pitch. Rapinoe cut Lopez off and forced a backpass, but planted her foot wrong, prompting the fall. She went down grabbing her lower leg.
She was unable to get up and was met by medical personnel. After a few minutes sitting on the field, and after shedding a few tears, Rapinoe was helped up and limped off the field. A stretcher was brought out for her but she did not use it.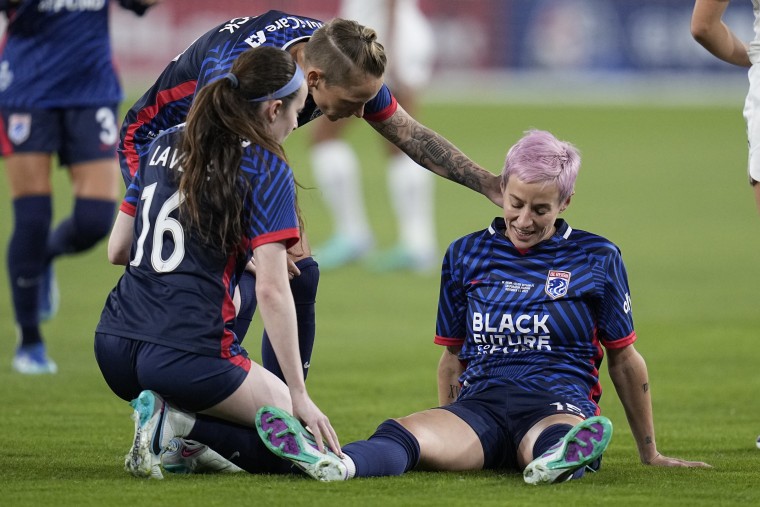 Bethany Balcer was subbed into the game in Rapinoe's place.
Rapinoe's OL Reign ultimately lost the National Women's Soccer League finals match to Gotham, 2-1.
Gotham FC's Lynn Williams scored the game's first goal 20 minutes after Rapinoe left the game. Reign's Rose Lavelle responded with a goal shortly after, just for Gotham's Esther González to score again in the final minutes of the first half.
In the game's final minutes, the Reign nearly scored a second to tie the match, but it was saved by goalkeeper Mandy Haught, who was later hit with a red card after a review for handling the ball outside the box and denying the Reign a clear goalscoring opportunity.
But any hope of a late comeback amounted to nothing as Gotham held on for the first NWSL Championship in its history.
Rapinoe limped onto the field at the end of the game wearing a boot on her right foot.
The matchup pitted Rapinoe against another U.S. Women's National Team stalwart, Gotham's Ali Krieger, who also played her final professional match Saturday after announcing her retirement earlier this year.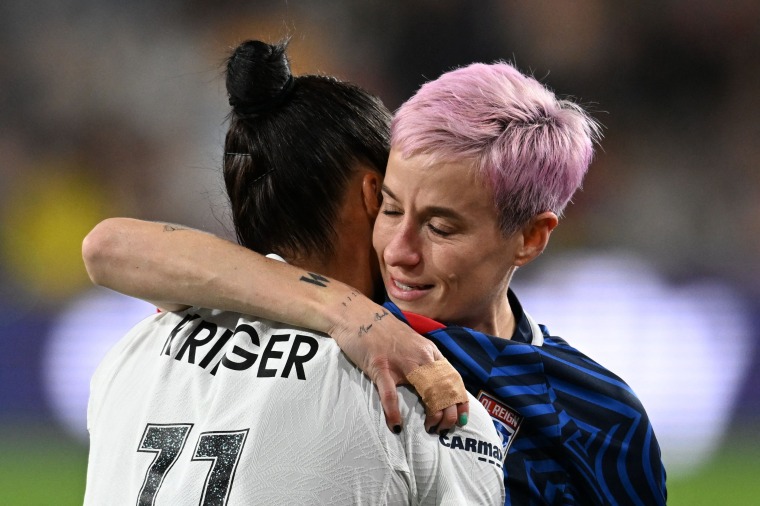 As Rapinoe was leaving the field after her injury, Krieger ran up to her to give her a hug. Krieger, like Rapinoe, helped the Women's National Team win the World Cup in 2015 and 2019.
Rapinoe, 38, announced over the summer that she would be hanging up her cleats after the NWSL season.
The Redding, California, native will be leaving competitive soccer as one of America's most durable and accomplished female athletes of all time, having played on four World Cup teams and four Olympic sides.
Besides the two World Cup trophies, Rapinoe played for squads that earned gold and bronze Olympic medals in 2012 and 2021, respectively.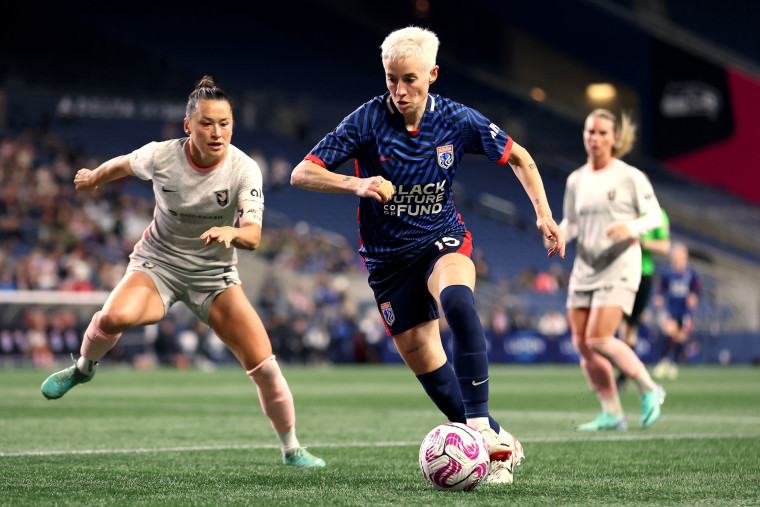 In the 2019 World Cup, Rapinoe left with the Golden Ball and Golden Boot awards as the tournament's best player and top scorer.
That World Cup lifted Rapinoe to worldwide fame with one moment. After striking a free kick into France's goal in the fifth minute of that quarterfinal match against the hosts in Paris, the lavender-haired star sprinted to a corner and lifted her arms in joy.
That celebration, dubbed Le Pose, was captured in one of the most famed photos ever snapped in women's sports.
Her trophy case also includes the 2019 Ballon d'Or Féminin, as the world's best female soccer player, the 2019 Sports Illustrated Sportsperson of the Year, the 2019 FIFA award for best female player in the world and a Presidential Medal of Freedom awarded last year.
Off the pitch, Rapinoe used her platform to advocate for social causes like Black Lives Matter, LGBTQ rights and women's equality. Her advocacy, and spats with then-President Donald Trump, once led Rapinoe to call herself a "walking protest."
She was one of the players spearheading a push for equal pay among men and women on the U.S. Soccer national team. The yearslong battle culminated in a historic collective bargaining agreement last year that guarantees, in part, that World Cup prize money is pooled and split equally between both the men's and women's teams.
Rapinoe first publicly identified as gay in 2012, telling Out magazine that the community still needs to see high-profile role models while combating pervasive homophobia.
"I feel like sports in general are still homophobic, in the sense that not a lot of people are out," Rapinoe said more than a decade ago. "I feel everyone is really craving [for] people to come out. People want — they need — to see that there are people like me playing soccer for the good ol' U.S. of A."
CORRECTION (Nov. 11, 2023, 11:15 p.m. ET): A previous version of this article misstated when the U.S. Women's National Team won the gold and bronze Olympic medals. It won gold in 2012 and bronze in 2021, not the reverse.