Major League Baseball's commissioner on Tuesday promised a "thorough investigation" into a report that the Boston Red Sox used an Apple Watch to steal signs from their rival New York Yankees.
The New York Times reported Tuesday that the Red Sox admitted their trainers received signals from video replay personnel and then relayed that information to players, after the Yankees complained about alleged sign stealing during an August three-game series in Boston.
But the Red Sox also accused the Yankees of using a YES Network camera to steal signs, according to the newspaper. MLB Commissioner Rob Manfred in Boston on Tuesday said it was a "charged situation" considering the teams' fierce rivalry, but did not confirm whether there were rule violations.
"I guess it's not shocking you could have charges and counter-charges like this. We will conduct a thorough investigation of the charges on both sides. I want to do that quickly. I think that's important — that we get it resolved," Manfred said.
"The only thing that I can tell you about repercussions is that to the extent that there was a violation on either side — and I'm not saying that there was — to the extent that there was a violation on either side, we are 100 percent comfortable that it is not an ongoing issue," he added. "That if it happened, it is no longer happening."
Sign-stealing, however, is not against the rules. But it is against the rules to use any form of technology to steal signs.
"It's the electronic equipment that creates the violation," Manfred said.
Allegations of sign stealing have been a source of some of baseball's quirkiest stories. There have been claims about a "man in white" giving signals in the Toronto Blue Jays' stadium, ESPN reported in 2011.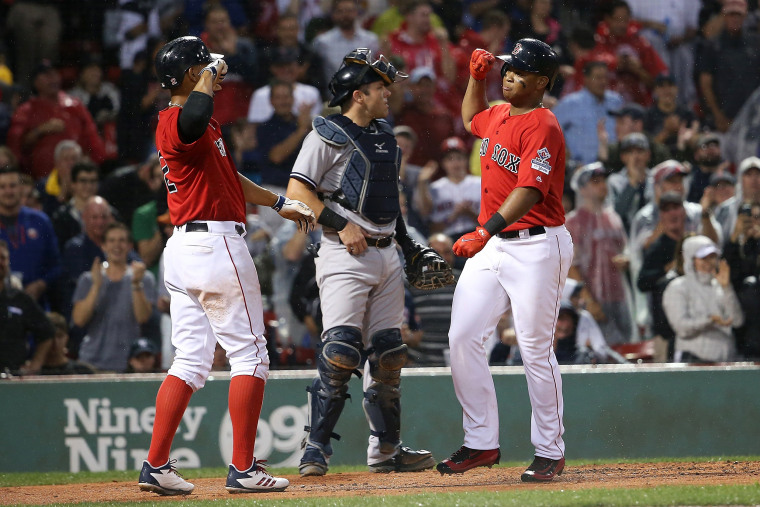 And former Texas Rangers bench coach Jackie Moore told MLB.com that "the White Sox, years ago in their scoreboard, they'd have a light in their scoreboard in Chicago at the old ballpark. They'd have a guy in the scoreboard with binoculars. If it was a breaking ball, off-speed pitch, a light would come on. And about the only person who could see it would be the hitter."
The Red Sox lead the AL East with the Yankees nipping at their heels in second place. As of Tuesday afternoon Boston was ahead by 2 ½ games.
The Times, which cited anonymous sources, said Red Sox manager John Farrell and other top officials were not aware of the scheme.
Farrell said Tuesday he was aware of the rule. "Electronic devices are not to be used in the dugout," he said. "But beyond that, the only thing I can say it's a league matter at this point."
The Times reported that video footage provided to investigators by the Yankees showed a Red Sox assistant athletic trainer looking at his Apple Watch and passing information to other players.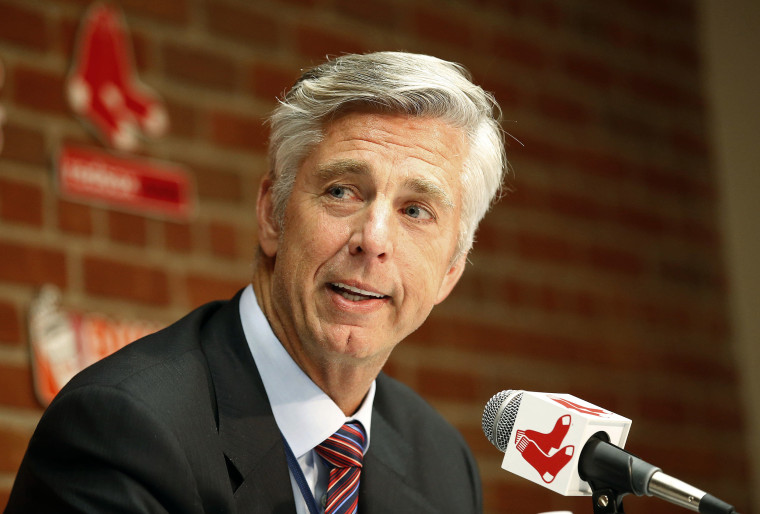 Manfred said "The Red Sox have been 100 percent fully cooperative with us in the investigation. Could not have asked for better cooperation than we've received from the Boston Red Sox."
Asked about the Red Sox' claim that the Yankees stole signs, Yankees manager Joe Girardi said Tuesday, "no chance."
Sign stealing to help hitters know what pitch is coming has long been a part of baseball lore. Most often it happens when a runner at second base peers in to see the catcher's sign and then subtly flashes a signal — maybe a hand movement, or the positioning of his feet — to the batter to let him know whether the next pitch will be a fastball, curveball or something else.
"Sign stealing is not an uncommon practice, and there in fact is not a rule against it," Manfred said.
He did not speculate on potential punishment, but said that taking away wins would be something that has never happened in a case like it before.
"It's just very hard to know what the actual impact in any particular game was of an alleged, you know, violation of the rules," he said.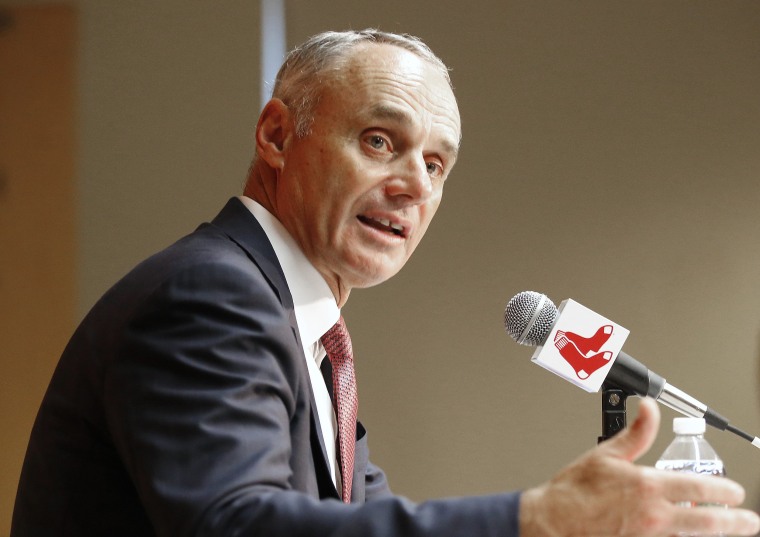 The most famous example of sign stealing was a secret for almost a half-century. It took that long before it was positively revealed the New York Giants used a spyglass-and-buzzer system to relay pitch signals to their hitters during their famed 1951 chase of the Brooklyn Dodgers, which culminated with Giant Bobby Thomson's bottom-of-the-ninth, winning homer in the decisive Game 3 of the NL playoffs.
The Wall Street Journal reporter who wrote about the spyglass system in 2001, Joshua Prager, further detailed the operation in a book "The Echoing Green: The Untold Story of Bobby Thomson, Ralph Branca and the Shot Heard Round the World."
John Thorn, Major League Baseball's official historian, would not speak Tuesday about the Red Sox-Yankees dispute, but he said in general that teams and players trying to gain any advantage is a practice as old as the sport itself.
Thorn recalled that in the late 19th century "King" Kelly would try and break from a second base leadoff to home — skipping third base — if the lone umpire was concentrated on a play on first. "Only the umpire can make the call and he can only make the call based on what he sees," said Thorn.
"The idea of good dirty fun as opposed to good clean fun is ensconced in baseball legend and baseball lore," he said.