Several Major League Baseball teams have announced they would expand the length of their fan-safety netting after a toddler girl was hit in the face by a foul ball at Yankee Stadium in New York.
The Cincinnati Reds, San Diego Padres and Seattle Mariners said they would join the list of clubs who have voluntarily added more nets to protect fans from foul balls and broken bats — moves that go beyond the league's 2015 recommendations.
The Colorado Rockies said they were considering doing it as well.
The New York Yankees, however, have not announced any such commitment.
Related: Girl Hurt at Yankees Game Adds Pressure to Expand Ballpark Safety Nets
MLB has come under increasing pressure to protect more fans from errant balls and bats because of the frequency with which fans get hit and injured. The league doesn't tally such incidents, but a 2014 Bloomberg News investigation estimated that there were about 1,750 foul ball injuries a season.
During the 2015 offseason, the league urged teams to expand netting to 70 feet from home plate along each foul line. But it stopped short of mandating anything; teams are concerned about obstructing views in some of their most expensive seats.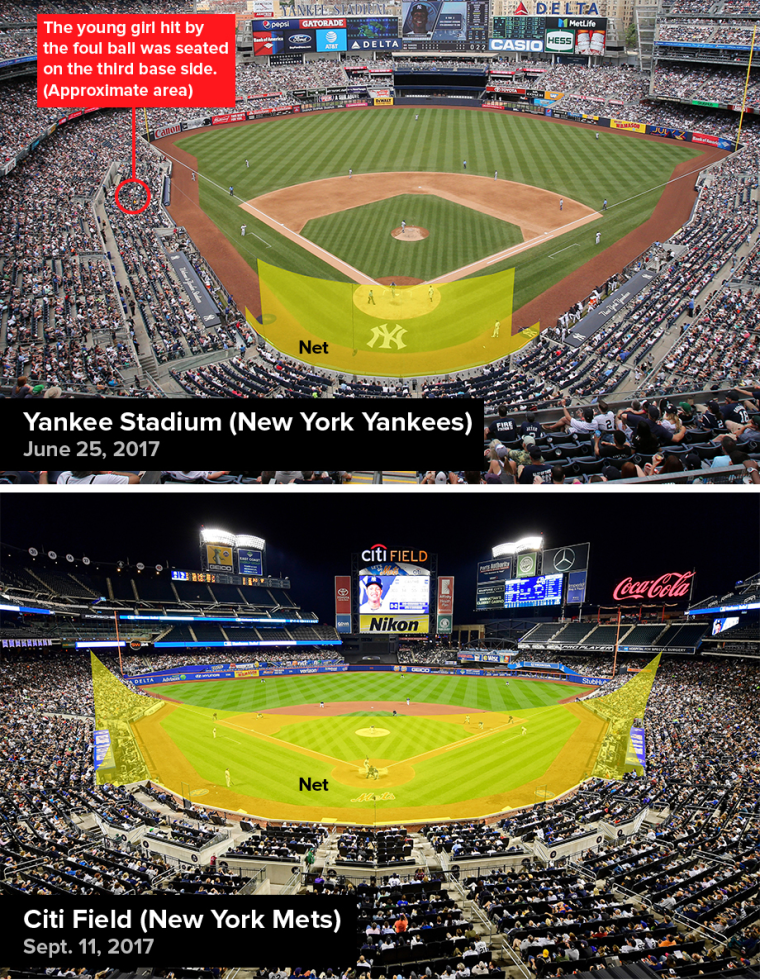 Ten teams have since expanded their netting beyond that standard: the Atlanta Braves, Houston Astros, Kansas City Royals, Minnesota Twins, New York Mets, Philadelphia Phillies, Pittsburgh Pirates, St. Louis Cardinals, Texas Rangers and Washington Nationals.
The injury to the 2-year-old girl in New York on Wednesday led several players to call on more teams to expand netting. The following day, Cincinnati, San Diego and Seattle said they would do so in the coming off season.
"This is an issue that we've been concerned about for some time," Mariners president Kevin Mather told MLB.com. "We still have some details to work out, but the bottom line is expanded netting at Safeco Field is going to happen."