Muhammad Ali, the silver-tongued boxer and civil rights champion who famously proclaimed himself "The Greatest" and then spent a lifetime living up to the billing, is dead.
Ali died Friday at a Phoenix-area hospital, where he had spent the past few days being treated for respiratory complications, a family spokesman confirmed to NBC News. He was 74.
"After a 32-year battle with Parkinson's disease, Muhammad Ali has passed away at the age of 74. The three-time World Heavyweight Champion boxer died this evening," Bob Gunnell, a family spokesman, told NBC News.
Ali had suffered for three decades from Parkinson's, a progressive neurological condition that slowly robbed him of both his verbal grace and his physical dexterity. A funeral service is planned in his hometown of Louisville, Kentucky.
His daughter Rasheda said early Saturday that the legend was "no longer suffering," describing him as "daddy, my best friend and hero" as well as "the greatest man that ever lived."
Photos: Float Like a Butterfly: Muhammad Ali's Life in Pictures
Even as his health declined, Ali did not shy from politics or controversy, releasing a statement in December criticizing Republican presidential candidate Donald Trump's proposal to ban Muslims from entering the United States. "We as Muslims have to stand up to those who use Islam to advance their own personal agenda," he said.
The remark bookended the life of a man who burst into the national consciousness in the early 1960s, when as a young heavyweight champion he converted to Islam and refused to serve in the Vietnam War, and became an emblem of strength, eloquence, conscience and courage. Ali was an anti-establishment showman who transcended borders and barriers, race and religion. His fights against other men became spectacles, but he embodied much greater battles.
Born Cassius Marcellus Clay on Jan. 17, 1942 in Louisville, Kentucky, to middle-class parents, Ali started boxing when he was 12, winning Golden Gloves titles before heading to the 1960 Olympics in Rome, where he won a gold medal as a light heavyweight.
He turned professional shortly afterward, supported at first by Louisville business owners who guaranteed him an unprecedented 50-50 split in earnings. His knack for talking up his own talents — often in verse — earned him the dismissive nickname "the Louisville Lip," but he backed up his talk with action, relocating to Miami to work with top trainer Angelo Dundee and build a case for getting a shot at the heavyweight title.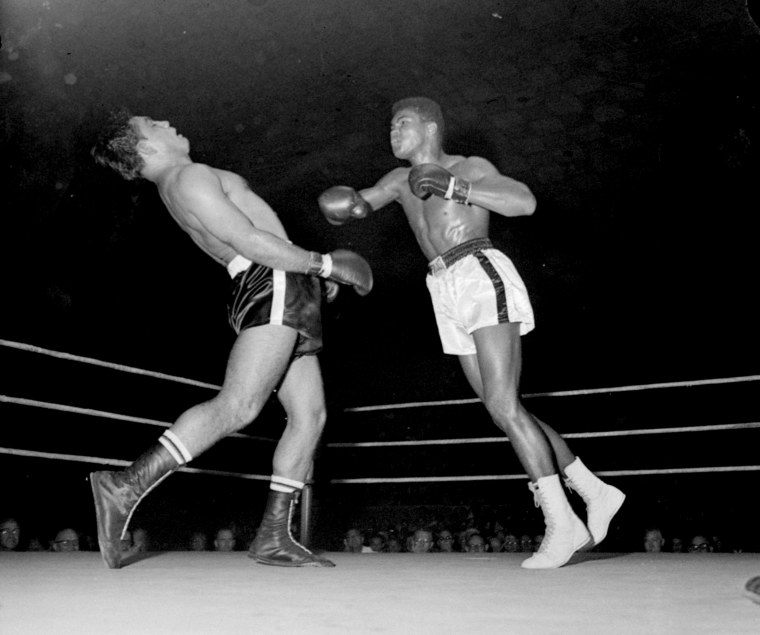 As his profile rose, Ali acted out against American racism. After he was refused services at a soda fountain counter, he said, he threw his Olympic gold medal into a river.
Recoiling from the sport's tightly knit community of agents and promoters, Ali found guidance instead from the Nation of Islam, an American Muslim sect that advocated racial separation and rejected the pacifism of most civil rights activism. Inspired by Malcolm X, one of the group's leaders, he converted in 1963. But he kept his new faith a secret until the crown was safely in hand.
Related: 'Blood Brothers': The Fatal Friendship Between Muhammad Ali and Malcolm X
That came the following year, when heavyweight champion Sonny Liston agreed to fight Ali. The challenger geared up for the bout with a litany of insults and rhymes, including the line, "float like a butterfly, sting like a bee." He beat the fearsome Liston in a sixth-round technical knockout before a stunned Miami Beach crowd. In the ring, Ali proclaimed, "I am the greatest! I am the greatest! I'm the king of the world."
A Controversial Champion
The new champion soon renounced Cassius Clay as his "slave name" and said he would be known from then on as Muhammad Ali — bestowed by Nation of Islam founder Elijah Muhammad. He was 22 years old.
The move split sports fans and the broader American public: an American sports champion rejecting his birth name and adopting one that sounded subversive.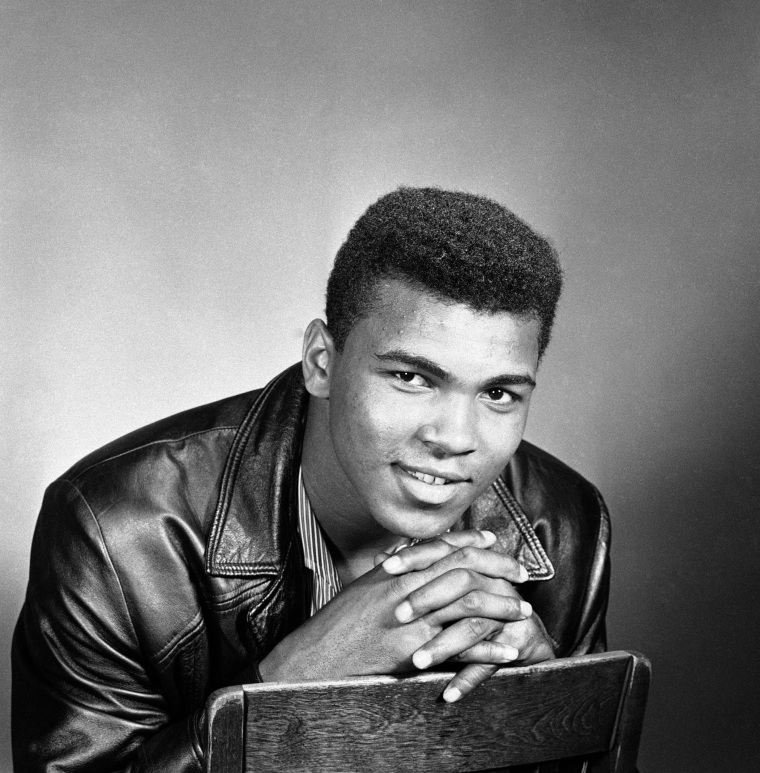 Ali successfully defended his title six times, including a rematch with Liston. Then, in 1967, at the height of the Vietnam War, Ali was drafted to serve in the U.S. Army.
He'd said previously that the war did not comport with his faith, and that he had "no quarrel" with America's enemy, the Vietcong. He refused to serve.
"My conscience won't let me go shoot my brother, or some darker people, some poor, hungry people in the mud, for big powerful America, and shoot them for what?" Ali said in an interview. "They never called me nigger. They never lynched me. They didn't put no dogs on me."
His stand culminated with an April appearance at an Army recruiting station, where he refused to step forward when his name was called. The reaction was swift and harsh. He was stripped of his boxing title, convicted of draft evasion and sentenced to five years in prison.
Released on appeal but unable to fight or leave the country, Ali turned to the lecture circuit, speaking on college campuses, where he engaged in heated debates, pointing out the hypocrisy of denying rights to blacks even as they were ordered to fight the country's battles abroad.
"My enemy is the white people, not Vietcongs or Chinese or Japanese," Ali told one white student who challenged his draft avoidance. "You my opposer when I want freedom. You my opposer when I want justice. You my opposer when I want equality. You won't even stand up for me in America for my religious beliefs and you want me to go somewhere and fight but you won't even stand up for me here at home."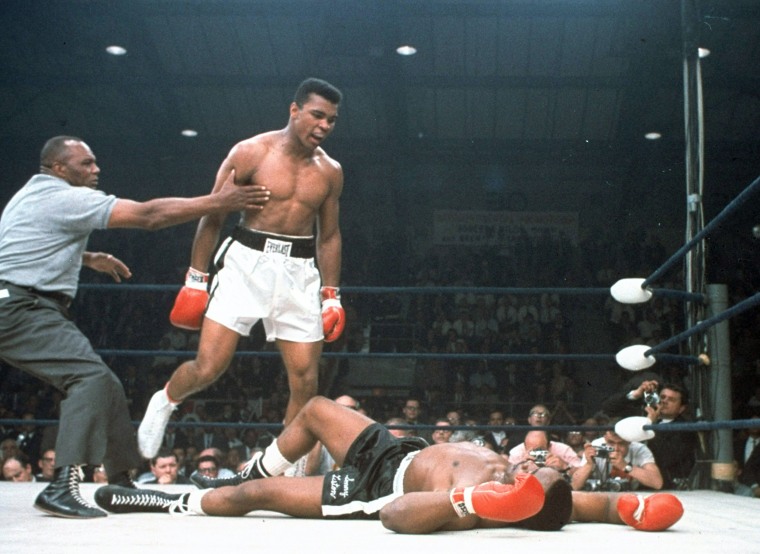 Ali's fiery commentary was praised by antiwar activists and black nationalists and vilified by conservatives, including many other athletes and sportswriters.
His appeal took four years to reach the U.S. Supreme Court, which in June 1971 reversed the conviction in a unanimous decision that found the Department of Justice had improperly told the draft board that Ali's stance wasn't motivated by religious belief.
Return to the Ring
Toward the end of his legal saga, Georgia agreed to issue Ali a boxing license, which allowed him to fight Jerry Quarry, whom he beat. Six months later, at a sold-out Madison Square Garden, he lost to Joe Frazier in a 15-round duel touted as "the fight of the century." It was Ali's first defeat as a pro.
That fight began one of boxing's and sport's greatest rivalries. Ali and Frazier fought again in 1974, after Frazier had lost his crown. This time, Ali won in a unanimous decision, making him the lead challenger for the heavyweight title.
He took it from George Foreman later that year in a fight in Zaire dubbed "The Rumble in the Jungle," a spectacularly hyped bout for which Ali moved to Africa for the summer, followed by crowds of chanting locals wherever he went. A three-day music festival featuring James Brown and B.B. King preceded the fight. Finally, Ali delivered a historic performance in the ring, employing a new strategy dubbed the "rope-a-dope," goading the favored Foreman into attacking him, then leaning back into the ropes in a defensive stance and waiting for Foreman to tire. Ali then went on the attack, knocking out Foreman in the eighth round. The maneuver has been copied by many other champions since.
The third fight in the Ali-Frazier trilogy followed in 1975, the "Thrilla in Manila" that is now regarded as one of the best boxing matches of all time. Ali won in a technical knockout in the 15th round.
Ali successfully defended his title until 1978, when he was beaten by a young Leon Spinks, and then quickly took it back. He retired in 1979, when he was 37, but, seeking to replenish his dwindling personal fortune, returned in 1980 for a title match against Larry Holmes, which he lost. Ali lost again, to Trevor Berbick, the following year. Finally, Ali retired for good.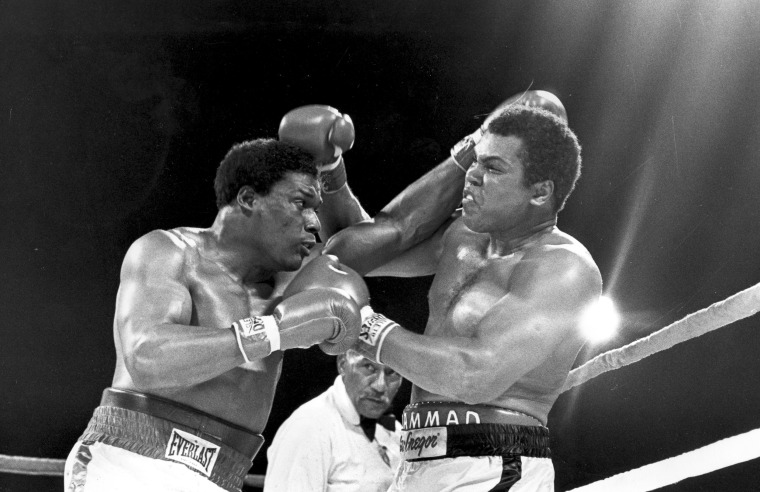 'He's Human, Like Us'
The following year, Ali was diagnosed with Parkinson's.
"I'm in no pain," he told The New York Times. "A slight slurring of my speech, a little tremor. Nothing critical. If I was in perfect health — if I had won my last two fights — if I had no problem, people would be afraid of me. Now they feel sorry for me. They thought I was Superman. Now they can go, 'He's human, like us. He has problems.' ''
Even as his health gradually declined, Ali — who switched to more mainstream branches of Islam — threw himself into humanitarian causes, traveling to Lebanon in 1985 and Iraq in 1990 to seek the release of American hostages. In 1996, he lit the Olympic flame in Atlanta, lifting the torch with shaking arms. With each public appearance he seemed more feeble, a stark contrast to his outsized aura. He continued to be one of the most recognizable people in the world.
He traveled incessantly for many years, crisscrossing the globe in appearances in which he made money but also pushed philanthropic causes. He met with presidents, royalty, heads of state, the Pope. He told "People" magazine that his largest regret was not playing a more intimate role in the raising of his children. But he said he did not regret boxing. "If I wasn't a boxer, I wouldn't be famous," he said. "If I wasn't famous, I wouldn't be able to do what I'm doing now."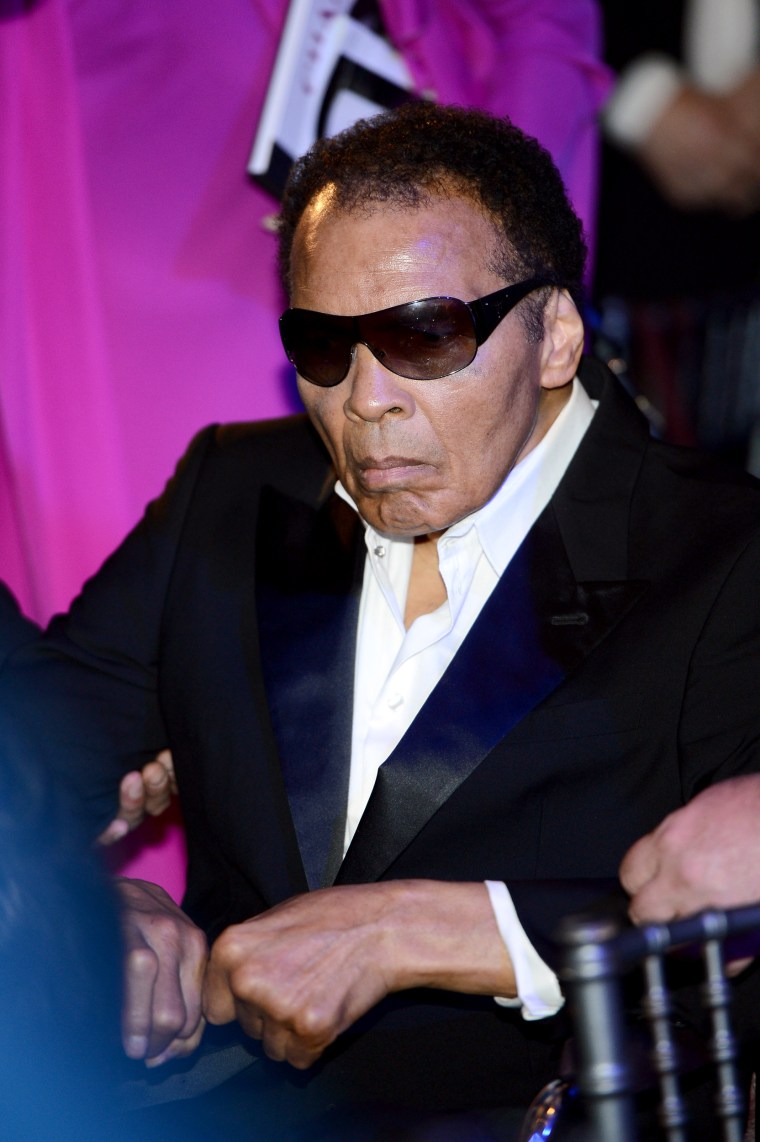 In 2005, President George W. Bush honored Ali with the Presidential Medal of Freedom, and his hometown of Louisville opened the Muhammad Ali Center, chronicling his life but also as a forum for promoting tolerance and respect.
Divorced three times and the father of nine children — one of whom, Laila, become a boxer — Ali married his last wife, Yolanda "Lonnie" Williams, in 1986; they lived for a long time in Berrien Springs, Michigan, then moved to Arizona.
In recent years, Ali's health began to suffer dramatically. There was a death scare in 2013, and last year he was rushed to the hospital after being found unresponsive. He recovered and returned to his new home in Arizona.
In his final years, Ali was barely able to speak. Asked to share his personal philosophy with NPR in 2009, Ali let his wife read his essay:
"I never thought of the possibility of failing, only of the fame and glory I was going to get when I won," Ali wrote. "I could see it. I could almost feel it. When I proclaimed that I was the greatest of all time, I believed in myself, and I still do."