Just like his glory days, with a crowd chanting his name, boxing legend Muhammad Ali on Thursday made a signature gesture — the raising of his right hand in a fist — as a reminder that he is still "The Greatest."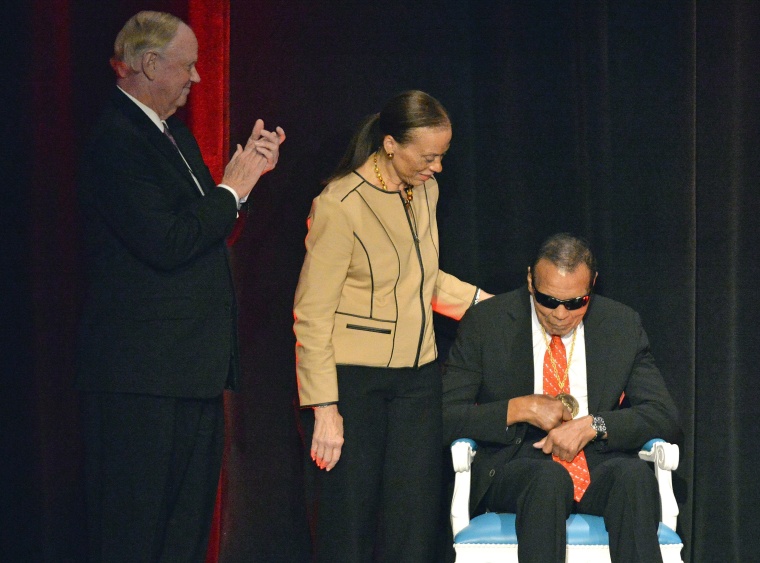 Ali, 73, has been out of the public eye in recent years because of his advanced Parkinson's disease. But that didn't stop him from getting in front of a packed auditorium in Louisville, Kentucky, to receive the inaugural Grawemeyer Spirit Award for the legacy he has created in and out of the ring.
PHOTOS: Fifty Years Ago, Cassius Clay 'Shook Up the World'
"Ali! Ali! Ali!" the audience cheered for their hometown hero, whose knack for blustery and colorful quotes earned him the nickname "The Louisville Lip," as well as "The People's Champion" and "The Greatest."
Howard Fineman, global editorial director of the Huffington Post and an NBC News analyst, told the audience that Ali is the type of athlete that has transcended his sport.
"I'm here to testify to the fact that the man we honor today is not only a world figure of tremendous import and positive impact — but somebody who represents the spirit of all mankind," Fineman said.
In addition to Ali receiving the Grawemeyer Spirit Award — named after the local industrialist and philanthropist Charles Grawemeyer — Ali's wife, Lonnie, announced that half of a $100,000 stipend will be used to create a scholarship for a student to attend the University of Louisville.
The other half will go to the Ali Center, a museum in Louisville that opened in 2005, to "empower" young people to find their voice in social justice issues, Lonnie Ali said.
Others who paid tribute to Ali spoke not only of his contribution to boxing but to his humanitarian efforts and raising awareness to injustices in America during the civil rights era.
Ali — born Cassius Clay — famously defeated Charles "Sonny" Liston in 1964 to win his first heavyweight belt at age 22. Days later, he publicly announced he was changing his name and joining the Nation of Islam— a move that was widely derided in the press.
Ali also courted controversy in 1967 when he refused to join the Army during the Vietnam War, despite being drafted. He said his religion precluded him from fighting — a decision that would see him temporarily suspended of his boxing license and his title stripped.
But in later years, with triumphs in major bouts from the "Thrilla in Manila" against Joe Frazier and "The Rumble in the Jungle" against George Foreman, Ali reclaimed the mantle as a national phenomenon.
Friend and photographer Neil Leifer captured nearly every step and every slug that Ali took in his storied career.
When he lit the torch at the 1996 Summer Olympics in Atlanta, "you simply had to be a hater not to fall in love with Muhammad Ali," Leifer said in a prerecorded message. "He's got some magic."