Tennis champion Naomi Osaka was fined $15,000 after she announced that she would not do media interviews during the French Open, saying she was prioritizing her mental health.
The fine was announced in a joint statement Sunday by the heads of the organizations that run the Grand Slam tournaments — the U.S. Tennis Association, the French Tennis Federation, the All England Lawn Tennis Club and Tennis Australia.
Osaka announced on social media Wednesday that she would not take part in media sessions at Roland-Garros stadium because she "often felt that people have no regard for athletes mental health."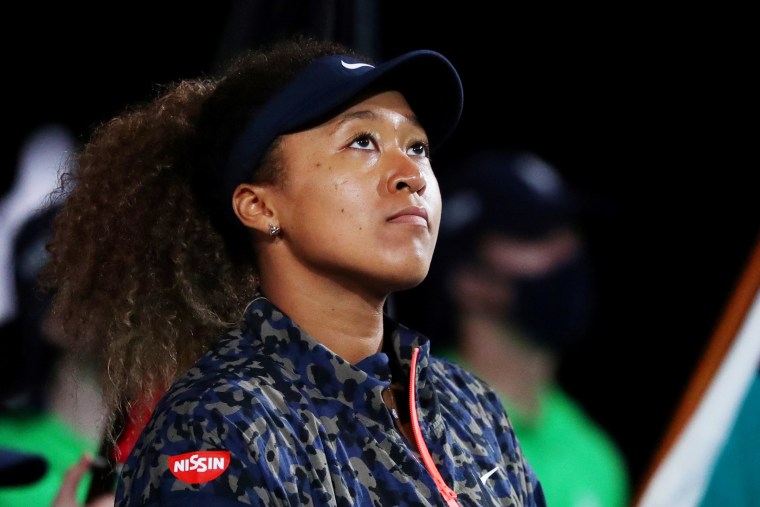 Officials at the French tournament asked "her to reconsider her position and tried unsuccessfully to speak with her to check on her well-being" but were unable to engage with Osaka, according to the joint statement.
"Naomi Osaka today chose not to honour her contractual media obligations. The Roland-Garros referee has therefore issued her a $15,000 fine, in keeping with article III H. of the Code of Conduct," the statement said. "The mental health of players competing in our tournaments and on the Tours is of the utmost importance to the Grand Slams."
The four organizations said that they have dedicated "significant" resources to players' well-being but that "to continue to improve however, we need engagement from the players to understand their perspective and find ways to improve their experiences."
Osaka risks for more severe consequences if she continues to ignore her "obligations" for media appearances. The officials' statement said she could be at risk of default from the tournament and suspension from other competitions for repeated violations.
"We want to underline that rules are in place to ensure all players are treated exactly the same, no matter their stature, beliefs or achievement," the statement said. "As a sport there is nothing more important than ensuring no player has an unfair advantage over another, which unfortunately is the case in this situation if one player refuses to dedicate time to participate in media commitments while the others all honour their commitments."
Osaka, who is ranked No. 2 in the world, said Wednesday that she expected to be fined and hoped the money would go toward a mental health charity. She said that she was not pursuing a vendetta against the tournament, only that she had decided that she would not subject herself to repeated questions that brought doubt about her.
"If the organizations think that they can just keep saying, 'Do the press or you're gonna be fined', and continue to ignore the mental health of the athletes that are the centerpiece of their corporation then I just gotta laugh."
Osaka became a familiar name even to those outside the tennis world in 2018 when she defeated Serena Williams in a gripping U.S. Open final match. She said in an interview the next year that being thrust into the limelight had been difficult, and she has shared some of the harassment she faces online on her social media.
"Last year, I wasn't even anywhere close to this ranking, and people didn't pay attention to me, and that's something that I'm comfortable with," Osaka said in a news conference after a loss in 2019. "I don't know why I'm crying. I don't know why this is happening. I don't really like the attention, so yeah, it's been a little tough."
Osaka, 23, is often described as shy or soft-spoken, but she has become an outspoken advocate on social issues in recent years, such as racial justice.
She told Vogue in an interview in December that she confuses people because she does not stick to the labels others place on her. "That shy label has stuck with me through the ups and downs of my career," Osaka said. "But I think people who have watched me grow would say that I navigate situations better, that I'm better able to express myself."