National Basketball Association legend Moses Malone has died, his former team, the Philadelphia 76ers, announced on Sunday.
"It is with a deep sense of sadness that the Sixers family mourns the sudden loss of Moses Malone," the team said in a statement. "It is difficult to express what his contributions to this organization — both as a friend and player — have meant to us, the city of Philadelphia and his faithful fans."
Malone, a Hall-of-Famer who won an NBA championship with the Sixers in 1983, was also a three-time league MVP.
"Moses holds a special place in our hearts and will forever be remembered as a genuine icon and pillar of the most storied era in the history of Philadelphia 76ers basketball," the team statement continued. "No one person has ever conveyed more with so few words — including three of the most iconic in this city's history. His generosity, towering personality and incomparable sense of humor will truly be missed. We will keep his family in our thoughts and prayers and as we are once again reminded of the preciousness of life."
Malone, one of basketball's most ferocious rebounders, died Sunday in Norfolk, Virginia, where was scheduled to appear at a charity golf event. Malone had just attended this weekend's enshrinement ceremonies at the Naismith Memorial Basketball Hall of Fame in Springfield, Massachusetts.
Nicknamed the "Chairman of the Boards," Malone was inducted himself in 2001 and remains in the NBA's top 10 in career scoring and rebounding.
Malone is eighth on the NBA all-time scoring list at 29,580 and third on the all-time rebound list with 17,834, according to NBC Sports.
In a statement, NBA Commissioner Adam Silver called Malone "one of the most dominant centers to every play the game" and one of the best players in history.
"Even more than his prodigious talent, we will miss his friendship, his generosity, his exuberant personality, and the extraordinary work ethic that he brought to the game throughout his 21-year pro career," Silver said.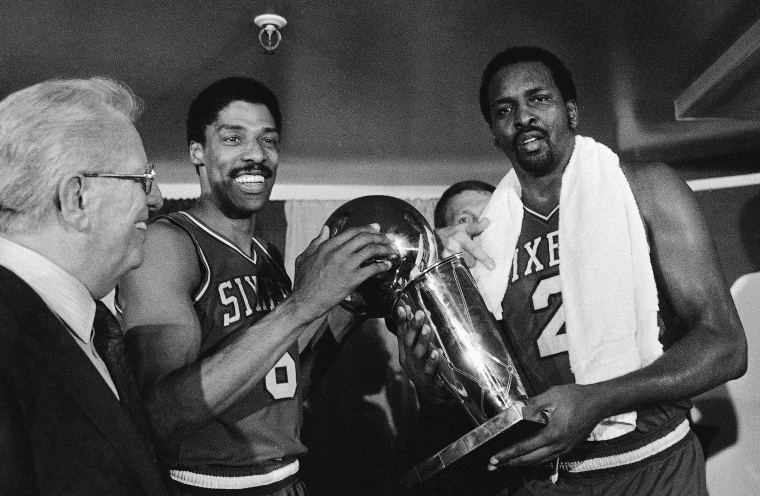 Drafted by the Utah Stars of the ABA in 1974, Malone went on to play for eight NBA clubs and was the league's MVP in 1979 and 1982 while playing for the Rockets.
"Everyone in the organization is deeply saddened by the passing of Moses Malone," Rockets owners Leslie Alexander said. "Moses was a true gentleman and one of the great Rockets — and greatest NBA players — of all time. He will be forever missed. Our deepest condolences go out to his family and friends."
Malone's death comes shortly after the passing of another 76ers center, Darryl Dawkins.