Three boys whose father recently died had the surprise of a lifetime on Christmas when Detroit Lions' quarterback Matt Stafford and his wife, Kelly, showed up at their doorstep.
According to a Facebook post by a relative of the boys, Deana Harb, the surprise visit on Dec. 17 was particularly special for the children because of the loss of their dad.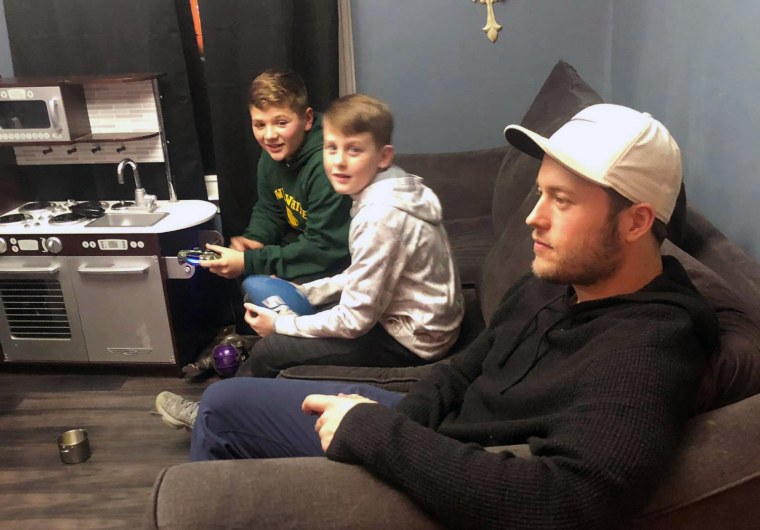 "Oh my god!" two of the boys exclaim when they open the door to find the quarterback and his wife there with a gift in hand.
"Good to meet you," Stafford said, shaking one of the boy's hands. "How are you guys doing?"
The boy briefly drops to the floor stunned by what just happened, before hugging Kelly Stafford.
"People are so, so good. And I know my cousin is beaming from Heaven," Harb wrote in a post sharing a video of their meeting, referring apparently to the boys' father who passed away.
In another video posted by the children's mother, Heather Krause, she can be heard gasping and exclaiming, "I'm going to have a heart attack," and "I'm going to cry."
"My mind is blown!!!" Krause wrote in a Facebook post with photos of the boys and Stafford in front of their Christmas tree.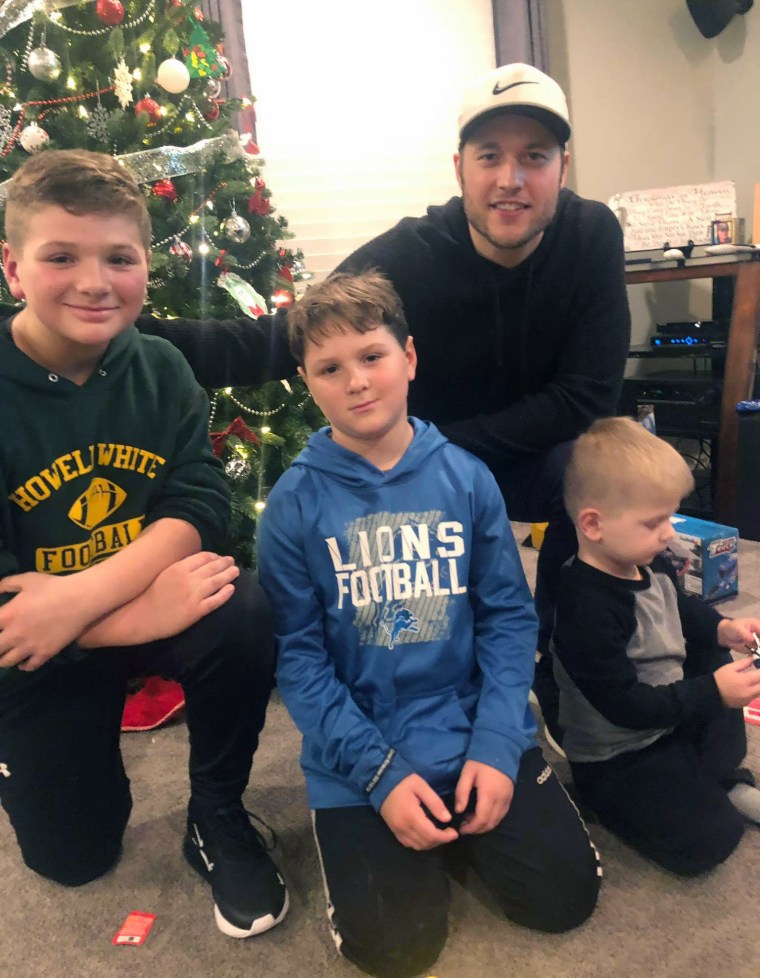 The Staffords did more than just show up: They spent the evening with the family. Another video shows the couple playing a video game with the boys.
It hasn't been an easy year for the Staffords either. Kelly Stafford underwent brain surgery in April to remove a benign tumor, which was discovered after she began experiencing vertigo in January.
Stafford hasn't played for the Lions since Nov. 3 because of a back injury.
Despite their struggles, Kelly Stafford announced they would visit a fan and deliver a Christmas gift. She posted on Instagram a call for nominations last month for a person or family in need of extra holiday cheer.
"Maybe they have had to endure something no one should have to go through and just need an extra reason to smile during the holidays," she said.