Novak Djokovic won the French Open title after a thrilling match against Stefanos Tsitsipas, keeping tennis fans on the edge of their seat all the way through the end.
Djokovic, ranked No. 1 by the Association of Tennis Professionals going into the tournament, lost last year's French Open against Rafael Nadal. He spoke to cameras in French on the court following his victory, calling his 19th Grand Slam "a dream."
Djokovic came back after dropping the first two sets to beat Tsitsipas 6-7 (6), 2-6, 6-3, 6-2, 6-4 at Roland Garros.
"The atmosphere and ambience was truly electric," Djokovic said. He continued on to thank his family and his team for all their support.
"I think nine hours of tennis in less than 48 hours against two grand champions ... it was not easy, physically, mentally," he said. "It was very, very difficult for me."
Tsitsipas, a 22-year-old from Greece, was hungry for his first French Open title. Djokovic, however, went into the match seeking a Grand Slam win, hoping to get within one major title of Nadal and Roger Federer.
The 34-year-old Serbian tennis champion made a notable comeback against Tsitsipas, who was ranked No. 5, after losing the first few sets. Djokovic pushed through and rallied against his competitor, offering fans a gripping finale to the Grand Slam tournament.
Djokovic started their final set strong, with Tsitsipas making a series of mistakes that gave the older competitor an edge over him. Tsitsipas struggled to recover and seemed to beat himself up as the set continued.
Their ending set still offered drama as Tsitsipas put forth a final push that didn't allow Djokovic even a moment's rest or comfort. Tsitsipas said after the ceremony that he was happy with his performance and congratulated Djokovic.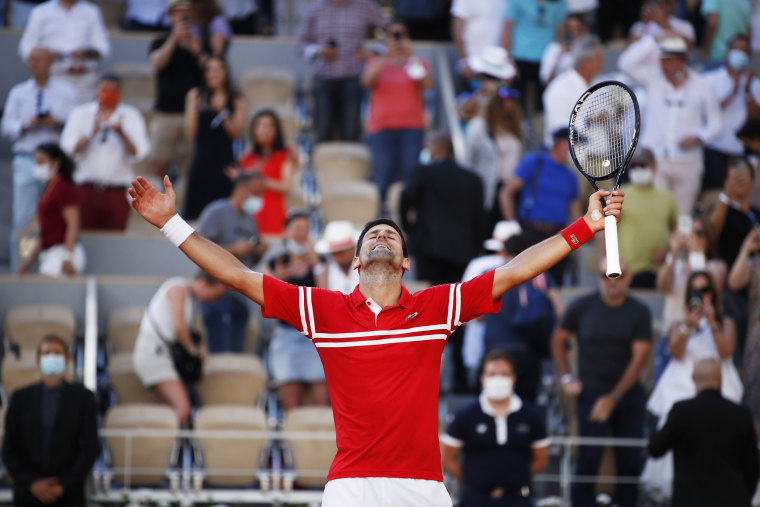 "I would say I'm inspired by the things he has achieved so far and I hope one day, we can maybe do half of what he has done so far," Tsitsipas said.
Losing the French Open is something Djokovic said he understood and related to, offering the younger athlete words of support. "These are the kind of matches that you'll learn from the most, I think," Djokovic said. "And knowing him and his team, he is going to come out much stronger from this match today and I definitely believe he's going to win many Grand Slams in the future."
Djokovic's win comes one day after Barbora Krejcikova won her first slam title at the French Open, an unseeded who overcame the odds to defeat Anastasia Pavlyuchenkova. Krejcikova gave a tribute to her former coach, Jana Novotna, who died of cancer in 2017.
"Pretty much her last words were just enjoy and just try to win a Grand Slam. And, I mean, I know that, from somewhere, she's looking after me," Krejcikova said.