Richard Callaghan, famed coach of Olympians such as Tara Lipinski and Todd Eldredge, was banned for life from figure skating Wednesday by the sport's governing organizations due to sexual misconduct allegations.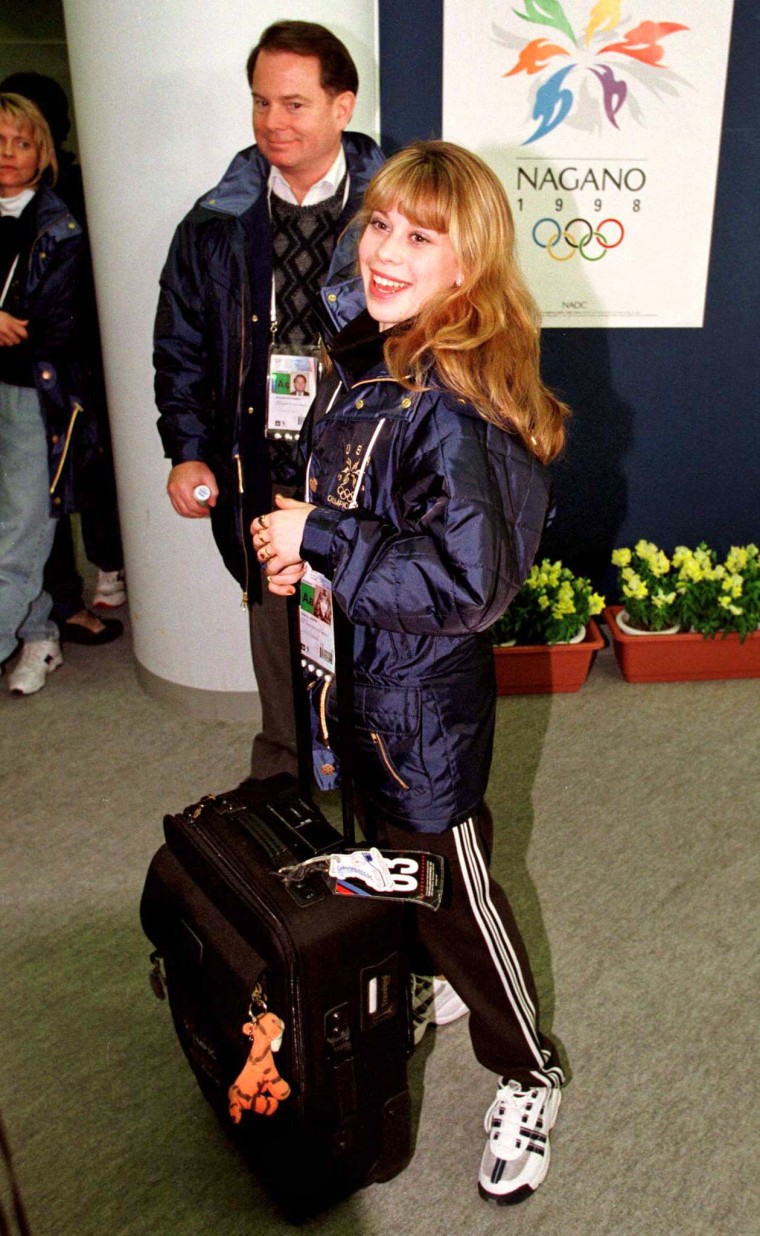 Callaghan was declared permanently ineligible Wednesday by the U.S. Center for Safesport, the federally recognized watchdog of the U.S. Olympics community, with the causes listed on its website as "physical misconduct," "emotional misconduct" and "sexual misconduct involving minor."
Safesport says in its database that the sexual misconduct ruling is still "subject to appeal/not yet final."
Callaghan's attorney, Dean Groulx, told NBC News he believes the Safesport investigation was a "witch hunt."
"This is a sad day for U.S. Olympic sports," Groulx said. "A true giant in U.S. Olympic figure skating is subject to a lifetime ban without due process."
The lifetime ban from figure skating comes 12 days after a lawsuit was filed against Callaghan in San Diego by his former student, Adam Schmidt, 34. The lawsuit alleged that Callaghan, 73, sexually abused Schmidt from 1999 to 2001, starting when Schmidt was 14 years old.
Groulx has called the allegations in Schmidt's lawsuit "100 percent false."
This is not the first time Callaghan has been accused of sexual misconduct. Both U.S. Figure Skating (USFS) and the Professional Skater's Association dismissed claims of sexual misconduct against him in 1999 by Craig Maurizi.
Maurizi, now 56, accused Callaghan of engaging in inappropriate sexual conduct with him in 1976, when he was 13 years old. Maurizi also alleged Callaghan engaged in a sexual relationship with him from the time he was 18 to 22.
But almost 20 years after USFS dismissed Maurizi's claims against Callaghan, Maurizi detailed the allegations in a report filed with the U.S. Center for Safesport. Safesport suspended Callaghan for 20 years on March 6, 2018, as did USFS, after Maurizi's report.
Callaghan has repeatedly maintained his innocence. "Two different governing bodies weighed the allegations and both organizations dismissed the allegations completely," Groulx said in 2018 following the 20-year-suspension from Safesport.
Lipinski and Eldridge have yet to comment on the news of their former coach's lifetime ban.
Callagan's ban is the latest in a string of alleged sexual misconduct and abuse reports in figure skating. Just over three weeks ago, Olympic bronze medalist Ashley Wagner came forward with her story of sexual abuse by former U.S. pairs national champion John Coughlin.
Coughlin died by suicide in January after being suspended by Safesport for alleged sexual misconduct involving minors.
In March, SafeSport said in a statement that after investigating allegations against Coughlin and others, it discovered "a culture in figure skating that allowed grooming and abuse to go unchecked for too long."
Safesport warned that the culture in figure skating, where athletes are often minors while training, creates and tolerates sexual abuse. Wagner echoed that when she came out with her story of alleged abuse in USA Today, stating that figure skating "is a pressure-cooker environment that will continue to create uncomfortable, inappropriate and unsafe work places unless something is done about it."
USFS released a statement earlier this month on the allegations of abuse in the sport, stating, "Recent news reports regarding allegations of sexual abuse and misconduct in our sport have been heartbreaking."
The organization also stated that it supports all survivors, encourages all victims to come forward and does not tolerate abuse or misconduct. USFS stated that "there is no place for such behavior in sports or anywhere in life."