The U.S. Patent and Trademark Office told Tom Brady that there's only one "Tom Terrific" — and it's not him.
The office rejected Brady's application to have the moniker all to himself, with regulators ruling that the alliterative title is too closely linked to New York Mets pitching icon Tom Seaver.
Brady wanted "Tom Terrific" to be his exclusive name to be used for "trading cards; sports trading cards; posters; printed photographs," according to his financial team's USPTO application.
"Registration is refused because the applied-for mark consists of or includes matter which may falsely suggest a connection with Tom Seaver," USPTO examining attorney Elizabeth O'Brien ruled Thursday. "Although Tom Seaver is not connected with the goods provided by application under the applied-for mark, Tom Seaver is so well-known that consumers would presume a connection."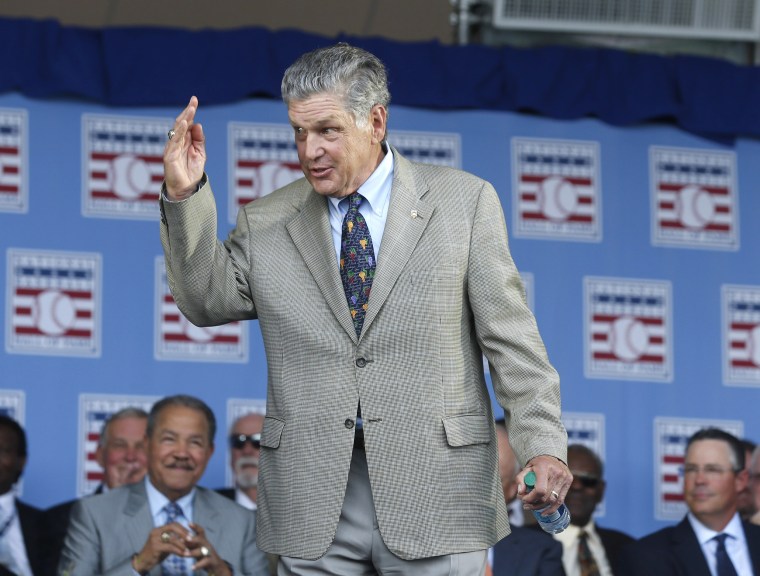 Even though "Tom Terrific" isn't a legal name for Seaver, O'Brien cited case law that rejected trademarks for "Twiggy" and "Margaritaville" " because those titles are so closely associated with 1960s British model Lesley Hornby and "Parrothead" singer Jimmy Buffett, respectively.
"In this case, Tom Terrific makes an association with former American baseball player Tom Seaver," O'Brien wrote. "The term at issue need not be the actual, legal name of the party falsely associated with applicant's mark to be unregistrable."
California-based lawyers for Brady, the six-time Super Bowl champion, could not be immediately reached for comment Friday.
The right-handed hurler Seaver was regularly called "Tom Terrific" throughout his career — particular in 1969 when he led the Mets, in just their eighth season of existence, to the franchise's first World Series championship.
Seaver was elected to the Hall of Fame in 1992 after a spectacular 20-year career.
He won the National League's Rookie of the Year award in 1967, was a 12-time All-Star and took home three Cy Young Awards, in 1969, 1973 and 1975.
He won 311 games along with 205 losses with the Mets, Cincinnati Reds, Chicago White Sox and Boston Red Sox.
Seaver, 74, lives in Northern California where he owns a vineyard. His family announced in March that he is suffering from dementia and will not make any more public appearances.
When the Mets said in June that they're planning to install a statue of the pitcher at Citi Field and formally change the stadium's address to 41 Seaver Way, the Hall of Fame hurler did not attend the announcement ceremony.