He's out.
Banned baseball great Pete Rose won't attend this weekend's Phillies alumni gathering because he's concerned the renewed media attention will "overshadow" the festivities, he said in a statement Wednesday.
The mutual decision between him and the team also means Rose won't be among the dozens of former Phillies players and Wall of Fame inductees who will be recognized during a ceremony at Philadelphia's Citizens Bank Park.
"While I am truly honored that the Phillies fans voted for me to be this year's Wall of Fame inductee, I am concerned that other matters will overshadow the goodwill associated with Alumni Weekend, and I agree with the decision not to participate," said Rose, 76, who helped lead the team to a 1980 World Series title.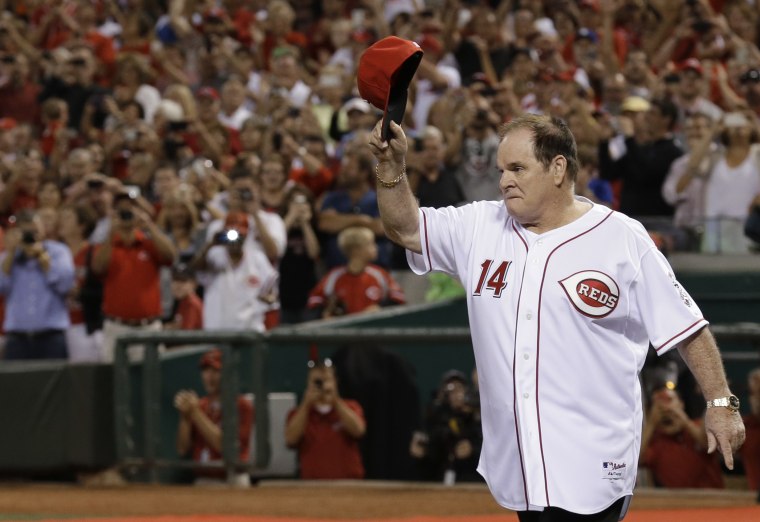 Rose's past conduct is under scrutiny after a court filing made public Monday revealed that he admitted to being involved in a sexual relationship with a teenage girl in the 1970s while he was a player for the Cincinnati Reds. Rose said he believed the girl was 16, the age of consent in Ohio, although the woman identified as Jane Doe told attorneys that the sexual contact began when she was younger.
Rose was married with two children at the time.
Related: Pete Rose, Accused of Sex With Minor in 1970s, Faces Tainted Legacy — Again
The allegations are part of a federal defamation lawsuit that Rose filed last year against John Dowd, the high-profile Washington attorney whose 1989 investigation into Rose's extensive gambling on games led to his permanent ouster from Major League Baseball. Rose has denied Dowd's claims during a 2015 radio interview that the all-star slugger slept with underage girls and committed statutory rape while he was a player.
Rose has lobbied unsuccessfully over the years to be inducted into the National Baseball Hall of Fame in Cooperstown, New York, and lost a bid in 2015 to be permitted back into the MLB.
In addition to Rose's absence, the Phillies said it will not conduct a bobblehead giveaway next week featuring his figurine.