LOS ANGELES - A steady flow of what appeared to be wastewater onto the field at Dodger Stadium Tuesday night forced umpires to cover their bases and cut short a preseason exhibition game against freeway rival Los Angeles Angels of Anaheim.
The home team Dodgers still got the win, with the score at 4-3 when the game was called in the 5th inning.
The losing Angels didn't seem to mind.
It's not clear why liquid flooded part of the field near the third base dugout, creating what some joked was foul territory.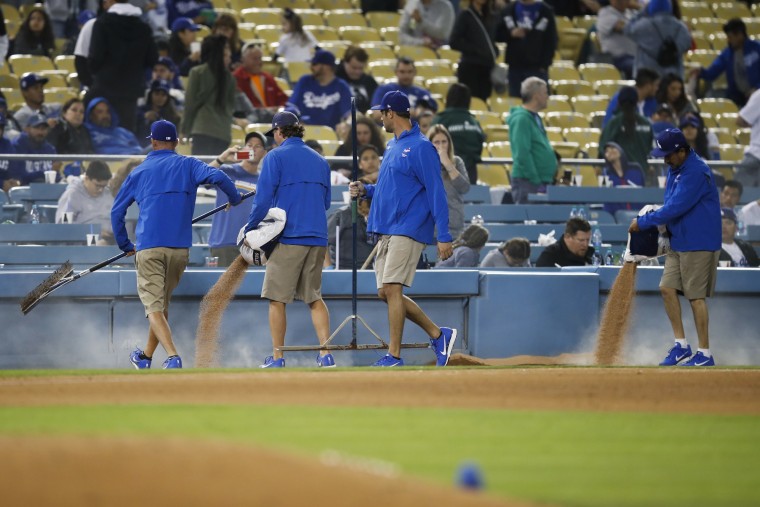 After the game, co-owner Stan Kasten told reporters that the water started showing up "in the middle of the fifth inning" as a result of a "pipe backup." The apparent effluent appeared "on two different levels of the stadium," he said.
Sports reporter Michael J. Duarte of NBC Los Angeles tweeted that the pipe water flooded exclusive seating areas near third base as well as a coaches' office.
Kasten said "it had something to do with a main pipe here and a main pipe outside. The city is aware of it." When asked what kind of fluid ended up on the field — if it was possibly sewage, wastewater, tertiary water or something else — the co-owner said, "There's no way to know that."
Los Angeles Department of Water and Power spokeswoman Dawn Cotterell said the problem didn't appear to be the city's. She said the DWP had received no reports of a pipe problem around the stadium. Cotterell said it was possible the issue was solely on property controlled by the team.
Fans on Twitter had a field day with the small flood, posting memes and photos of raging waters and people paddling on rafts.
The Dodgers' opening day is Thursday.