MLB players in Washington, D.C., and Los Angeles paid tribute to the Black Lives Matter movement Thursday, taking a knee before the sport's long-delayed opening day.
In the nation's capital, the Washington Nationals and New York Yankees lined up near the baselines at an empty Nationals Park, holding a long black ribbon, symbolically connecting players and coaches in a united front against systemic racism — a movement that has grown in intensity since George Floyd's death.
The teams stood at attention during a recorded message and a call for national unity by Oscar-winning actor Morgan Freeman.
"Equality and unity cannot be until there is empathy," Freeman said as his familiar, booming voice filled the empty ballpark. "Equality is not just a word. It's our right. Today we stand as men from 25 nations on six continents. Today we are one."
That's when the Nationals and the Yankees dropped to a knee in a moment of silence before coming to their feet again for "The Star-Spangled Banner," hours before heavy rains shortened a 4-1 New York victory.
Meanwhile in Los Angeles, the San Francisco Giants and host Dodgers heard the same address from Freeman and almost all of the players and coaches took a knee. Several Giants and Dodgers then remained kneeling as the anthem played.
Dodgers outfielder Mookie Betts, Giants manager Gabe Kapler, hitting coach Justin Viele, first base coach Antoan Richardson and San Franciscoplayers Mike Yastrzemski, Pablo Sandoval, Hunter Pence, Jaylin Davis, Trevor Gott, Wandy Peralta and Austin Slater all remained kneeling, in silent protest.
"A really important, unifying moment for the players and the staff on both sides," a masked Kapler told ESPN during an in-game interview. "It was really good to be around players who are so committed to changing the current state of systemic racism in our country."
But it appeared that one player, San Francisco relief pitcher Sam Coonrod, did not take a knee during the pregame Freeman address.
After the Dodgers' 8-1 victory, Coonrod told reporters he cannot support Black Lives Matter and said, as a Christian, the faithful "can't kneel before anything besides God."
"I'm a Christian, like I said, and I just can't get on board with a couple of things that I have read about Black Lives Matter," Coonrod said. "How they lean toward Marxism and they've said some negative things about the nuclear family. I just can't get on board with that."
Download the NBC News app for breaking news and alerts
Thursday night's two-game slate marked the return of professional baseball to America, a mere 121 days after the originally scheduled opening day.
The coronavirus pandemic forced the shutdown of sports around the globe in mid-March, bringing an abrupt end to spring training.
The doctor most associated with the nation's fight against COVID-19, Anthony Fauci, director of the National Institute of Allergy and Infectious Diseases, threw out the ceremonial first pitch at Nationals Park.
A masked Fauci, a big baseball fan, donned a No. 19 Nationals jersey and showed his rust with an errant toss toward home plate.
The doctor threw his hands out in comic disbelief after his throw went somewhere in the direction of Nationals relief pitcher Sean Doolittle, playing catcher for the pregame ceremony.
Reminders of the pandemic were all over empty Nationals Park. Some coaches on the bench wore masks, and Washington learned hours before the game that it would be without young superstar Juan Soto, who tested positive for the coronavirus.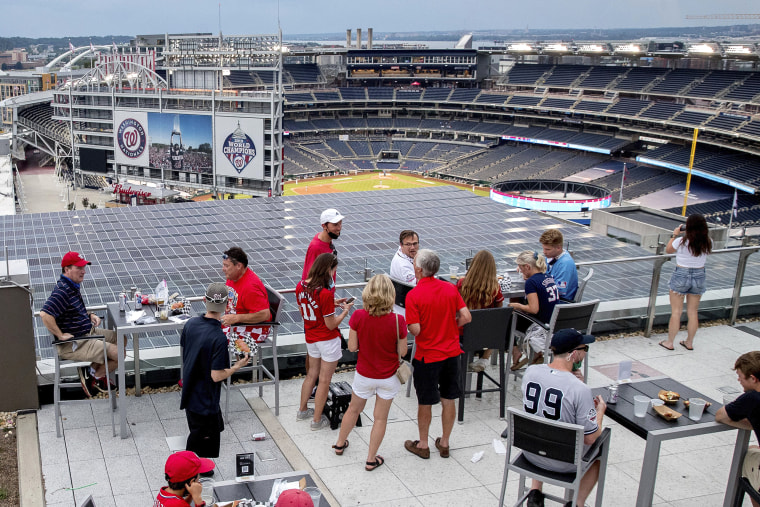 The 26 other teams take the field Friday, also playing inside empty stadiums, for the start of this abbreviated 60-game season, about a third of a normal 162-game campaign.
In a typical season, MLB playoffs include 10 teams — six divisional winners and four wild card entrants.
But MLB announced just before the first pitch Thursday that it and the Major League Baseball Players Association had agreed to expanded postseason play for 2020, with 16 teams: six divisional champions, six second-place teams and four more clubs.
"We think the format is especially good given our shortened season this year," MLB Commissioner Rob Manfred told ESPN during the Yankees-Nationals game.
"We're working really hard to make baseball as entertaining as we possibly can," he said. "We think the postseason format is a huge part of that."