U.S. track sensation Sha'Carri Richardson, who punched her ticket to the Tokyo Games after winning the women's 100-meter race last month, has been suspended for one month after testing positive for THC, the chemical in cannabis.
Richardson failed a drug test following her Olympic qualifying 100-meter race victory at the U.S. Olympic Track and Field Trials in Eugene, Oregon, on June 19, according to the United States Anti-Doping Agency.
"Richardson's competitive results obtained on June 19, 2021, including her Olympic qualifying results at the Team Trials, have been disqualified, and she forfeits any medals, points, and prizes," a statement from the USADA said.
She accepted the one-month period of ineligibility that began on June 28, the agency said. While the suspension takes Richardson out of running in her signature event at the Tokyo Games, she may still have a chance to run the 4x100-meter relay.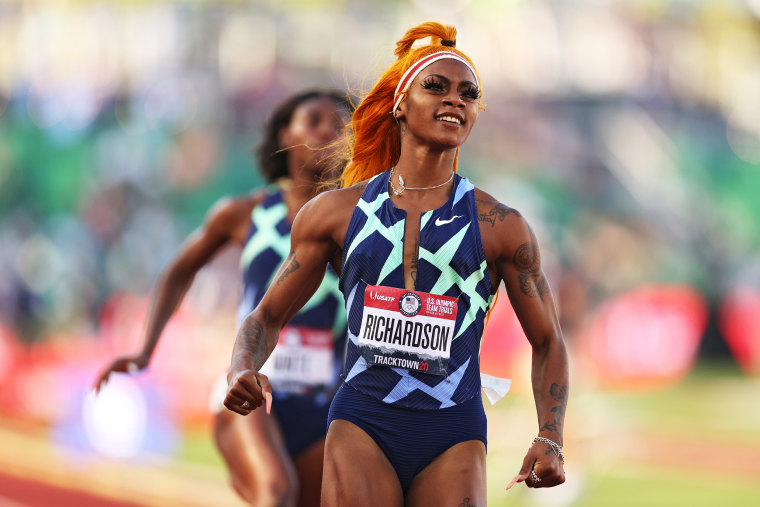 Athletes who test positive for a substance of abuse, which THC was newly classified as in 2021, usually receive a three-month suspension if they can establish that "their use of the substance occurred out of competition and was unrelated to sport performance."
Richardson "successfully completed a counseling program regarding her use of cannabis," which under USADA rules knocks her ineligibility down to one month.
"Right now I'm just putting all of my energy into dealing with what I need to deal with to heal myself," Richardson said on NBC's "TODAY" show Friday morning.
"I want to take responsibility for my actions," she added. "I'm not looking for an excuse."
"I would like to say to my fans and my family and my sponsorship, to the haters, too, I apologize," she said. "As much as I'm disappointed, I know that when I step on that track, I don't represent myself, I represent a community that has shown me great support, great love."
She ran the 100 meters in 10.86 seconds, one of her five runs under 11 seconds this season, sparking hopes that the U.S. might win its first gold medal in the women's race since Gail Devers in 1996.
"The rules are clear, but this is heartbreaking on many levels; hopefully, her acceptance of responsibility and apology will be an important example to us all that we can successfully overcome our regrettable decisions, despite the costly consequences of this one to her," USADA CEO Travis T. Tygart said.
Richardson also gained attention when she sprinted into the stands following the race and embraced her grandmother, Betty Harp.
During a post-race interview with NBC, Richardson revealed that her biological mother had died the week before.
She said on "TODAY" that it was a reporter who had informed her of her mother's death, adding that the news was "triggering" and "shocking."
However, she said she knew she would "still have to go out and put out a performance."
"I know that I can't hide myself," Richardson said. "In some type of way, I was trying to hide my pain."
"Don't judge me because I am human," she added, echoing a tweet she sent Thursday. "I'm you. I just happen to run a little faster."
A statement from USA Track & Field said "Sha'Carri Richardson's situation is incredibly unfortunate and devastating for everyone involved."
"Athlete health and well-being continue to be one of USATF's most critical priorities and we will work with Sha'Carri to ensure she has ample resources to overcome any mental health challenges now and in the future," the statement said.
The Drug Policy Alliance, a national organization that has been working to end cannabis prohibition across the country, said drug testing crushes opportunities.
"Drug testing is yet another tool of the drug war, and it's a failure," said executive director Kassandra Frederique in a statement. "Sha'Carri's suspension serves as a cautionary tale and a reminder of how insidious the drug war is in our everyday lives, far beyond the carceral state.
"Drug testing does nothing to show current impairment. The USADA must undo this archaic, inhumane, and unscientific policy."
NORML, which also advocates on behalf of cannabis advocates and commercial businesses, said in a statement that "it makes exactly zero sense for regulators to continue to take punitive actions against athletes like Sha'Carri Richardson or anyone else who chooses to consume cannabis in their off-hours."
"Sha'Carri Richardson, like millions of her fellow Americans, turned to cannabis' therapeutic benefits to help her cope with the tragic loss of her mother," said NORML executive director Erik Altieri. "To use this as a rationale for denying this athlete, who is otherwise competing at the top of her sport, the ability to represent the United States at the Tokyo Olympics should be an unacceptable outcome in this situation. Let Richardson race."
Richardson, a Dallas native, is known for sporting long lashes, neon wigs and bedazzled nails. Vogue magazine has called her "the Flo-Jo of our time."
"This will be the last time the Olympics don't see Sha'Carri Richardson, and this will be the last time the U.S. doesn't come home with a gold metal in the 100," Richardson said Friday.
"This is just one games. I'm 21. I'm very young," she said. "I have plenty of games left in me to compete in, and I have plenty of talent that backs me up."
"After my sanction is up, I'll be back and ready to compete," Richardson said. "This will never happen again."