The St. Louis Blues won the first Stanley Cup in their 52-year history Wednesday night, beating the Boston Bruins, 4-1, on the road in Game 7 of a back-and-forth series to complete a Cinderella comeback from last place halfway through the season.
Goals by Jay Bouwmeester, Alex Pietrangelo, Brayden Schenn and Zach Sanford ended the Blues' status as the oldest team still in the league never to have won the Stanley Cup. It was the 390th playoff game in their history, none of which, until Wednesday night, had clinched a championship.
The Blues were the last of the six teams that joined the National Hockey League in the 1967 expansion to have won the championship. (One of the six teams, the Oakland Seals, eventually merged with the Minnesota North Stars, which later moved to Dallas and won the title in 1999.)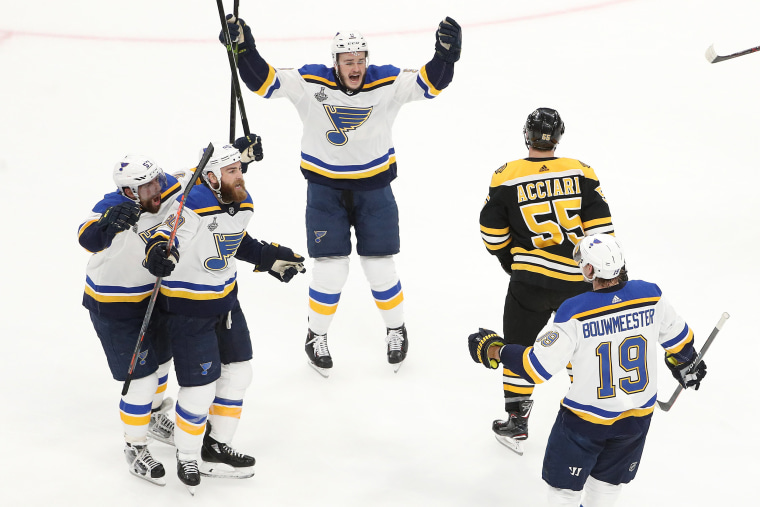 St. Louis was last in the Central Division on Jan. 3 but then went on a tear, winning 30 of its final 45 regular season games to sail into the playoffs as the fifth seed in the Western Conference.
They defeated the Dallas Stars in seven games and then the San Jose Sharks in six to set up a showdown with the Bruins — the team that beat them the last time they made the finals, 49 years ago.
Boston, by contrast, went into the series favored to win their seventh cup. But after St. Louis took a three games-to-two lead last week, the Bruins had to win on the road in St. Louis on Sunday just to get to Game 7 — only the 17th Game 7 since the finals went to a seven-game format 80 years ago.
The Bruins relied on a hot goaltender, Tuuka Rask, throughout the series, during which Rask ranked first in save percentage and goals-against average. But it was the Blues' goalie, Jordan Binnington, who stood tall after a relatively shaky playoff run as he shut down the third-highest-scoring offense in the NHL before the Bruins' Matthew Grzelcyk claimed a late consolation goal.