On the court, a South Sudanese refugee playing for his Canadian high school basketball team was a towering talent — so skilled, in fact, his coach boasted to a local newspaper that "this kid" has a shot at the NBA.
But Jonathan Nicola was no kid, according to officials: Documents suggest he was a 29-year-old man masquerading as a 17-year-old high school hoops phenom.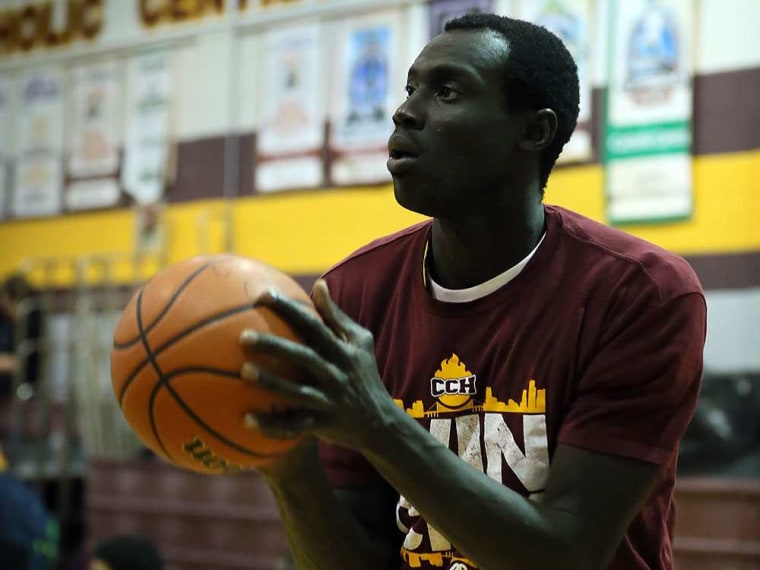 The alleged ruse led the Immigration and Refugee Board of Canada to arrest Nicola on April 15. He is viewed as a flight risk, and remains detained in Ontario at least until his next review Tuesday, a board spokeswoman told NBC News on Friday.
Nicola may have violated the country's Immigration and Refugee Protection Act alleging that he is "inadmissible to Canada on grounds of misrepresentation," the board said. He likely faces deportation.
Related: Grown Woman Arrested After Posing as High School Student
An employee of the Canada Border Services Agency first noticed a discrepancy for Nicola after he arrived to the country last November on a student visa that was good through Jan. 31, 2017.
His passport and application said he was born Nov. 25, 1998. But it was determined that he had put on a U.S. visitor's visa a different date: Nov. 1, 1986. He was earlier denied entry into America.
The Windsor Star newspaper reported Thursday that Nicola's true age may have surfaced when his fingerprints were processed when he attempted to enter Michigan a week ago, which he had done before.
The school where Nicola was placed as an 11th grader — Catholic Central High School in Ontario — declined to comment on an active case Thursday.
"I can tell you that in general terms, our school board has a rigorous system in place which requires all international students to present valid government documentation (that would include passports and study permits) before they can be enrolled in one of our schools," Stephen Fields, spokesman for the Windsor-Essex Catholic District School Board, said in an email.
A profile in the Star in January described Nicola's journey last year to flee war-torn South Sudan via Kenya before arriving in Canada — a process taking six months. He left behind his family.
"A few of my friends know of my background, how we live over there," Nicola said. "I don't know how many of them have a clue of how it is in Africa."
The newspaper said he got help from Deng D'Awol, another Sudanese basketball player, who once played college basketball in the U.S. and knew Nicola from back home.
Through a program that helps foreign students find a place to live, Nicola ended up residing with Catholic Central's basketball coach, Pete Cusumano.
"I think this kid will have a chance at the NBA," Cusumano told the Star earlier this year. "I have never said that about any kid from Windsor."
At 6-foot-9 and 202 pounds, Nicola dwarfed many of his peers. He stood out — but no one dwelled on his hulking size.
"No one asked about his age from other teams, as far as I know," assistant coach Garrie Nolan Jr. told the Star. "There was nothing suspicious at all. ... He seemed just a big kid."
Nicola didn't exactly dominate on the court this season for his adopted school, according to reports, and Catholic Central only got to the second round of the Ontario Federation of Schools Athletic Association playoffs.
Still, despite reports of his alleged deception, some of his fellow teammates say they're not bitter about Nicola — and he's not a bad guy.
"All these conspiracies people are saying that he's been doing sneaky stuff, it's not true man," basketball teammate Jojo Cimpeau, 19, told the Star. "He's a good guy, he came here for one thing and one thing only. He's a good guy and great teammate."