By the time Tiger Woods won his first major golf championship — the Masters Tournament in April 1997 — he was embraced as a rock star in a sport long affiliated with the stereotype of the stodgy middle-aged man.
On that historic day, the 21-year-old sensation from suburban Los Angeles pumped his right fist in the air as he became the first black golfer to win a major and the youngest to ever put on the fabled green jacket associated with the prestigious event. The endorsements and accolades piled up as Woods' stroke remained dominant over the next decade — before a very public sex scandal in 2009 and a string of injuries dulled the shine off a legendary career on the links.
Fast forward to Monday, when the now-41-year-old was arrested by South Florida police on suspicion of driving under the influence.
Social media lit up over Woods' rumpled appearance in his mugshot, and it seemed as if once again the former top-ranked men's golfer in the world and one of the highest-paid athletes of all time had sunk to another sad low.
But not so fast say those who have been following the up-and-down trajectory of Woods' tarnished career. While Woods has not publicly addressed his career intentions since his Memorial Day arrest, some sports analysts agree that he shouldn't be counted out just yet.
"Everybody loves a redemption story, a comeback story," said Jay Coffin, the editorial director of GolfChannel.com. "When he's relevant, Tiger does still move the needle."
Celebrity and sports endorsement expert Bob Williams agreed that this embarrassing episode is "not the final nail in the coffin" for him, but warned that Woods has potentially jeopardized his product placement deals as companies decide whether to part ways amid the fallout.
Woods was worth as much as $1 billion in 2009, thanks to tournament winnings and a raft of major companies, including Nike, Gatorade and Tag Huer, eagerly cozying up to his cachet, according to Forbes.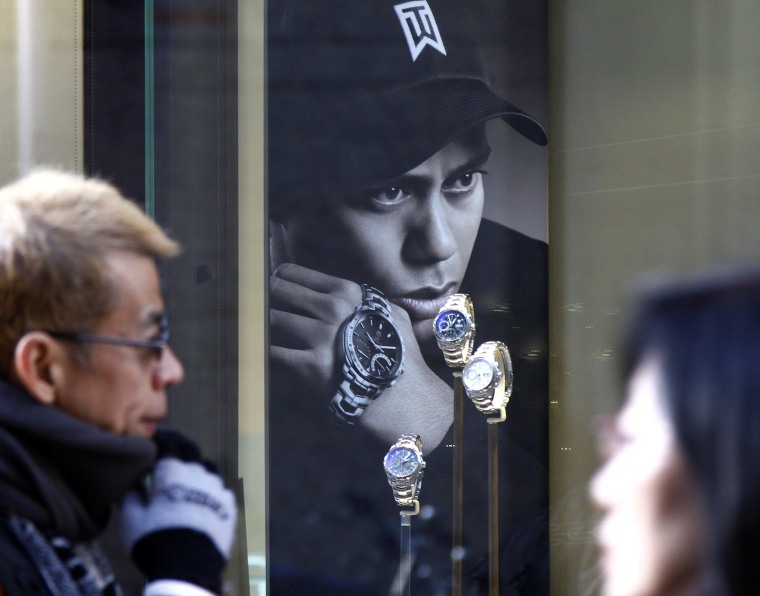 That was despite the polarizing figure that Woods had become as he kept winning.
Woods, the son of an African-American father and Thai-born mother, "was flashy, he was different. He wore red. He was fist-pumping. He hit shots that nobody could hit," Coffin said. "And not everybody loves a winner."
While his overall earnings still put him in an elite financial league with retired basketball star Michael Jordan and the retired golf great Jack Nicklaus, Woods' earnings last year were worth a far-less stratospheric $45.4 million. Gone were the deals with AT&T and Buick. The companies he reps now are ones mostly tied to golf.
Nike, which was the first to sign with Woods in 1996 for a $40 million contract, still has a deal for him to endorse its golf division. But even that could be lost since Nike stopped making golf clubs last year, although Woods continues to wear its golf apparel line.
"It will be very interesting because Nike has always been comfortable and used controversial athletes in their marketing. Back in the day, they had [former basketball star] Charles Barkley — they've been the one brand that has tolerated controversy, so if they don't stand behind him then you know something's not right," said Williams, whose Illinois firm Burns negotiated basketball MVP Stephen Curry's deal with Degree Deodorant.
A Nike spokesman did not return a request for comment after Woods' arrest.
Related: Tiger Woods Was Allegedly Asleep at the Wheel Before DUI Arrest
"I think it's much easier for a golf industry brand to put [Woods] on hold and see what happens," Williams said, adding that Woods should apologize again for the arrest and come clean with whatever happened early Monday.
Woods said in a subsequent statement that he had not been drinking and was affected by an "unexpected reaction to prescribed medications."
Woods was found sleeping in his 2015 Mercedes-Benz by Jupiter police about nine miles from his multimillion-dollar home. He is charged because the car's engine was still running when an officer found him stopped on a roadway, according to a probable cause affidavit.
While Woods blew a .000 in two breathalyzer tests, he could not follow directions during a sobriety test and his speech was slurred, police said in the affidavit.
He was arrested on a charge of driving under the influence of drugs or alcohol, and cited for improper stopping, standing or parking in an illegal place, court records showed.
"I didn't realize the mix of medications had affected me so strongly," Woods said in his statement.
Police noted that the medications related to "4 left knee surgeries" and "4 Achilles."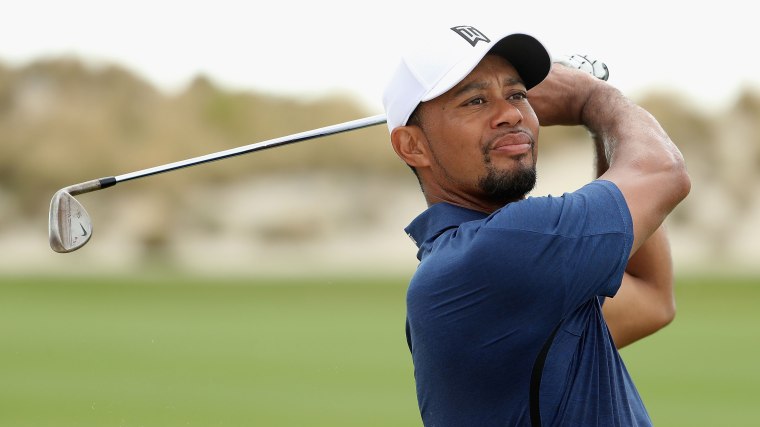 Swing after swing took their physical toll on Woods over the years. But his personal reputation took its greatest hit in 2009, when multiple women came forward saying they had slept with the married golf star — forcing him to admit and apologize months later for his sexual indiscretions.
He and wife Elin Nordegren, a Swedish model, soon announced their divorce.
"My regret will last a lifetime," he confessed in his book, "Unprecedented: The Masters & Me," released in March.
Woods did get a fresh start in 2013, when he found his stride: First by winning the Farmers Insurance Open, then the WGC-Cadillac Championship and finally, the Arnold Palmer Invitational. Nike celebrated his apparent comeback in an ad with the controversial tagline: "Winning takes care of everything."
After that run, "everyone thought maybe we'll see more than flashes of brilliance or maybe he'll jump into the Top 10 permanently," Coffin said. "But it just never happened."
By late summer of 2015, back pain and spasms forced Woods to withdraw from or cancel competitions, and he would remain sidelined for 16 months until last December, when he played four days in the Hero World Challenge, a tournament in the Bahamas put on by his Tiger Woods Foundation charity.
Although Woods finished at the bottom of the pack, it was enough of a showing to get the golf community excited again. But then earlier this year, beset by injuries, Woods dropped out of tournaments and missed the Masters — the event that helped make him a household name — for the third time in four years.
Given his injuries, Coffin said he would be surprised to see Woods on the green before the year is out. But his distinguished career just might have him thinking that one more go at a title next year — once the dust has settled with this arrest — could give him renewed meaning.
"He has to wonder what happens if he goes out and embarrasses himself and he doesn't have it in him anymore," Coffin said. "But this guy's the greatest player of this generation. He deserves to be able to do whatever it is he wants to do. He deserves that right."