Tiger Woods was asleep at the wheel and had to be woken up when police in South Florida busted him early Memorial Day for allegedly driving under the influence, according to court records released Tuesday.
The 41-year-old golf star also scored .000 on two breathalyzer tests given to him after he was discovered by Jupiter police just after 2 a.m. Monday, the probable cause affidavit said.
He was arrested on a charge of driving under the influence of drugs or alcohol, and cited for improper stopping, standing or parking in an illegal place, court records show.
Police in the affidavit noted that Woods had apparently used four medications for "4 left knee surgeries" and "4 Achilles" — among the injuries that have required surgeries over the years and forced him out of major competition.
Woods said in a statement Monday that he had not been drinking and was affected by an "unexpected reaction to prescribed medications."
A Jupiter police officer said he found Woods' 2015 black Mercedes-Benz stopped in a roadway in the right lane and the golfer buckled in the driver's seat. The car was still running and the right blinker was flashing.
Woods, who had been wearing a white shirt and black shorts, was roused from his sleep, the officer said, adding that he "had extremely slow and slurred speech."
A dazed Woods told the officer that he had traveled from Los Angeles, where he was golfing.
Related: Tiger Woods Arrested for DUI in Florida
"Woods stated that he did not know where he was. Woods had changed his story of where he was going and where he was coming from," the affidavit said, adding that he "takes several prescriptions."
When the officer asked him to walk in a straight line as part of a sobriety test, the officer said Woods missed his heel to toe each time, stepped off the line and had to use his arms for balance.
He also had failed to follow directions for standing on his leg and touching his finger to his nose, the officer said, and when he was told to recite the alphabet a certain way, Woods responded: "Yes, recite entire national anthem backwards."
"After several times of explaining instructions he completed the task correctly," the officer wrote.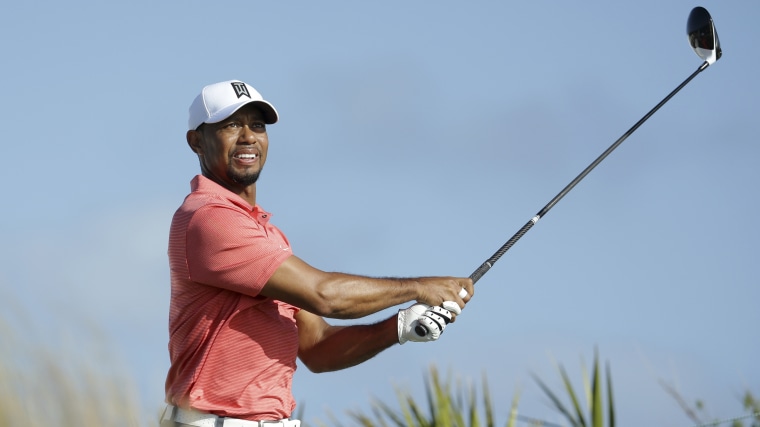 In a statement Monday, Woods denied alcohol played a role.
"I understand the severity of what I did and I take full responsibility for my actions," Woods said. "I want the public to know that alcohol was not involved. What happened was an unexpected reaction to prescribed medications. I didn't realize the mix of medications had affected me so strongly."
He added that he was apologizing "with all my heart to my family, friends and the fans. I expect more from myself too. I will do everything in my power to ensure this never happens again."
According to the affidavit, Woods appeared to be on four medications, including the painkiller Vicodin and the anti-inflammatories Torix and Vioxx, although Vioxx was "not taken this year" and was actually withdrawn from the market in 2004.
Woods was once the world's top-ranked golfer, winning 14 major golf tournaments and raking in $1 billion worth of endorsement deals. But his career was derailed by a sex scandal in 2009, and he announced the following year that he was divorcing from his wife, Swedish model Elin Nordegren, with whom he has two children.
Woods' arrest took place about 9 miles from his palatial multimillion-dollar estate on Hobe Sound. His career has recently been set back by physical injuries, and he has not won a major title since June 2008.
In February, Woods had to drop out of the Omega Dubai Desert Classic after complaining about back spasms following the first round.
He also missed the Arnold Palmer Invitational in March as he recovered from the spasms and missed the Masters the following month for the third time in four years.
Woods wrote on his website in April that he underwent "successful back surgery to alleviate ongoing pain in his back and leg."
"When healed, I look forward to getting back to a normal life, playing with my kids, competing in professional golf and living without the pain I have been battling so long," he said.