President Donald Trump on Monday reprised his attacks on former San Francisco 49ers quarterback Colin Kaepernick, telling supporters in Kentucky that "they like when people actually stand for the American flag."
Standing before a cheering throng at the Exposition Center in Louisville, Trump referenced a report published Friday that anonymously quoted National Football League officials discussing Kaepernick's slumping prospects as a free agent. Some loathed the police brutality-fueled protest that saw Kaepernick — and others — take a knee during the national anthem last season.
Others feared a backlash from their fans. Still others feared the president himself.
Or, as Trump put it during his Louisville rally: "They don't want to get a nasty tweet from Donald Trump. Do you believe that?"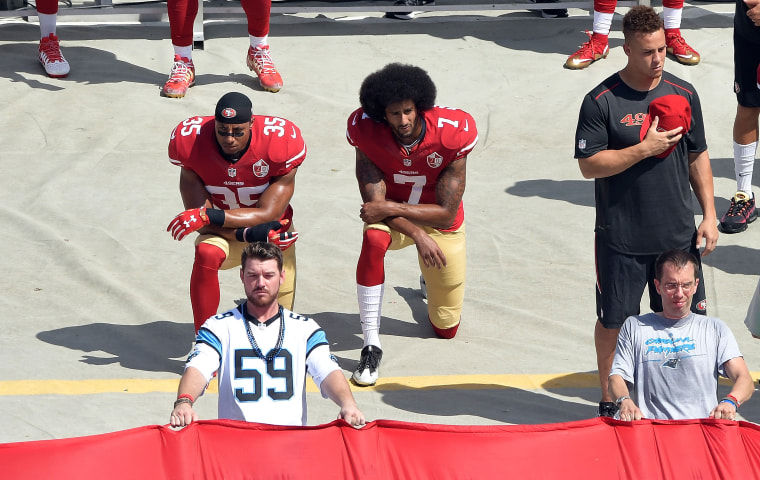 The crowd roared and Trump, grinning, continued.
"I said, if I remember that one, I'm going to the people of Kentucky because they like when people actually stand for the American flag."
This is well-trod territory for Trump. During the campaign, he described Kaepernick as disrespectful, the protest as "a sad thing" and suggested that the quarterback move abroad.
"Maybe he should find a country that works better for him," he told a radio host in August, according to The Hill.
Director Spike Lee, meanwhile, has come to the quarterback's defense. In an Instagram post on Sunday, the two posed for a selfie while Lee described the league's apparent disinterest as "subterfuge" and "skullduggery."
"What Crime Has Colin Committed?" Lee wrote. "Look At The QB's Of All 32 Teams. This Is Some Straight Up Shenanigans, Subterfuge, Skullduggery And BS."