When the San Francisco Giants mark the anniversary of their 2010 World Series win this summer, former first baseman Aubrey Huff won't be there, the team said Monday.
Huff, 43, isn't invited to the celebration because of controversial statements he has posted online, the Giants said in a statement Monday.
"Aubrey has made multiple comments on social media that are unacceptable and run counter to the values of our organization," the team said. "While we appreciate the many contributions that Aubrey made to the 2010 championship season, we stand by our decision."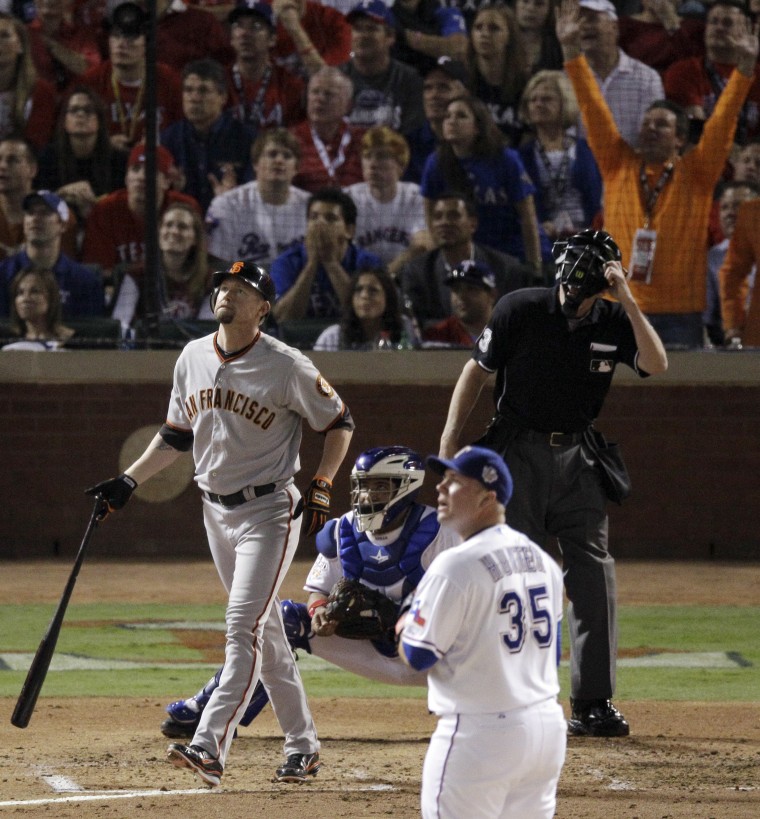 News that Huff wouldn't be invited was first reported by The Athletic.
"If it wasn't for me, they wouldn't be having a reunion," he told The Athletic. "But if they want to stick with their politically correct, progressive b------t, that's fine."
Two of Huff's comments on Twitter particularly shocked Giants officials, according to NBC Sports.
One was in November, when he tweeted a picture of a gun range with the caption "Getting my boys trained up on how to use a gun in the unlikely event" that Bernie Sanders beats Donald Trump in the 2020 election.
After the tweet about guns and Sanders, Huff tweeted that he was teaching his kids to shoot responsibly and that "I did make a political opinion, but at no time did I threaten anyone's life."
In January, Huff tweeted about taking a flight to Iran to "kidnap about 10" women to "bring them back here as they fan us and feed us grapes, amongst other things."
After reaction to the Iran comment, Huff tweeted an image calling it a joke and adding, "Does nobody have a sense of humor anymore!?"
Download the NBC News app for breaking news
"The way Iranian women are treated over there I simply wanted 2 say I'd go there 2 rescue them & bring them back 2 the states," Huff wrote on Jan. 7. "And they would be so thankful 2 escape that hell that they'd fan me & feed me grapes. Never said rape!"
Huff played for the Giants from 2010 through the 2012 season. He played a key role on that 2010 title team, contributing 26 home runs and 86 RBI, both team highs.
Before joining the Giants, Huff played for the Tampa Bay Rays (then known as the Devil Rays), Houston Astros, Baltimore Orioles and Detroit Tigers.
Early Tuesday, Huff tweeted a lengthy response at the Giants, Major League Baseball and President Donald Trump.
Huff said his exclusion from the reunion was due to his support of Trump and that any offensive comments he made were meant to be humorous. The retired player also said his First Amendment rights are being violated.
"My locker room humor on Twitter is meant to be satirical, and sarcastic. And it was that type of humor that loosened up the clubhouse in 2010 for our charge at a World Series title," Huff wrote.
"We live in a country that is under attack. Society is desperately trying to take away our 1st Amendment, our freedom of speech, and our freedom of political association."
The Giants' statement did not mention Trump. The First Amendment bars Congress from making any laws "abridging the freedom of speech, or of the press."