Star Houston Astros players apologized Thursday for their roles in a sign-stealing scandal that has rocked baseball and called their team's recent championships into question.
Second baseman José Altuve and third baseman Alex Bregman made brief, contrite statements to reporters at the team's spring training headquarters in West Palm Beach, Florida.
The apologies came exactly one month after Major League Baseball suspended the team's manager and general manager for stealing opponents' pitching signs during its World Series-winning 2017 season. Both were later fired.
"I am really sorry about the choices that were made by my team, by the organization and by me," Bregman said.
Altuve said that the entire team met Wednesday night to discuss the scandal and that "the whole Astros organization feels bad about what happened in 2017."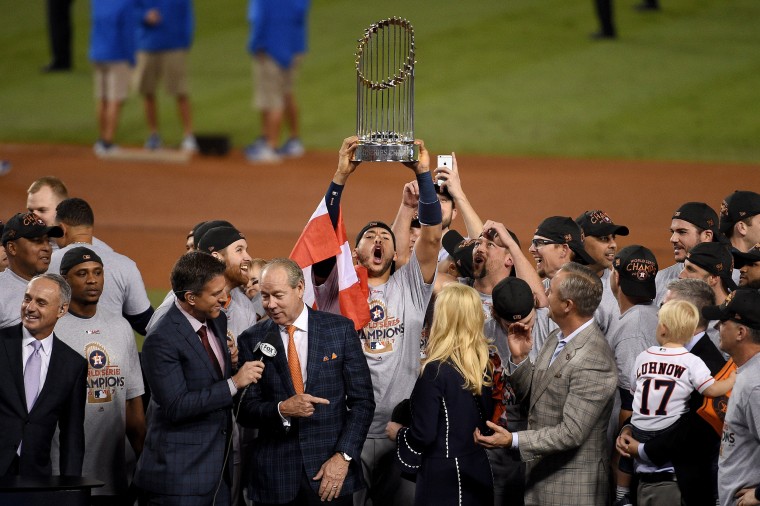 Bregman said he hopes the Astros can regain the trust of fans.
"I've learned from this, and I hope to regain the trust of baseball fans. I would also like to thank the Astros fans for all of their support," he said.
Later, in the team's clubhouse, pitcher Justin Verlander, who joined the Astros in a key midseason trade in 2017, implied that he tried to stop his teammates from using TV cameras to steal signs — but that his admonishments fells on deaf ears.
"I wish I had said more, and looking back, I can't go back. I can't reverse my decision," he told reporters. "I wish I had said more, and I didn't, and for that I'm sorry."
Asked what actions he took to try to stop the cheating, Verlander, the star pitcher and husband of supermodel Kate Upton, declined to elaborate: "That's between myself and my teammates."
The Astros were fined and stripped of draft choices after the Major League Baseball investigation found that they used television cameras to steal signs of opposing catchers and passed the crucial pitch information on to Houston batters.
The Astros won the 2017 World Series and the 2019 American League pennant.
Team owner Jim Crane, who fired General Manager Jeff Luhnow and manager A.J. Hinch in the wake of the scandal, was repeatedly asked Thursday whether the championships were now tainted.
"It's a fair question," Crane said at a news conference while seated next to his new manager, Dusty Baker.
"Your question, you could make that assumption very clearly ... but to determine the effect and the cause is, in my opinion, almost impossible. So, again, we've dealt with it, we've said we're sorry, we're moving forward, and we're going to play some baseball this year."
Download the NBC News app for breaking news
The scandal came to the public's attention in November when former Astros pitcher Mike Fiers and three other unidentified people affiliated with the Astros told the sports news website The Athletic about the elaborate sign-stealing scheme.
They said players and other employees would monitor opposing catchers' signals using a camera in center field of the team's stadium, Minute Maid Park. That information was then relayed to the hitters by banging on a trash can.
By knowing the coming pitch, Houston batters could adjust their timing. For instance, hitters would know to swing early if a fastball was coming — or sit back and judge the location for a breaking ball or a change-up.
Astros shortstop Carlos Correa told reporters in the clubhouse Thursday that the sign-stealing was effective in 2017 — but much less so in the playoffs.
"When it comes to the playoffs, it's loud, people were using multiple signs," Correa said. "When I look back at the playoffs and I look at the games, it was not effective like it was in the regular season."
Correa said he and his teammates are focused on winning a championship in 2020 so history won't brand their legacy with an asterisk.
"Time will tell," he said. "We don't want to be remembered as a team that cheated to get a championship."
No active players have been disciplined for their roles in the scheme. But one of the 2017 Astros at the center of the scandal, Carlos Beltrán, was fired last month from his new job as manager of the New York Mets.
And Alex Cora, a bench coach for the 2017 Astros who was also named as a ringleader of Houston's scheme, was fired from his post as manager of the Boston Red Sox last month.
CORRECTION (Feb. 13, 2020, 8:35 p.m. ET): An earlier version of this article misstated which member of the Houston Astros said, "I am really sorry about the choices that were made by my team, by the organization and by me." It was said by Alex Bregman, not José Altuve.