U.S. swimmer Ryan Lochte won't be able to compete for 10 months and will have to sit out next year's world championships as punishment for giving inconsistent accounts of a street encounter during last month's Olympic Games in Rio de Janeiro, U.S. Olympic officials said Thursday.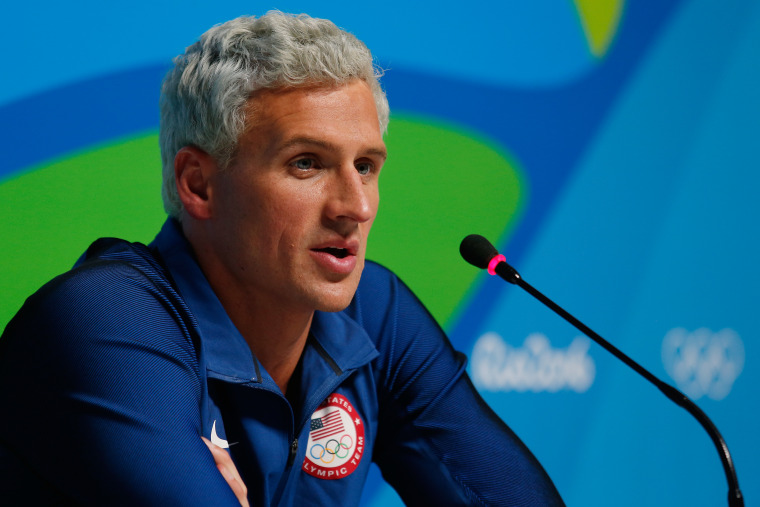 Three teammates who were with him that night — Gunnar Bentz, Jack Conger and James Geigen — were suspended for four months.
"As we have said previously, the behavior of these athletes was not acceptable. It unfairly maligned our hosts and diverted attention away from the historic achievements of Team USA," U.S. Olympic Committee CEO Scott Blackmun said in a statement. "Each of the athletes has accepted responsibility for his actions and accepted the appropriate sanctions."
Lochte, 32, did not immediately comment on the suspension, which covers the July 2017 world championships in Budapest.
News of the suspension was first reported by USA Today and TMZ.
Related: Ryan Lochte to Be Summoned to Testify in Brazil Over 'Robbery' Claim
The incident followed a long night of partying by the four swimmers after Olympic swimming events had concluded. On their way back to the athletes' village early on Aug. 14, they ended up at a gas station. The teammates got into a confrontation with staff and security guards, one of whom pulled a gun on them and demanded payment for damage the swimmers allegedly did to the facility, according to Brazilian authorities who cited witness accounts and security camera footage.
Lochte claimed later that they had been robbed at gunpoint by men posing as police officers. The 12-time Olympic medalist gave details that police later called untruthful. Lochte himself admitted to NBC News that he "over-exaggerated that story."
Related: Ryan Lochte Dives Back In With Alarming New Endorsement Deal
Now Lochte faces possible charges of filing a false police report, and could be forced to return to Brazil.
Lochte left Rio just as the scandal was erupting, leaving the three teammates behind. Two, Bentz and Conger, were pulled off a plane to be interviewed by police. Feigen also cooperated and was allowed to leave Rio after agreeing to donate nearly $11,000 to a local sports charity.
"Unfortunately, this storyline took attention away from the athletes who deserved it the most," USA Swimming Executive Director Chuck Wielgus said in a statement.