The U.S. women's national soccer team announced Tuesday that its record-setting head coach would be stepping down after leading the squad to a historic World Cup win in France this summer.
Jill Ellis, 52, will withdraw from the head coach position after the championship team completes its victory tour in early October, the organization said on it website. She was hired in May 2014 and piloted the team to its 2015 Women's World Cup victory.
She then made history leading the team to a second consecutive World Cup championship in July. Ellis is the first head coach to win two Women's World Cup titles since the tournament began in 1991, according to the U.S. Soccer Federation.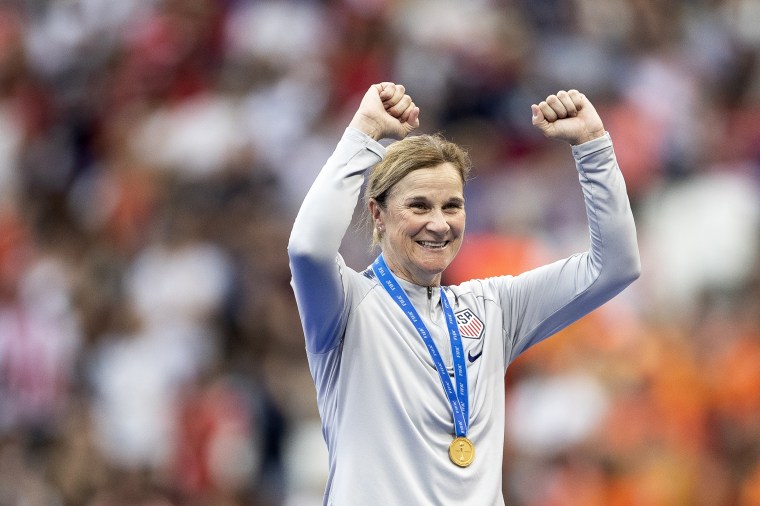 Ellis said in a statement Tuesday that working with the women during her time on the team has been the "honor of a lifetime."
"When I accepted the head coaching position, this was the time frame I envisioned," Ellis said. "The timing is right to move on and the program is positioned to remain at the pinnacle of women's soccer. Change is something I have always embraced in my life, and for me and my family this is the right moment."
In 2015, Ellis was named the FIFA World Coach of the Year and Concacaf Coach of the Year for Women's Soccer; she holds the record for coaching the most U.S. women's team matches.
The Soccer Federation announced that Ellis will continue to work with the organization as a national team "ambassador" for the next year, including attending events and speaking engagements as a U.S. Soccer representative.
U.S. Soccer President Carlos Cordeiro said in a statement that the sport owes Ellis a debt of gratitude and that she has "helped raise the bar for women's soccer in the USA and the world."
"Jill was always extremely passionate about this team, analytical, tremendously focused and not afraid to make tough decisions while giving her players the freedom to play to their strengths," he said.