Megan Rapinoe, who drew the ire of President Donald Trump this week, scored twice on Friday as the United States held off host France, 2-1, in the Women's World Cup quarterfinals.
Triumphing over a hostile Paris crowd and near-record heat in the capital city, the United States is now headed to a semifinal match against England on Tuesday in Lyon.
The Americans have never failed to make the semifinals or finish lower than third place in the quadrennial tournament.
Earlier in the week, Rapinoe made headlines when an interview aired of her saying, "I'm not going to the f------ White House," if the U.S. wins the World Cup.
Rapinoe, a long-time critic of Trump, didn't back down when the president criticized the veteran U.S. star for making those comments that he said "disrespect" America.
The 33-year-old from Redding, California said her war of words with Trump was no distraction under the Friday night lights of Paris.
"I don't really get energized by haters or all that, I feel there are so many more people that love me," said the laughing Rapinoe, her hair highlighted a pastel pink. "I'm more energized by that."
Rapinoe also scored two goals in her team's 2-1 round-of-16 win earlier this week against Spain.
U.S. coach Jill Ellis said Rapinoe comes through when the stakes are at their highest.
"She's just a big personality on and off the pitch, and I think she honestly thrives off these big moments," Ellis said.
Rapinoe's goal in the fifth minute came after her hard-charging teammate Alex Morgan drew a foul, just outside the penalty area, from France's Griedge Mbock Bathy.
Rather than pick out a top corner of the goal, Rapinoe hit a low drive that skipped through a sea of legs. American Julie Ertz jumped over and out the ball's way, just before it got by French goalkeeper Sarah Bouhaddi.
Rapinoe struck a pose, both arms extended before she was mobbed by teammates in front of a stunned crowd at Parc des Princes, where it was 87 degrees at kickoff. The day's high was 91 degrees.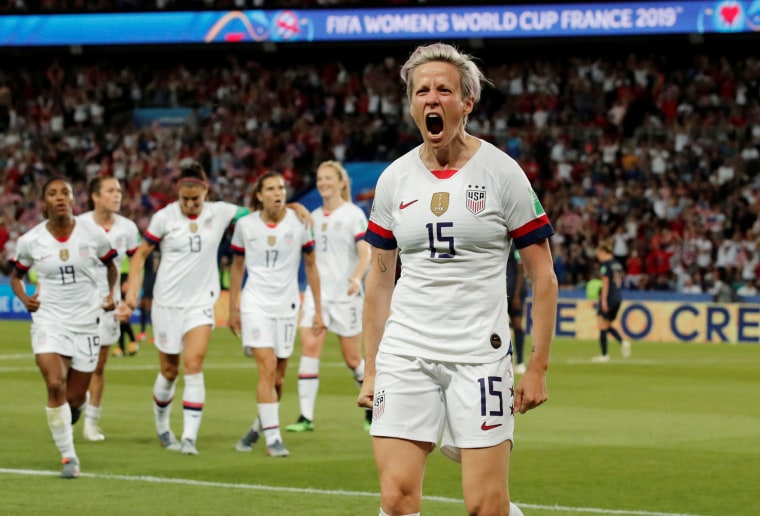 Then in the 65rd minute, Rapinoe took a pass from Tobin Heath and converted from close range to give the United States some much-needed breathing room at 2-0.
That goal proved to be the deciding tally as France's Wendie Renard headed home a pass from Gaëtane Thiney in the 81st minute to give Les Bleues a fighting chance down the stretch.
The French outshot the U.S., 20-10, and had the advantage in time of possession, 60 percent to 40 percent.
"I mean, you have to give it up to the French team. I think they outplayed us for sure with the ball, but we were so good defensively, so strong. We hit them where it hurt. We took our chances," Rapinoe said. "This team — unreal, unreal amount of heart."
Morgan said the electricity of Friday's clash felt like a title match.
"The media and fans and everyone bought into this being a final being played as a quarterfinal match. And it was. I feel like it was a great match," said Morgan, a native of Diamond Bar, California. "I think we have the edge on them in World Cups and major tournaments, but lately they've had the edge on us with friendlies. So I think it was a great match for both of us."
Ellis praised the vanquished French and their fans for 90-plus minutes of hard competition.
"That was the most intense match I have ever been a part of. A win's a win in a World Cup. I haven't seen many pretty games in a World Cup," said Ellis.
"France are an incredible team. The surge from the fans was intense, like a tsunami. I credit the players. They've taken everything on."
The Americans can now prepare for Tuesday's match against the Lionesses of England at Stade de Lyon at 9 p.m. local time, 3 p.m. ET.