Three UCLA basketball players released from China for shoplifting thanked President Donald Trump, who later said, "you're welcome."
Freshmen LiAngelo Ball, Cody Riley and Jalen Hill spoke at a news conference Wednesday at the UCLA basketball stadium, the first time they had spoken publicly since Nov. 7, when they were held in Hangzhou — a little more than 100 miles southwest of Shanghai — shoplifting charges.
"I take full responsibility for the mistake I have made of shoplifting," Riley said. "I know this goes beyond me letting my school down — I've let the entire country down."
"To President Trump and the entire United States government, thank you for taking the time to intervene on our behalf," he added.
The three players were detained while their team toured China last week. They were released and returned to the United States on Tuesday.
On Thursday, Trump tweeted a "you're welcome" message to the players.
"To the three UCLA basketball players I say: You're welcome, go out and give a big Thank You to President Xi Jinping of China who made.........your release possible and, HAVE A GREAT LIFE! Be careful, there are many pitfalls on the long and winding road of life!" Trump posted in a pair of tweets.
All three thanked the president and the United States government. They also thanked China and the Chinese police for treating them well.
Prior to the news conference, Trump asked on Twitter whether the players would thank him for their release and said they had faced a 10-year prison sentence.
At their press conference the athletes also thanked members of the UCLA staff as well as their families for sticking with them. They also apologized for their actions.
"I'm extremely sorry to those who I let down but I'm also thankful for all the love, help and support they provided," Ball said. "And I take full responsibility for my action."
UCLA Athletic Director Dan Guerrero said the players had stolen items from three stores when students were given 90 minutes of free time to explore the city or relax.
As a result of their actions, UCLA Coach Steve Alford said the players will serve indefinite suspensions while the athletic department and office of student conduct review the incident. The players will not travel with the team or suit up for games during the suspension.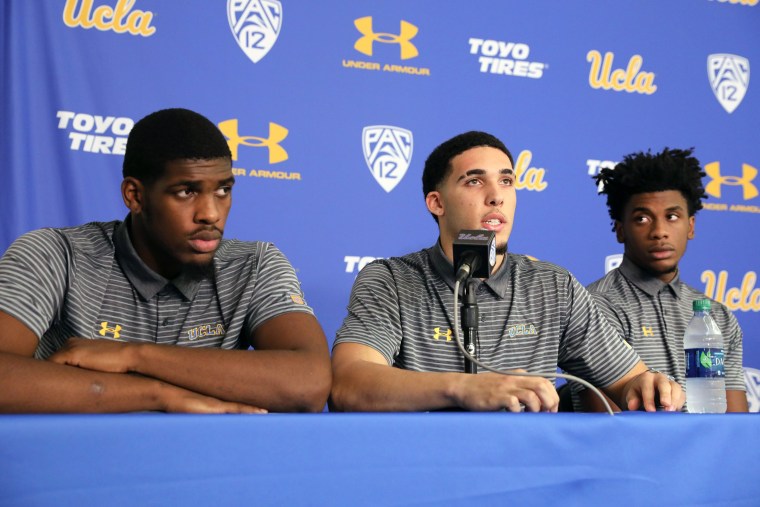 "At some point they may be able to join team workouts, practices and meetings, but that timeline has yet to be determined," said Alford. "They will have to earn their way back. They will cooperate fully with the university review on this matter and use this time to focus on their academics."
The incident garnered significant attention in part because Ball is the brother of Los Angeles Lakers rookie Lonzo Ball and is a member of the Facebook reality series "Ball in the Family," which follows the Ball family. His father, LaVar Ball, is a former basketball player known to make brazen and controversial statements.
The three athletes were arrested a day before Trump's arrival in China, and Trump said he spoke to his Chinese counterpart about the situation.
"I had a great conversation with President Xi," Trump said aboard Air Force One on Tuesday. "He was terrific, and they're working on it right now. And hopefully everything is going to work out."