The entire University of Minnesota's football team is boycotting practices — and potentially an upcoming bowl game — until a forceful request from players is met: lift the suspension of 10 teammates involved in sexual assault allegations.
It's a defiant demand by the 99-member team against university officials — one that if not resolved means the Gophers won't hit the field in the Dec. 27 Holiday Bowl against Washington State University. Before then, the team is supposed to hold five practices before flying to San Diego for the match-up.
During a news conference Thursday at the team's practice facility, the players said they were blindsided by the suspensions this week. "All these kids' reputations are destroyed," said senior quarterback Mitch Leidner.
The teammates, wearing maroon uniforms, stood with the players who were suspended indefinitely from the team, calling them the "10 falsely accused."
The players told reporters they also want an apology from university president Eric Kaler and athletic director Mark Coyle, as well as a closed-door meeting with two University Board of Regents members to discuss how to "make the program great again."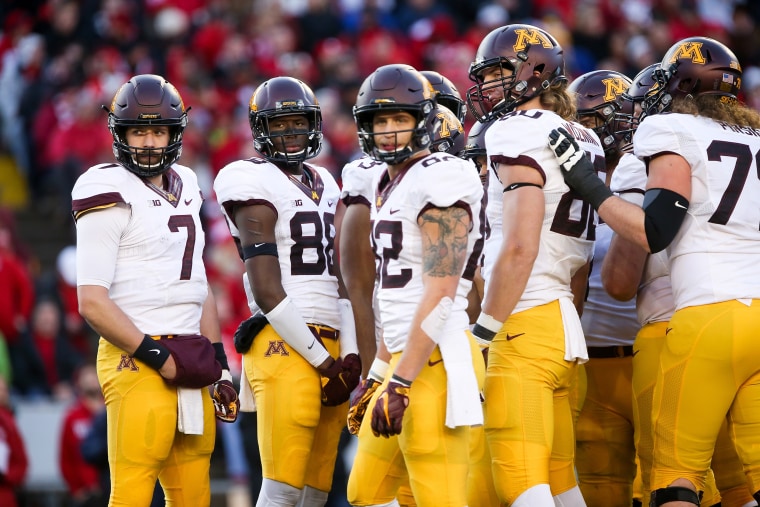 One of those board members, Darrin Rosha, told NBC News on Friday that he is open to a discussion.
"I have been in contact with the chair of our board, and he is evaluating that request," Rosha said. "I made clear to him that I am willing and prepared to meet with our student athletes pending a resolution of their legitimate concerns."
A university spokesman declined to comment further Friday, and told NBC News that federal privacy laws prevent the school from sharing details about the suspended students.
"The reality is that not everyone can have all of the facts, and unfortunately the university cannot share more information due to federal laws regarding student privacy," Kaler and Coyle said in a joint statement.
Kaler added in a statement Friday that his first responsibility is upholding the university's values.
"One of my jobs as president is to put our institutional values at the forefront of all we do and ensure our actions are aligned with those values. This principle is far more important than any football game and the university community as a whole, and it is more important than any single athletic team," Kaler said.
Coyle echoed Kaler's sentiment in a letter to University of Minnesota student athletes. "We're confident that together, we can get through this difficult time much stronger if we hold true to our values and hold each other accountable," he said.
The suspension of the 10 players stems from a Sept. 2 incident in which a female student had sexual contact with players. In a redacted police report, a police investigator said the sexual encounter with one player appeared to be consensual based on videos taken at the time and shown to police by the player, according to the Star-Tribune newspaper.
However, the Star-Tribune said, the woman told police that sexual contact with three other players was not consensual.
Police reports and the female student's testimony obtained by the newspaper describe how the student went to an off-campus apartment with two football players. During the course of the night, she said, had sex with one player. But she was forced to have sex with others, she said.
"I was shoving people off of me," she later testified in court to obtain restraining orders, according to the Star-Tribune. "They kept ignoring my pleas for help. Anything I said they laughed. They tried to cheer people on."
The woman filed restraining orders against five players in October, but she dismissed them after an agreement that they would stay at least 20 feet away from her, the Star-Tribune and NBC affiliate KARE reported.
While six players were involved in the incident itself, police said, it's unclear why the others have been implicated.
In the end, no players were ever arrested and the Hennepin County Attorney's Office on Oct. 3 said it declined to press charges.
"Based on the evidence available ... there is insufficient, admissible evidence for prosecutors to prove beyond a reasonable doubt that either force was used or that the victim was physically helpless as defined by law in the sexual encounter," prosecutors said.
Still, an attorney for the 10 players said some of them have been recommended for expulsion from the university following an Equal Opportunity and Affirmative Action investigation.
Attorney Lee Hutton did not immediately return a request for comment Friday, but has said he would appeal the suspensions.
A father of one of the suspended students, freshman Antoine Winfield Jr., threatened to pull his son out of the Big Ten school if officials don't step down.
"It's a brotherhood," Antoine Winfield Sr., himself a retired player for the Minnesota Vikings, said at the news conference, "and it shows you the support and love that all the players feel for each other."
While the players still have the upcoming Holiday Bowl, some of them could see their scholarships revoked if they don't resume playing football.
"What, are they going to pull 120 guys off the team?" senior Drew Wolitarsky asked during the news conference. "I mean, they're not going to have a team if that's the case."
Tracy Claeys, the Gophers' head coach, attended the news conference as well and tweeted about his players:
The suspension has divided students on campus, some of whom support the players and others who say the alleged victim's claims shouldn't be so quickly brushed aside just because charges weren't filed.
Gopher lineman Joe Bjorklund tweeted that players standing up for one another "isn't an attack" on the female student.