Vanderbilt University's Mason Hickman struck out 10 batters in six strong innings, leading his Commodores to an 8-2 victory over the University of Michigan on Wednesday night in Omaha, Nebraska, to win the College World Series.
It was Vanderbilt's second national baseball title in six seasons under coach Tim Corbin. His squad bounced back from losing the first game in this best-of-3 final at at TD Ameritrade Park.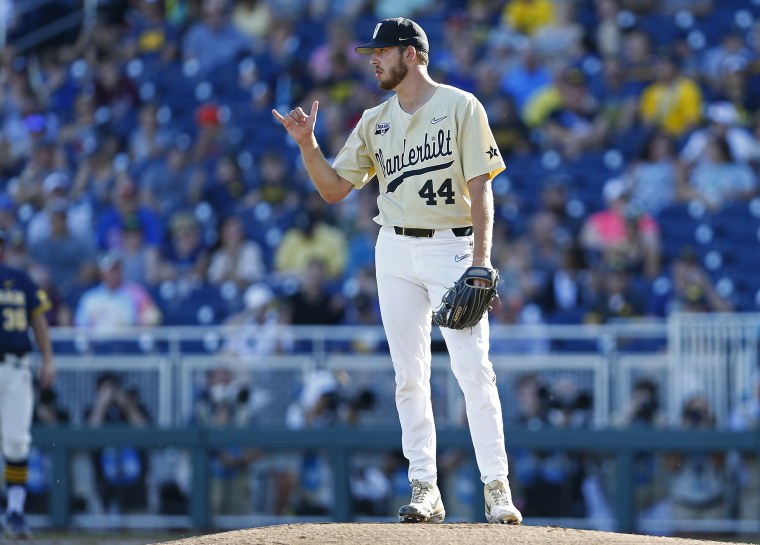 Michigan, a 200-1 long shot when the tournament began nearly four weeks ago, came within one win of melting a decades-long, championship freeze-out of teams from cold-weather America.
After Ohio State University won the NCAA's Division I title in 1966, only two nominally northern teams — Wichita State University in 1989 and the University of Oklahoma in 1994 — have punched through and they're still far south of Ann Arbor.
Only three schools north of Interstate 90 have ever won CWS championships and those titles were decades in the past — Michigan (1962), the University of Minnesota (1960, 1964) and College of The Holy Cross (1952).
Vanderbilt's national title run capped an emotional 37 months for the Commodores, who have been playing in the shadow of star freshman pitcher Donny Everett's drowning just before the 2016 playoffs.
His parents were in the stands Wednesday night rooting for Commodores, a team that included five seniors and two redshirt juniors who arrived in Nashville the same time with Everett.
Corbin said having that many experienced players, rare for an elite college program that usually loses top players after three years, was a huge advantage.
"It really helps to have seven seniors back, and seven seniors deserve this. It's been a long four years for them in a lot of different ways, and it came full circle for them and I'm very happy for all of them," Corbin told ESPN moments after the final out.
"You always don't get what you want in life and they're just fortunate, we're fortunate that we get to do this."
Players had their late teammate's parents,Teddy and Susan Everett, join them on a stage set up behind home plate for the trophy presentation.
"Those two mean so much to this program and all the players and the seniors," shortstop Ethan Paul said. "To this day, every time I look at Teddy I think of Donny, and just being able to share that moment with them was something we all really wanted to do."
Vanderbilt freshman Kumar Rocker, winning pitcher in Game 2, was named the CWS Most Outstanding Player.