For the first time in almost a century, America's best baseball team calls America's capital its home.
The road warrior Washington Nationals captured the franchise's first World Series title, by defeating the mighty Houston Astros, 6-2, on Wednesday night in Game 7.
Washington's triumph capped the first World Series in baseball history in which visiting teams won all seven games.
It was the first championship to go seven games in any major sport — baseball, basketball or hockey — where the winner won all four games on the road.
Houston seemed ready to finally win at home, leading 2-0 in the top of the seventh inning before Washington exploded for three runs.
The Nationals' title-winning rally was capped by Howie Kendrick's two-run homer off the foul pole in right field, stunning the raucous Houston crowd into silence.
Two batters earlier, Houston native and Rice University alum Anthony Rendon put the Nationals on the board with a solo home run off Astros starter Zack Greinke.
Till then Greinke, who has had well-publicized battles with social anxiety and depression, had been the picture of poise, outdueling Washington starter Max Scherzer in a battle between two of baseball's best pitchers.
After Rendon's home run, Juan Soto drew a walk, prompting Astros manager A.J. Hinch to pull Greinke in favor of reliever Will Harris, who surrendered the Kendrick homer.
Soto's RBI-single in the eighth inning and Adam Eaton's two-run single in the ninth inning gave Washington cushion.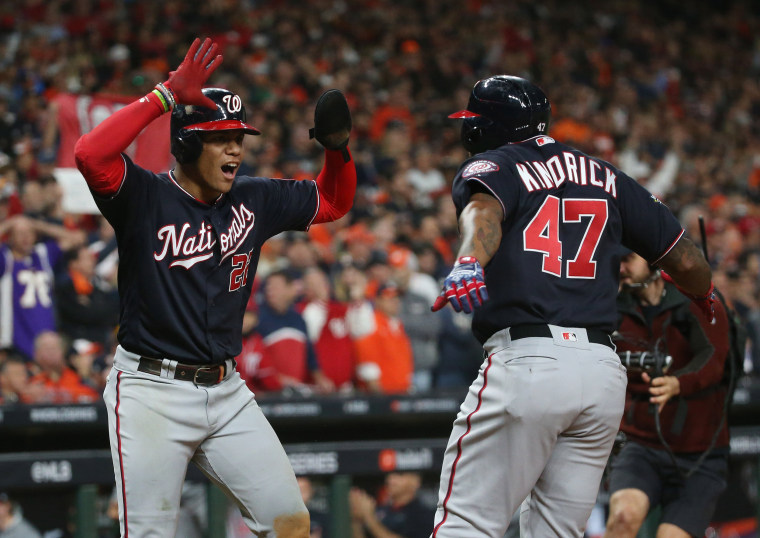 "The dream came true, and we did it for the fans of Washington," said Ted Lerner, 94, the founding principal owner of the Nationals.
The Nats have played in Washington, D.C., since 2005, following their previous incarnation as the Montreal Expos.
Anthony A. Williams, mayor of the district when the Expos relocated to his city, thanked the team owners.
"Congratulations to Ted, Mark and the Lerner family," Williams tweeted after the final out. "You've built a great team for our city and we thank you!"
Thousands of Nats fans held a watch party at their home park Wednesday night and exploded in joy at 11:50 p.m. when Washington reliever Daniel Hudson struck out Michael Brantley to end years of post-season disappointment.
Washington pitcher Stephen Strasburg was named World Series MVP. He was the winning pitcher of Game 6 to keep hope alive, completing his playoff run with a perfect 5-0 mark.
This is the first World Series title for a District of Columbia team since the Washington Senators won it all back in 1924. The Senators left Washington to become the Minnesota Twins after the 1960 season.
The Senators won American League titles in 1925 and 1933 but were almost always distant also-rans to powerhouse New York Yankees teams of Babe Ruth, Lou Gehrig, Joe DiMaggio and Mickey Mantle. Baseball Hall of Fame writer Charles Dryden famously typed of the Senators: "Washington — first in war, first in peace, and last in the American League."
And few gave Washington much hope in 2019, having lost star outfielder Bryce Harper over the winter to a free agent deal with the rival Philadelphia Phillies. The Nats won just 19 of their first 50 games, and went on a four-month-long tear just to win a wildcard playoff spot.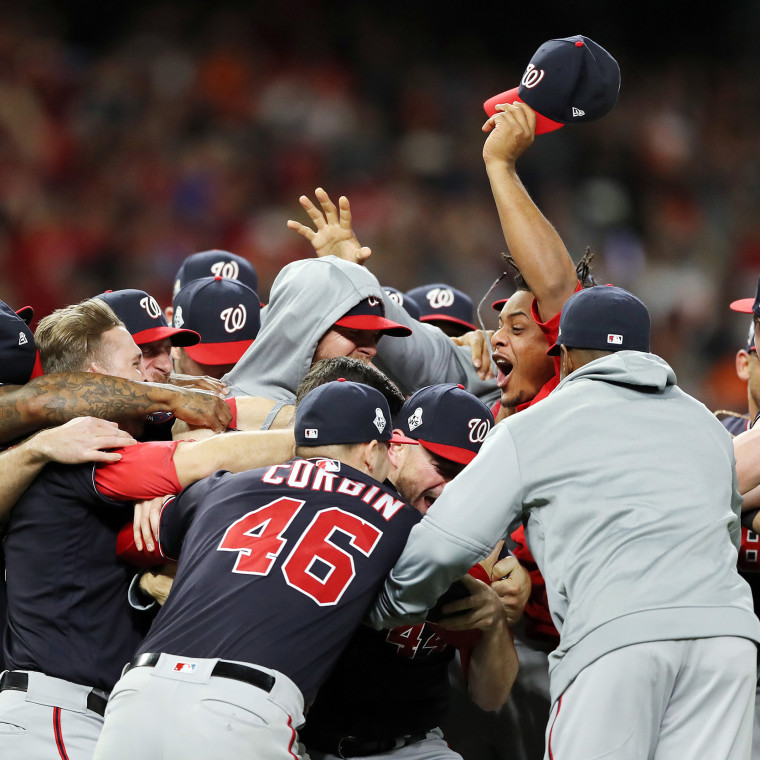 Even after beating the Milwaukee Brewers, knocking off the powerhouse Los Angeles Dodgers and sweeping the St. Louis Cardinals in the playoffs, the Nationals were major underdogs entering the Fall Classic.
Houston was an overwhelming 2-1 Las Vegas favorite before the Astros suffered immediate, self-inflicted wounds.
On the eve of Game 1, Sports Illustrated published a troubling report that Astros assistant general manager Brandon Taubman went off on an obscenity-laced tirade in front of three female sports reporters, boasting about his team's employment relief pitcher Roberto Osuna.
Before Osuna was traded to Houston, he had been arrested for domestic violence and was forced to serve a long suspension by Major League Baseball.
The Astros first tried to discredit last week's Sports Illustrated report, before witnesses stepped forward to back it. The AL champs then changed course hours before Game 1 and issued an apology from Taubman, insisting he was only guilty of using "inappropriate language."
When that lukewarm contrition wasn't well received, Taubman was fired Thursday and General Manager Jeff Luhnow struggled to explain the series of missteps.
And on top of all of that, the underdog Nationals stormed into Minute Maid Park and shocked the Astros in Games 1 and 2.
Houston rallied back at Nationals Park, winning Games 3, 4 and 5, giving home fans few chances to cheer. Their most emotional reaction was during Game 5 when they ferociously booed President Donald Trump.
Trump early Thursday tweeted his congratulations to the Nationals "on a great season and an incredible World Series," and writing, "Game 7 was amazing!"